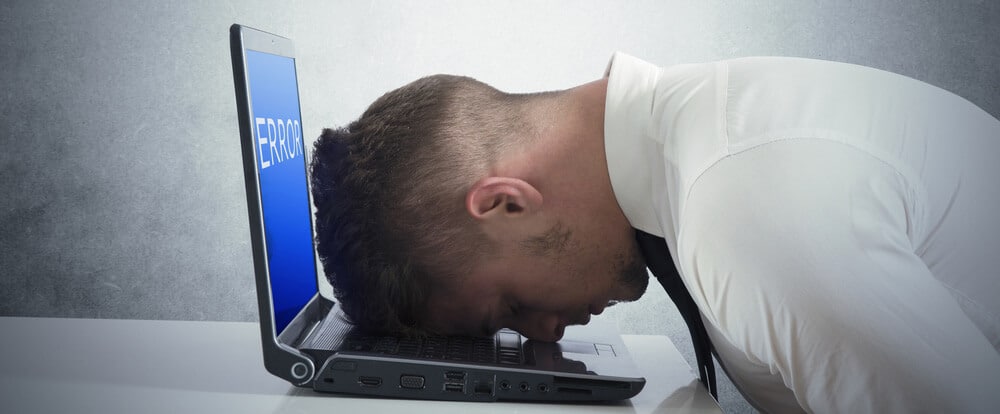 How to Fix Common WordPress Issues
Note: Always back-up your site before making any changes Tinkering with WordPress can be dangerous if you're not familiar with more than WordPress basics. . When in doubt, seek the assistance of a qualified WordPress professional like us…;).
Slow Loading Site
Why it happens:
Slow loading sites can happen on multiple levels. Your server's processor may be too slow. Your server isn't set up to effectively handle WordPress sites. Your images may be too big. Your images need compression. You have too many plugins installed. These are just a few issues that can cause a website to load very slowly.
How to fix it:
Troubleshooting speed issues with your website isn't an easy DIY project. Instead, look for an experienced WordPress pro to troubleshoot. However, if you want to attempt self-diagnosis of your WordPress site you can start by installing plugins that enhance cache, compress images and minimize server resources. Alternately you should investigate whether or not you should find a new web hosting company such as SiteGround.com that is WordPress friendly.
---
White or Blank Screen
Why it happens:
Blank screens (also known as the 'white screen of death') are caused by either a complex matter requiring the expertise of a WordPress pro or can be as simple as an error in your wp-config.php file.
How to fix it:
The first step to troubleshooting a WordPress white screen is to try troubleshooting your wp-config.php file. Sometimes starting from a fresh file can be helpful and eliminate common issues such as extra characters or spaces.
---
Connection Errors
Why it happens:
Database or server errors are not just irritating but they damage your reputation and cost you valuable website traffic. Connection errors with the database can be as simple as using the wrong user or password in your wp-config.php file. Server errors are generally an indication that your server has crashed or your database may be corrupted.
How to fix it:
First, look at the error. If the error indicates a database connection issue recheck your wp-config.php file and verify that your user and password combination is correct. If this is correct you may need to contact your web host to verify whether your database has been corrupted or if your server may need a reboot. If the error specifies a server connection issue it's likely your server simply needs a reboot and/or the server may need to be replaced. For server errors the best course is to contact your hosting provider first and if they cannot solve the problem reach out to an experience WordPress coder.
---
404 Page Errors
Why it happens:
When someone tries to visit a specific URL (or link) a 404 error, or page not found error is triggered. This is generally caused because the URL no longer exists or has been changed.
How to fix it:
Page not found errors are generally caused by one of two issues: a typo in the link or a bad permalink structure. Start by looking at the link itself. Does it contain extra characters? Something misspelled? Improper use of upper or lowercase letters? If the link is correct, try adjusting your permalink settings.
---
Memory Size Exhausted
Why it happens:
If you're trying to upload a file such as an image, audio or PDF and you receive a "memory size exhausted" error you likely have an issue with server settings or your wp-config.php file.
How to fix it:
To resolve the issue, adjust wp-config.php with a corrected memory limit. If that still doesn't do the trick, contact your web hosting company and have them fix or resolve size restrictions they may have on their server. Additionally you should look at compressing your files for byte size.
---
Unable to Upload File in Media Library
Why it happens:
Unable to upload files into the media library within WordPress generally is an error relating to file restrictions within the media library directory.
How to fix it:
Contact your web hosting company to change the file restrictions. Alternately you can use an FTP client such as Filezilla to transfer the files directly into the media library directory.
---
"Just Another WordPress Blog" in Google Results
Why it happens:
WordPress by default using the text "Just Another WordPress Blog" as the site's description. If you have not changed this setting, your site may be indexed using the default settings.
How to fix it:
This is one of the easier issues to solve. Simply login to your admin dashboard. Look under "settings" for "general" and change your site's description. Then, when finished, save your changes. The next time Google spiders your site it should update Google's index.
---
Site Not Being Indexed in Google
Why it happens:
By default WordPress is set up to index pages of your website. However during the development phase you or your web coder may have used a feature in WordPress to suspend indexing.
How to fix it:
A site which is not being indexed by Google but had been in the past indicates a problem with the reading setting in WordPress. Simply login to your admin dashboard, click on settings and then general. Uncheck the box for "discourage search engines from indexing this site."
---
Outdated WordPress Version
Why it happens:
WordPress.org is free to the world which makes it vulnerable to hackers and spammers. Additionally as browser technology changes websites must be kept current. New versions of WordPress are available about every 6-12 weeks.
How to fix it:
It is very important that you backup the website before you update. Then simply click on the update button to begin updating WordPress
---
Updates that Break a Site
Why it happens:
WordPress has many moving parts – themes, plugins, media, content and so forth. It also requires frequent updates. If you've made an update to a plugin or theme and your site suddenly breaks it's time to hire a troubleshooting professional.
How to fix it:
There are many variables that impact a WordPress site. When updates are made, whether to the WordPress core files or to a plugins hey have the potential. Start first by turning off all plugins via FTP then turn them on one at a time. Alternately be sure your plugins are compatible with your current version of your website.
---
Contact Forms Not Sending
Why it happens:
WordPress is a powerful platform but plugins such as Contact Form 7 can pose problems if the server is not configured properly so that WordPress is authorized to send email confirmations or notifications.
How to fix it:
If your hosting server is not set up correctly you need to reach out to your web hosting company to have them correctly configure your email address on their server.
---
"Site Contains Harmful Programs" Error
Why it happens:
A harmful programs error is generally the result of someone hacking your site and/or distributing malicious content.
How to fix it:
Scan your site for infections and malware. After it has been cleaned up login to Google Search Console (formerly Webmaster Tools) and request a site review.
---
Social Sharing Not Displaying Correctly
Why it happens:
Most social platforms provide link previews and images based upon rich snippets or Schema.org information. If your desired thumbnail image or teaser text isn't pulling through properly when posting links to social platforms this may be your issue.
How to fix it:
Using a premium/paid plugin such as Yoast will allow you set a specific image for each page of your website. Additionally you can also include special teaser content to encourage viewers to click through to your website.