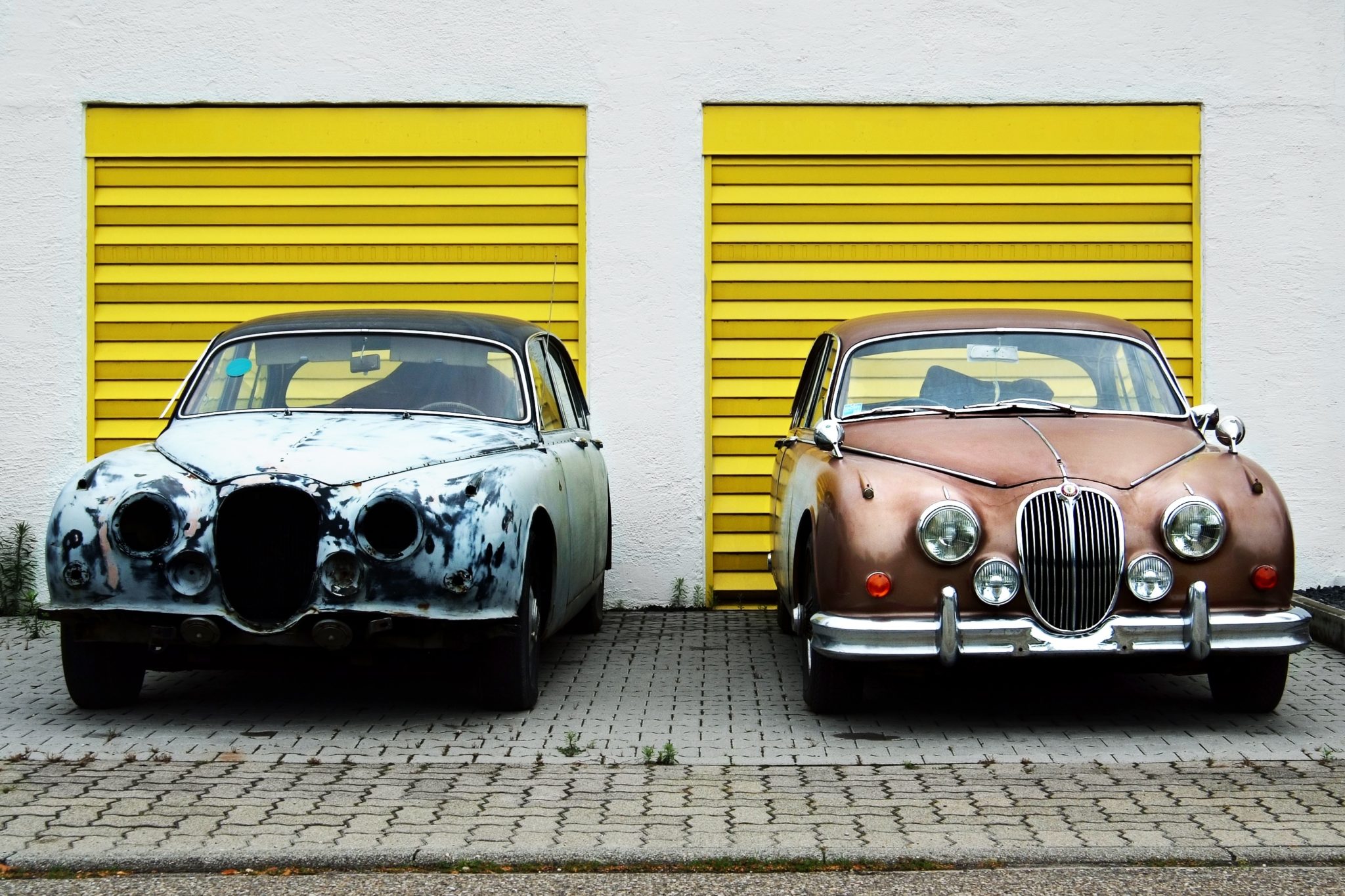 How To Backup A WordPress Site The Right Way
Need to know how to backup a WordPress site?
We have a saying here at WP Fix It when it comes to backing up your site. The saying goes "BACKUP BEFORE YOU CRACKUP". We coined this saying because we have seen so too often people that own or manage a WordPress site be in a situation where a backup file is needed but does not exist.
This is a really ugly place to be and we never like to see anyone there.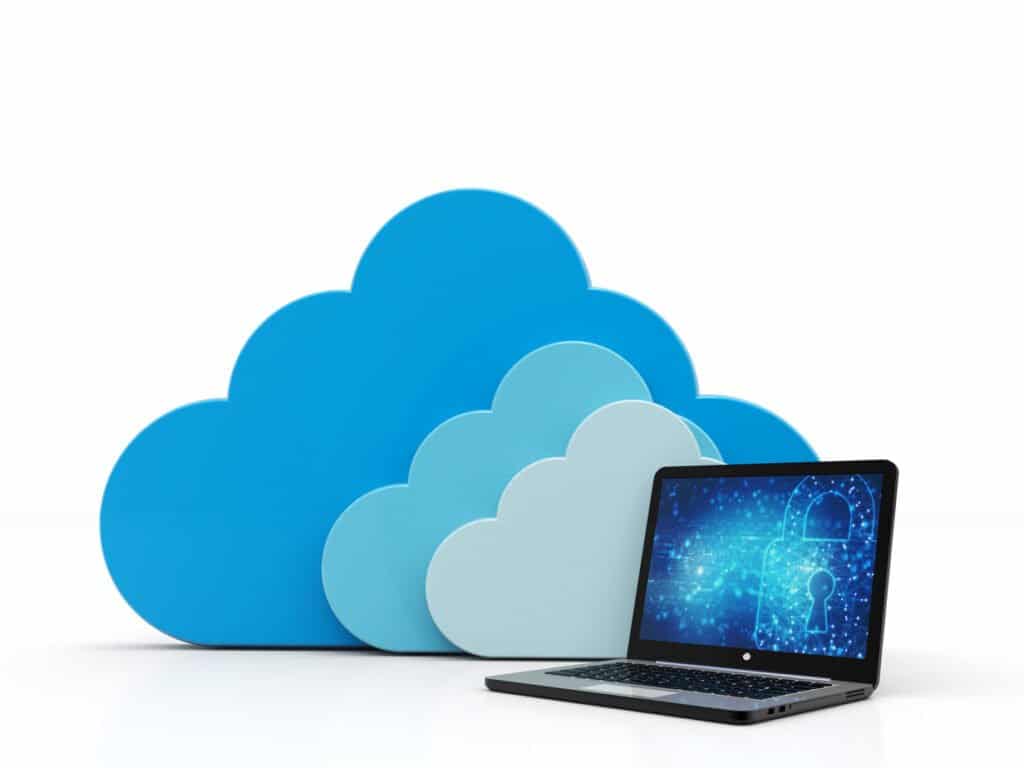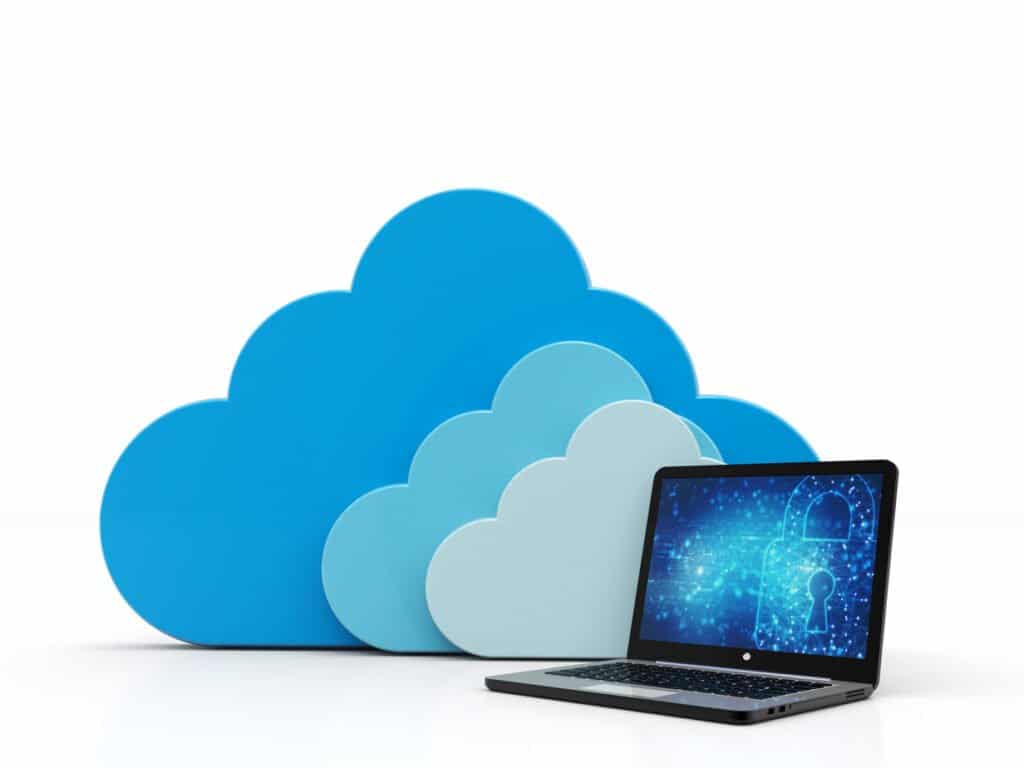 ---
There are 3 major reasons why backing up your WordPress website is so important and a Must Do Task
SAVES YOU MONEY
According to Fortune Magazine, data loss costs companies 1.7 trillion per year.

SAVES YOU TIME
Rebuilding lost data or design can take a massive amount of time depending on the quantity needed to recover.

SHOWS HOW SMART YOU ARE
This is an ABSOLUTE FACT! If you are in a room of 10 website owners and you are the only one with a backup and restore strategy for your site, you are automatically the smartest one in the room.

Are you reading this because you do not currently have a backup and restore strategy for your site? We are so glad you are here and we guarantee by the end of this you will be more intelligent than you were before you read this.
---
We live in a High Tech Low Touch world
What we mean by this is that the things that support our daily tasks require technology. And this technology is a collection of data specific to each person. If this data is lost or corrupted it can really wreak havoc in our daily lives.
Some of those things that store our data and would cripple us if lost are:
Email
Social Media
Phone Contacts
Text Messages
Calendars
Mobile Apps
Work Systems
School Assignments
Now with all this technology full of our specific data that we need to survive, imagine some of worst things that can happen.
We lose our phone
Our computer crashes
Our website gets hacked and modifies content or design
Or our website gets deleted or corrupted by a server error
The goal here is to make sure we are prepared for the worst. This will make certain to limit our fears and worries. Having a backup and restore strategy in these situations is critical to living a digital life of no worries.
---
The defined approach to creating a successful backup strategy for your WordPress site can be accomplished with 3 main actions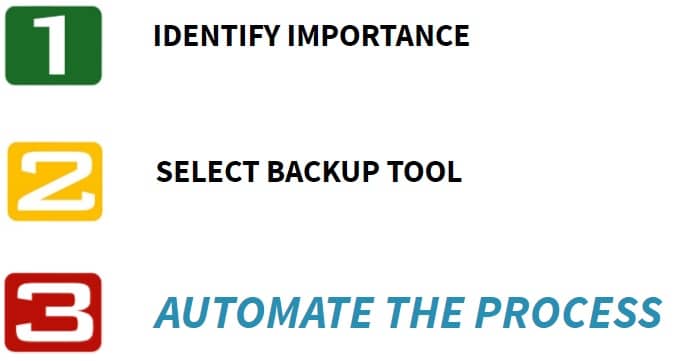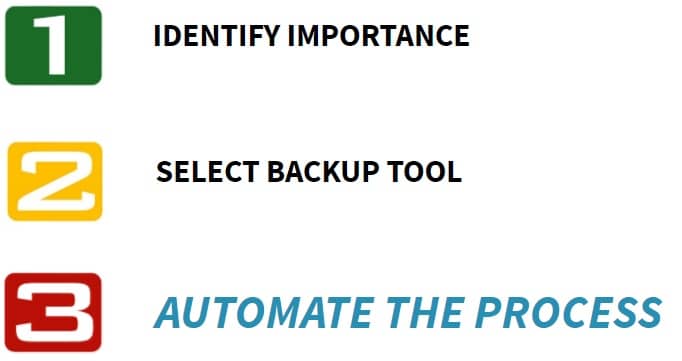 So who is responsible for backing up your site? Unless you are paying someone else to backup your site, YOU ARE RESPONSIBLE. Yep as if you need another responsibility right? Do not worry as the strategy that we will soon lay out will be a process that is automated and not managed.
---
THINGS THAT REQUIRE BACKUP/RESTORE
Hosting requirements – The foundation of your entire site.
Outdated WP version – Security issues and script upgrades
Plugin conflicts – About 80% of WP issues
Theme conflicts – Script conflicts or outdated files
Plugin / Theme updates – SO IMPORTANT
Malicious files on server – Malware and Infected files that run scripts to infect other files
Local computer settings – Browser and Internet settings
User errors – My favorite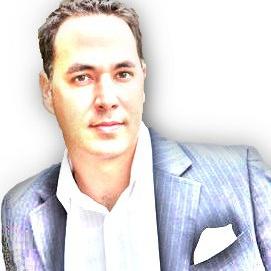 Jarrett Gucci – Owner of WP Fix It
Here is a short story about something that happened to me in my life and relates to the topic of backing up your website.
---
When I was 17 I left school to start my own carpet installation business. I was doing pretty well and so I moved into my own apartment. Now when I say I was doing well, it meant I had enough money each month to rent a studio apartment in the North Side of Buffalo New York.
This was not the worst neighborhood in the city but certainly was not the suburbs. I owned a work van which I used to haul job supplies and my tools. Each night when I would come home, I would bring all my tools inside and place them in the section of the basement that was assigned to me. Do you know what a basement is… During my living there, I joined a networking group to generate referrals and grow my business. There was a gentleman that I would see each week at the networking meeting who sold insurance. On one particular week, he was speaking about renters insurance and how affordable it was to have peace of mind with your belongings. I signed up and literally the day after my policy went into effect, the building I was in was broken into and the basement was emptied out. All of my work tools were gone. Because I had renters insurance I was provided money to rent tools and in less than 30 days had a check fully reimbursing the cost of the tools that were stolen.
Having a backup strategy for your WordPress website is very similar to having any type insurance. Insurance is a means of protection from financial loss. If you have a situation with your website that requires a backup file that does not exist you are not is a good place. I can not tell you how many times I have seen this.
Now before we dive into the meat of this article and share with you a proven backup/restore strategy our team has used for many years with no issues, it is important that we make it clear that we have no intention of communicating this way is the only way.
You have been kind enough to give us your attention reading this post in hopes of learning something.
And with that we take on the responsibility of sharing our experience with you. We are about to show you a plugin that can make your backup and restore strategy easy as apple pie.
The plugin that we recommend to all WordPress users to create a successful Backup and Restore strategy for their site is UPDRAFTPLUS!!!


Now there are many amazing backup and restore plugins available out there but as we are suggesting you use UpdraftPlus, awe must let know that there are actually 3 thing this plugin does that no other backup and restore WordPress plugin can do.
Automatic 1 Click Restore
With a simple click of a button you can complete a full restore of your site from any of your backup files.

Automatic Backups Pre-Update
This is very cool as you can have automated backups created before you update your plugins, theme or WordPress core files.

Backup Encrypted Databases
If you are storing data in your database that must be encrypted, this is the only plugin that will back that data up.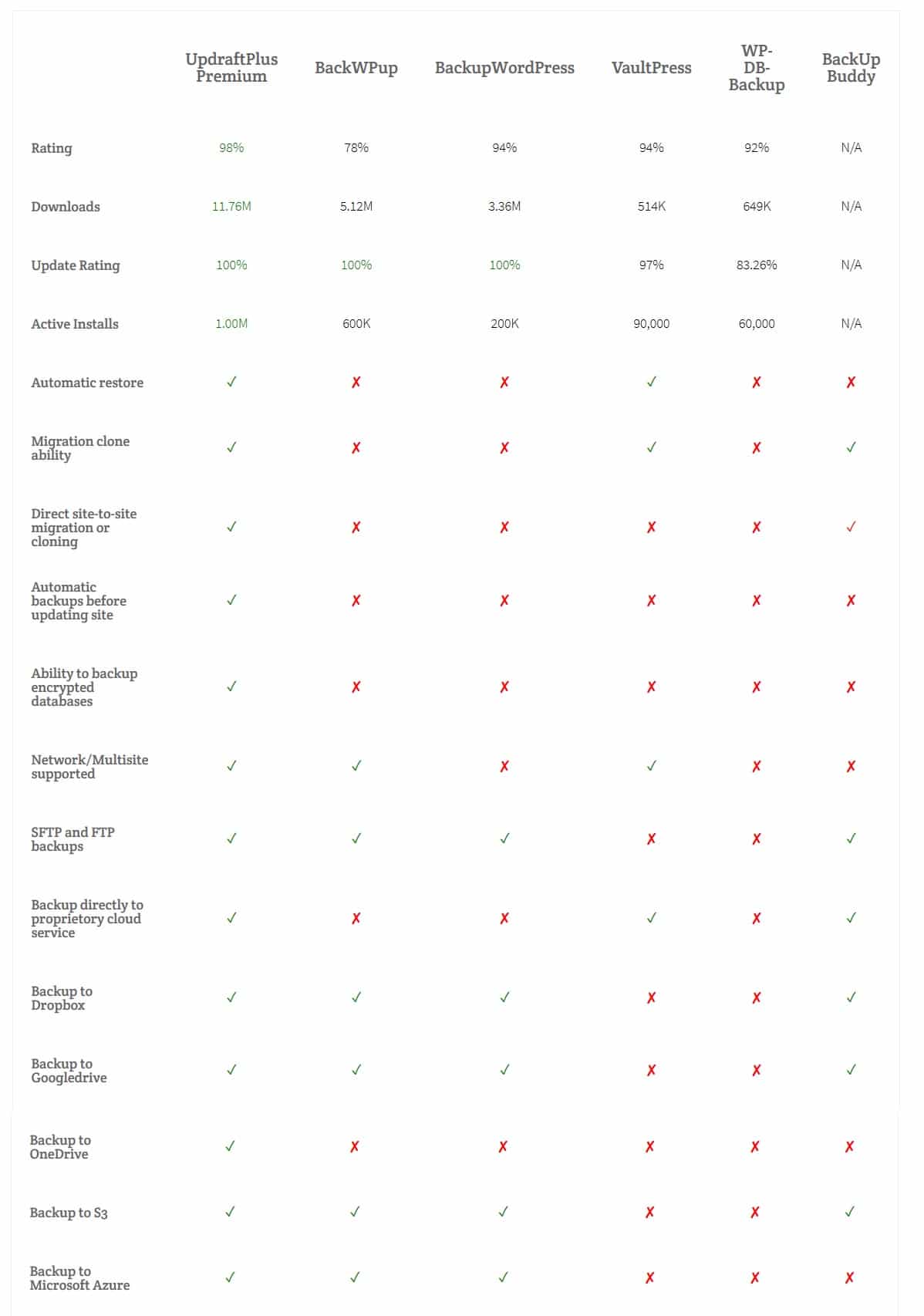 Alright so all this talk about backup but nothing yet about exactly what to backup. Take a moment and think of the human body. What are the 2 things it can absolutely not function without? The heart and the brain. Now take this same concept as it relates to backup and think of the 2 things that a WordPress site has that are unique?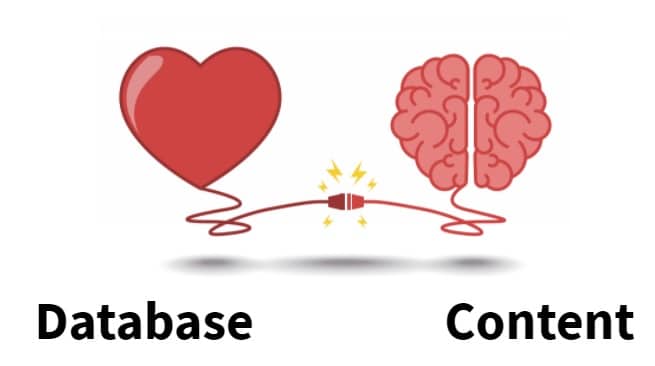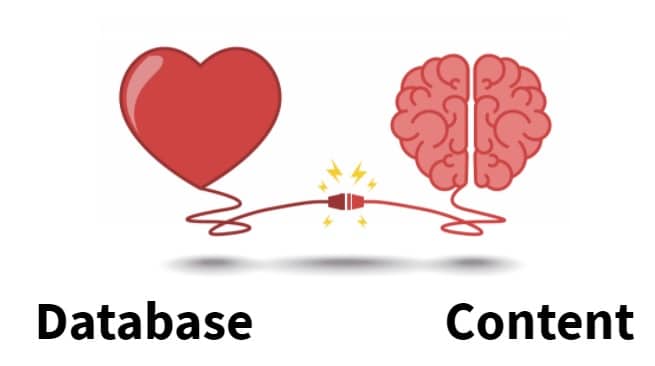 The heart of a WordPress site is the database and this is where all the data unique to your site is stored. The brain is the content of of your WordPress site. These are the actual files that exist in your wp-content folder of your active WordPress install. These are the 2 things unique to your site and the 2 things that should be backed up and are required to complete a restore.
---
Backing Up Your Site is a Movement Not Just Advice
Let us together as some of the most awesome people in the WordPress community start a movement educating others on the importance of backing up your site. Can you join in on this?
See our owner Jarrett Gucci give a presentation on this exact topic below.
Time To Put This Backup/Restore System in Motion
Okay we think you've done enough reading at this point. It's now time to show you how to backup a WordPress site the right way. Follow the easy steps below to setup an automated backup system for free in minutes.
⚡️ Login to your site and visit Plugins>Add New
⚡️ Type in UpdraftPlus and install and activate it
⚡️ Once active, visit Settings>UpdraftPlus Backup/Restore
⚡️ Click on the Settings tab and adjust as desired
That is it. Your WordPress site now has a smooth running automated backup and restore system.