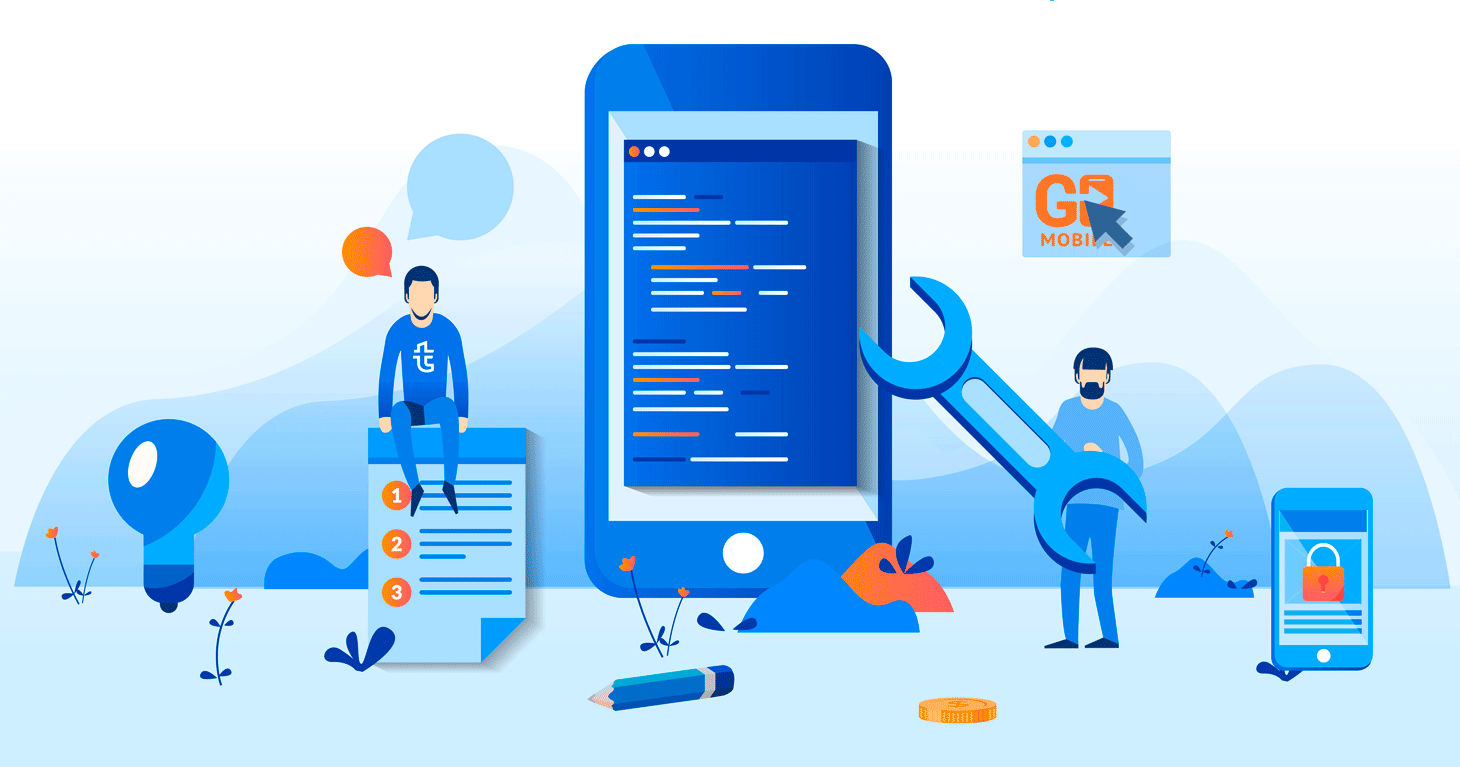 Newbies Guide to Create Mobile App from a WordPress Site
Need to create mobile app from a WordPress site?
WordPress has a wide scope and it is not just restricted to websites.
Now you might be wondering how? Let's us suppose that you have a marriage lounge business and a website for the same. You can architect a mobile app that depicts all photographs, videos and testimonials from the clients which you have served.
Or let us suppose you have a tours and travel agency, then you can feature all the tour packages, commuting facilities, hotels , itinerary of your tour and many more services which you offer.
Further, we have WooCommerce which instills the capability to purchase and sell products via apps and also notifies then through push messages.
Why to make mobile app?
Small Business owners have a very modest outlay budget for web development and they certainly think various upgrades as sheer burden for them. For your relief i would like to inform you that not all WordPress websites do not need a mobile counterpart.
If you into blogging, then you just need a website. Wherein, mobile apps are tailor made for mobile phones and thus provide a rich user experience when compared with the mobile experience of the websites. The reason why business owners are opting for mobile application development rather than just developing a website, as they serve the following advantages:
Mobile apps provides faster information access content than a website.
Users can also view the content even without internet network.
Mobile apps allow push notifications
Highly functional as they can leverage functionality of devices such as , camera, GPS, contacts, geo-location, and more
Mobile apps are much more interactive than mobile apps
Can we make a Mobile app using WordPress?
Yes, indeed! We do have several ways to make a mobile app form your WordPress content.
Build a custom app
In order to get a tailor made app for your online business needs you can go for hiring a custom mobile app development company. This will further lead you to various questions such as platform analysis and searching for a highly skilled firm.
Moreover, this will require a big budget of around $15,000 and can go up with level of the firm. If you think that this is not something which you can afford you can opt in for option B.
Mobile App Builders
If you think that you cannot scooch in this big amount in your budget then you can go for App builders which provide app feature and hosting on a monthly rental basis.
These app builders are visual app builders which can present your WordPress site content in the form of a mobile app and that too without writing a piece of code. There are several such mobile app builders, which offer different functionality and integration process, thus they vary in their pricing.
One such project is Reactor which offers a very smooth way to build a WordPress website.
Reactor is a specially designed to make it easy to build apps that connect to your WordPress website. This enables you to add posts, photographs, videos and many more things which you generally add to your WordPress site. It further offers integration with plugins and custom post.
Let's Go Online!
In order to begin with your Mobile journey you will be requiring a WordPress website and an account with Reactor. The foremost step is to Login on the reactor and after the login in process you will see the following screen on your computer.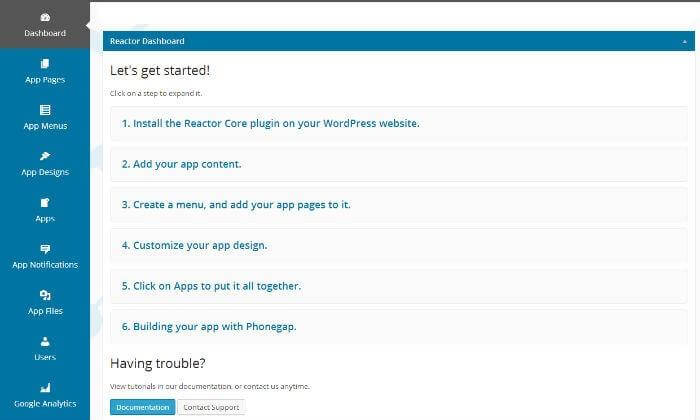 ---
Step 1: Install the Core Reactor Plugin
Firstly, You need to install this plugin of you WordPress based website. You need to locate it, install and then activate. This is it !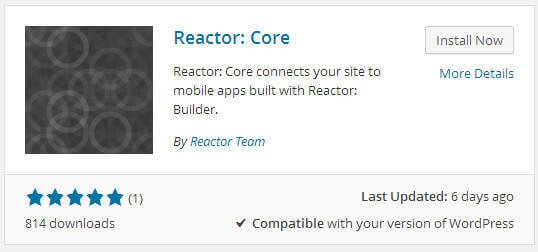 Secondly, as reactor allows you to pull down your WordPress site content such as the post or page in to your mobile app. This helps you to deal with the duplicate content. It also uses the WordPress JSON API and you can further create your own specific pages as well.
---
Step 2: Creating Mobile App pages
Here we will discuss how to create static pages which are not currently on the website. Reactor offers many page types to choose from: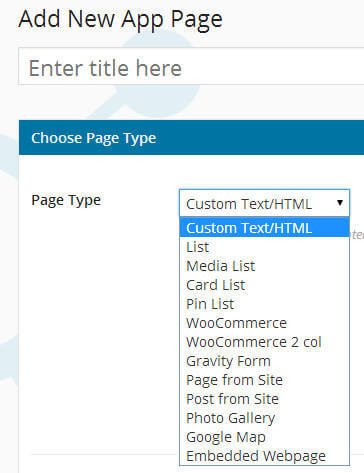 Now in order to add a product page in your eCommerce app you can select "WooCommerce" from drop down named as the Page Type. As soon as you select this, the fields also changes along with it. Then after, you need to complete the fields as per your choice.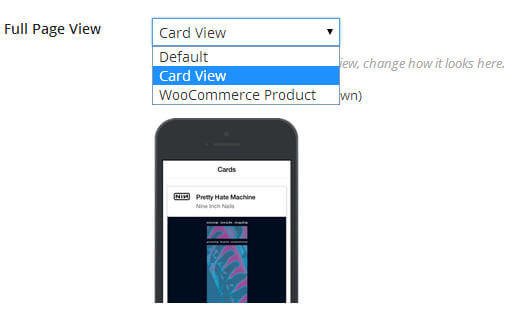 In order to know how the content is being displayed within, you get an option of field called "Full Page View". This offers several ways to display them in per-formatted layouts:
This feature needs to be worked upon, but for now we can choose WooCommerce option for creating more pages.
For creating another page we will now choose "Custom Text/HTML" as the page type. Here you have the leverage to go to a WYSIWYG editor to build your page.
Further, you need to keep in mind that all the content that you are going to create will be viewed on a mobile site and thus do not add big images, layouts or videos based on Flash players.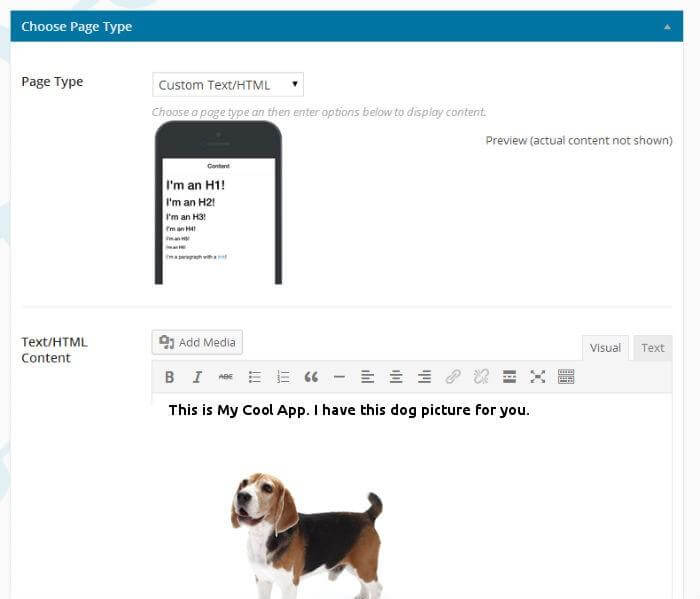 ---
Step 3: Create the mobile app menu
After creating the content we now need to create a menu so as to make your WordPress mobile app navigable. All you need to do is to click on "App Menus" icon in the admin and you can easily incorporate menu items in your mobile app.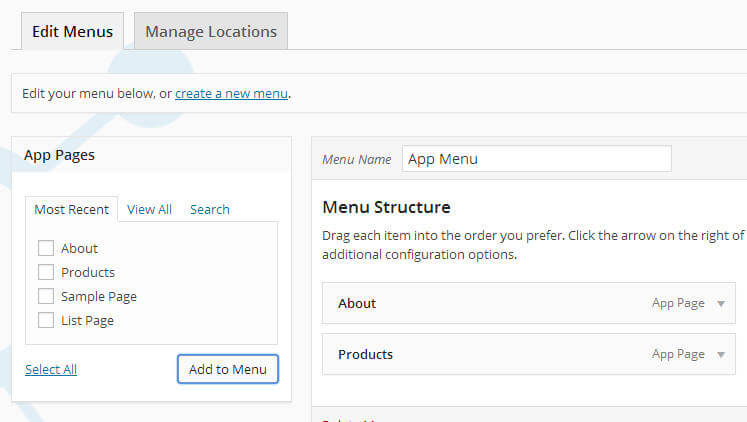 ---
Step 4: Design your Mobile App
In order to make your app look in accordance to your brand you need to set its color theme. Reactor offer a very easy to use design feature called as "App Designs" which makes customizing a cake walk. One can also see its mobile app preview after setting a particular color scheme.
---
Step 5: Amalgamating all
We have now included our content and have also chosen a design , so now its the time to merge them in order to get the complete app. To do this you need to go to the "Apps " tab in it's dashboard.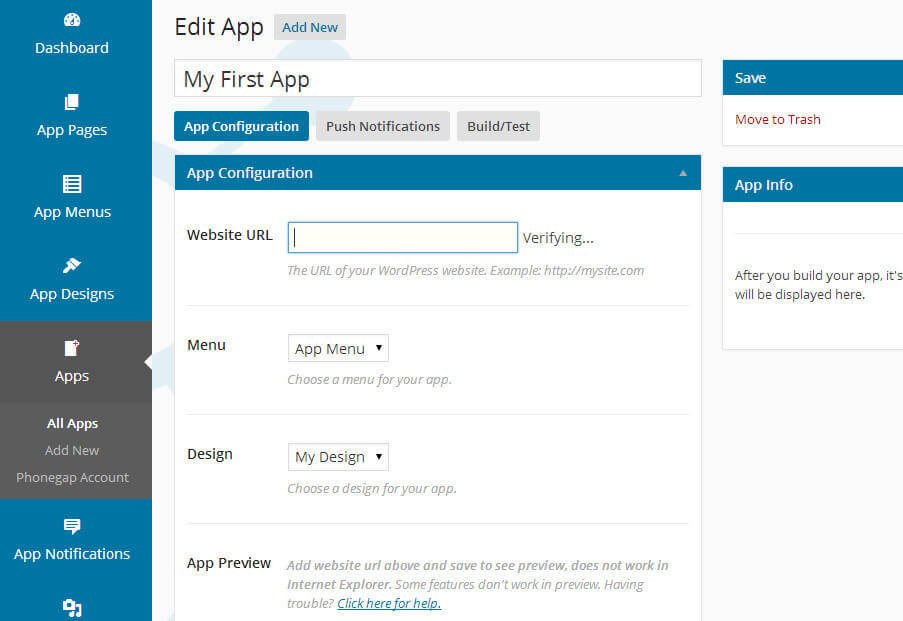 And you can see the Apps Preview , which will be seen as the following image.
---
Step 6: Building the app for multiple platform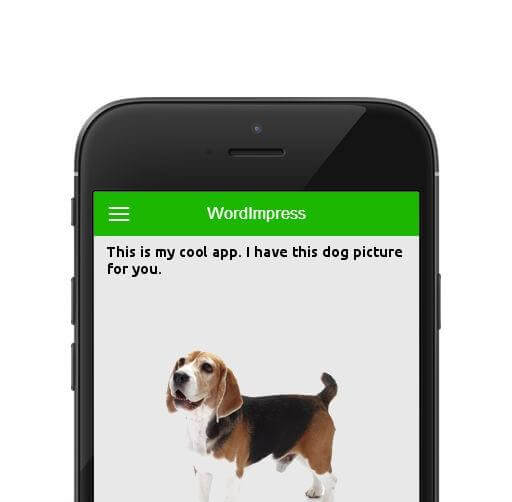 Till now the process was very easy but now publishing you app on Google play or iTunes is a quite a task. This requires a long list of information which includes :
Your Mobile App's Name
App's Description
Company's Name
Mobile App ID
Version of the App
Screen sizes (multiple sizes)
iAd
Google Analytics ID
Admob
Assets
Google Map API Key
Further in order to utilize push notifications you need to fill a bigger monolithic information form. To publish the app on Play Store and iTunes you need to pay an amount of $25 and $99 respectively. It is quite cheaper than the custom made mobile apps though.
---
Reacting to Reactor
Reactor has certainly obliterated painful steps of installing plugins and configuring multiple short codes. Moreover, it is certainly one of the shortest and an intuitive way to take your website on mobile.
I know you might be still skeptical about it, so you can drop us your queries and we will be glad to help.