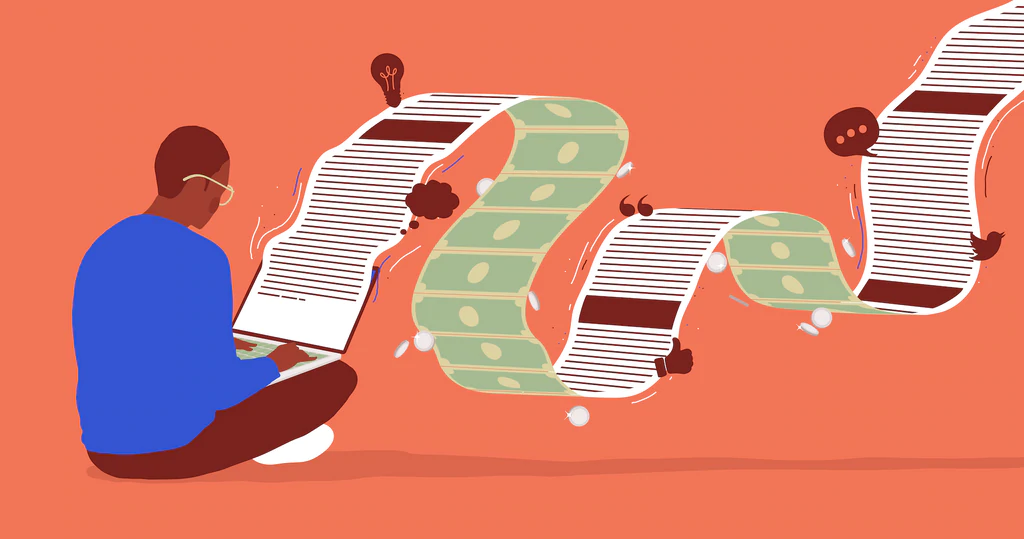 How To Start a Blog: The Ultimate Guide 2022
Learn How To Start a Blog The Right Way
Are you thinking about doing something of your own? Want to share ideas or a passion? Why not start a blog?
Blogging began as a medium for people to express themselves on the web. Initially started with the purpose of delivering ideas, thoughts, information, and facts, it has grown to be a huge platform with a vast audience.
It is estimated that 77% of internet users read blogs every day. That's a huge potential audience!
Out of 1.9 billion websites globally, more than 600 million are blogs.
So while blogging is easy to get into, it will take time and practice to stand out.
In this article, we will discuss what a blog website is, why you should start a blog, and how to build on from scratch.
We'll walk through the step by step process of creating a blog and publishing your first post.
Let's dive in!
---
What is a blog?
A blog is a dynamic website where the content appears in reverse chronological order which means the latest posts appear at the top. It is typically run by an individual or a small group presenting ideas in a conversational style.
When the concept of the blog began in 1994, it was more of a personal diary for people to share their thoughts and ideas.
Later, people saw it as an opportunity to communicate with the users on the internet on just about any subject you can imagine.
Any website can have a blog page to present content ideas, make announcements and build relationships with their followers.
Examples of popular blogs include:
Each of these blogs uses the familiar format and clean design but differentiate themselves from each other using amazing content.
---
Why should you start a blog?
Starting a blog helps you communicate ideas and thoughts to the world. If writing is your thing and interests you, your passion can benefit somebody else.
Here, we have listed some underlying reasons why you should start a blog.
---
Express your thoughts
Starting a blog allows you to express your thoughts in a public way. It doesn't always have to be a proven method or steps or be particularly constructive, it can be anything you like.
The beauty of a blog is that it can be whatever you want it to be!
---
Educate readers
Knowledge is power but it should be power shared.
Your blog can educate your reader and teach them something new. It can become the go-to place readers come for more in-depth content.
---
Expand your knowledge on the topic
While writing something meaningful and valuable, you first get deep into the topic you're writing about.
This helps you learn more and expand your own knowledge, which you can then go on to share with your fans.
---
Earning potential
Though blogging might be your interest only, you can make it pay for itself too.
You probably won't earn a fortune, but the blog could pay for its hosting and some of the time and effort you put into it.
Use ads, affiliate marketing, sponsorships and other money-making methods and blogging could become quite lucrative!
---
How to start a blog from scratch
Starting a blog is not as difficult as you might think!
We've broken down the guide into ten different steps to make the picture clear on how you can start a blog.
---
Step 1: Select a niche
The first step towards starting a blog is selecting a niche, areas around which you will be writing and publishing your blogs.
While there are thousands of niches available, you should ideally stick to what you know. If my expertise lies in coding, I will not be a great medical blogger!
That said, some very successful blogs document learning journeys, where the bloggers learn and then share what they learned.
If you're looking to monetize your blog, we would suggest researching the current market and picking a niche based on audience numbers and earnings potential.
Even commercial blogs will perform better if you know what you're talking about though!
---
Step 2: Come up with a suitable name for your blog
A blog name is the identity of your blog that presents you on the web. A blog name can be something suitable for your niche.
A blog name should ideally be unique, related to you, your business or your passion. It could be your name, something related to the subject, your business or something else entirely.
---
Step 3: Select a platform to start your blog
While there are many blogging platforms available to power your blog, you need to select one to get started.
Platforms like Wix, WordPress.com, Blogger, and Tumblr are free. Being free, the platform offers limited services and customization.
The free platforms offer domain and hosting services for free, but it has a limitation.
For example: If you start your blog on wordpress.com, your site name will have the wordpress.com extension, as yoursitename.wordpress.com.
If you're serious about your blog, we would suggest a reliable platform like WordPress.org. While the platform is free, you'll need to buy a domain name and hosting to make everything work. That should cost no more than $50-100 per year though.
WordPress.org powers 60 million blogs generating 300 million unique visitors per month, making it the front runner in the content management system.
The platform offers over 50,000 plugins and 4,100 themes offering plenty of scope for originality.
---
Step 4: Select a reliable domain and hosting service
A domain is a name you purchase for your website to represent it on the internet. You see the 'www.' name at the top of the screen? That's our domain name.
We would suggest picking a domain name that's simple and easy to remember and related to the name of your business or blog.
You can buy a domain name at the same time you buy web hosting, so it's very easy to do. That hard part is finding a good name that hasn't already been taken!
Web hosting involves renting space on a server to store your website. Some of the best web hosting services are WP Fix It hosting and WPMUdev.
Each domain and hosting comes with various pricing and services. We would suggest comparing a few of them and comparing reviews before you buy.
---
Step 5: Set up WordPress, hosting and domain
Many hosting services will set up WordPress automatically for you. Others will use a simple software installer to set everything up.
Both are very easy to manage and will have you up and running in minutes.
We would suggest following the tutorial guide on 'How to Set up WordPress' to set up your WordPress website.
---
Step 6: Select a suitable WordPress blog theme
One of the reasons WordPress is more popular than any other platform is the choices of themes and plugins it offers.
So, the next logical step toward starting your blog is selecting a theme!
The site's overall design, appearance, layout, and function mainly depend upon the theme you select. Most popular WordPress themes offer great features even in the free version, so building a blog isn't that difficult.
Astra is one of the most popular free WordPress themes that has powered millions of websites.
Once you choose a theme, it's now time to set up and design your blog to meet your needs.
---
Step 7: Design a blog
Designing a blog website isn't that difficult if you decide to go with a flexible theme like Astra.
In this tutorial, we will be using Astra theme to start a blog site.
Firstly, we need to install the theme:
Visit Appearance > Themes > Add New.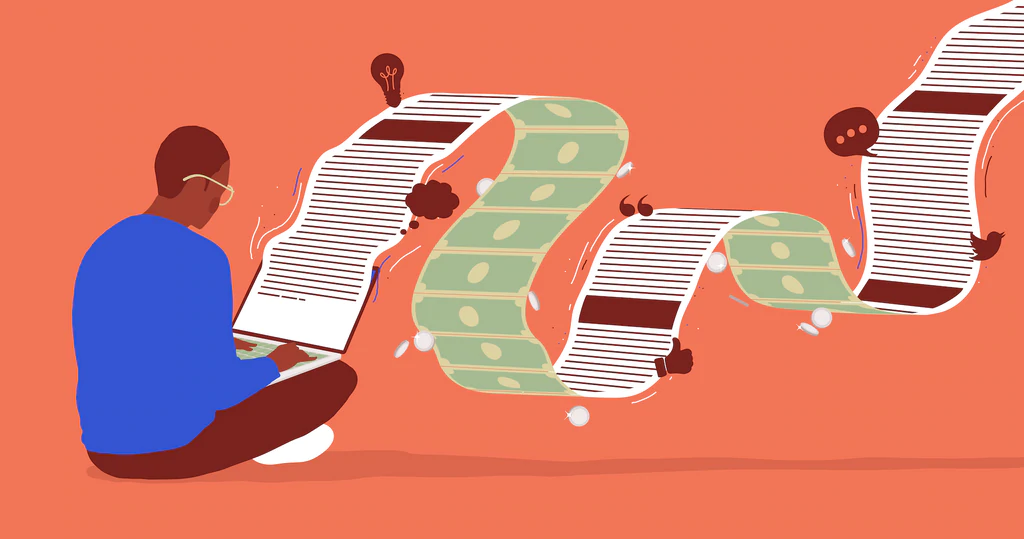 Search for a theme you would like to use and Install it. Type 'astra' into the box to use that theme.


Select Install and then Activate when you see the option.
Astra offers a Starter Templates plugin providing 180+ pre-built templates.
Install the Starter Templates plugins from Plugins > Add New.
Select Install and Activate the plugin.


Visit Appearance > Starter Templates.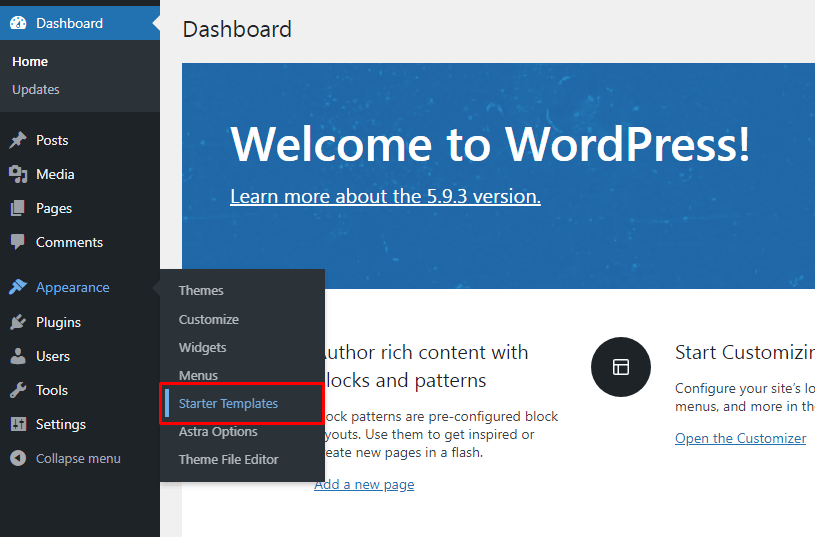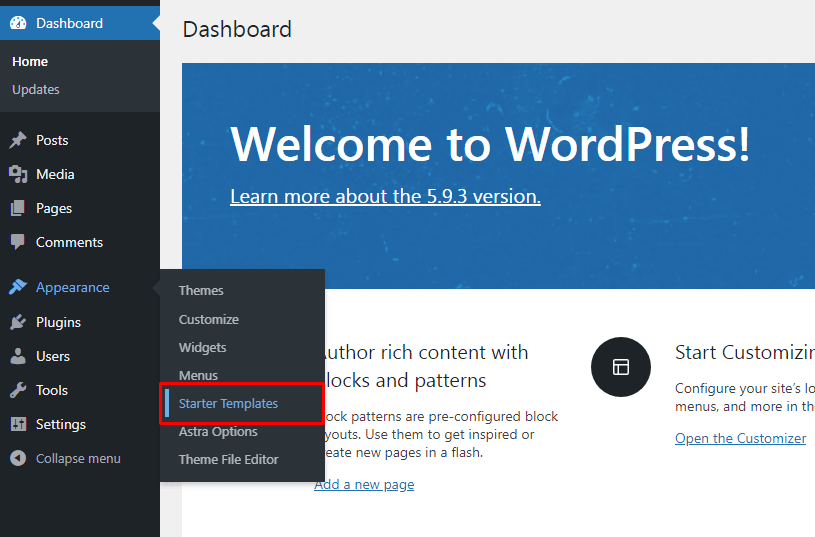 Here, you can select from multiple free pre-built templates.
Click on the Build Your Website Now button.
Select a suitable page builder.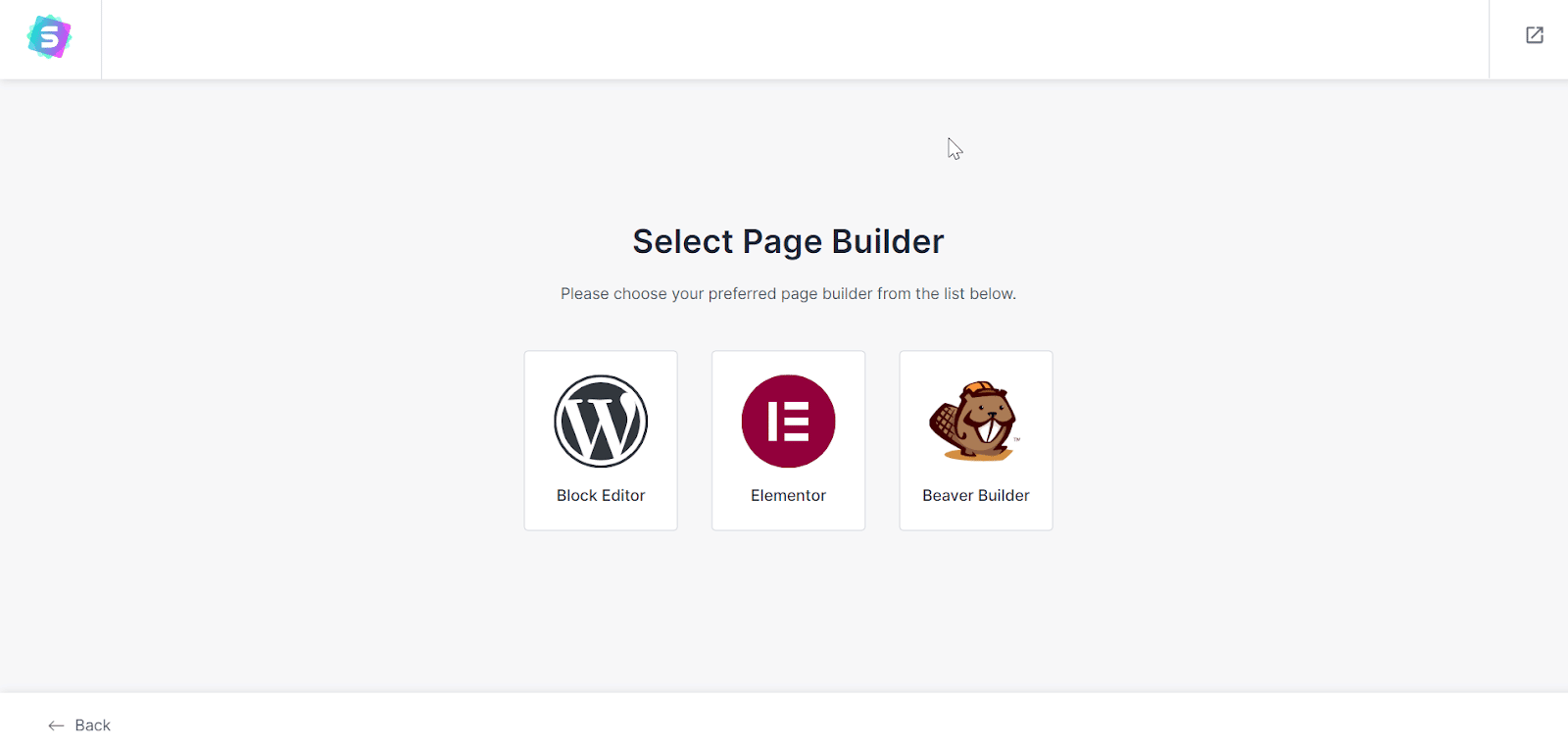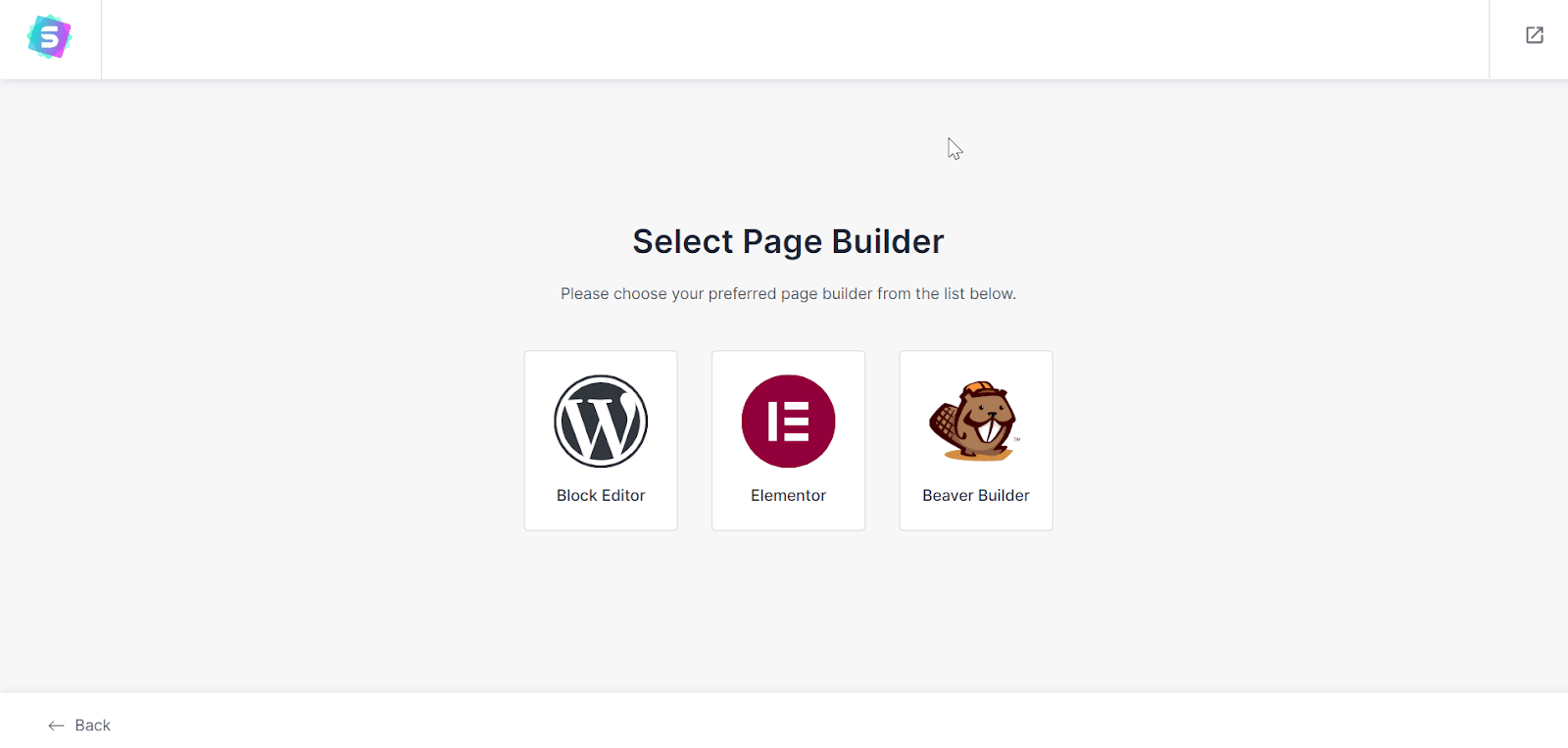 On the page, you can view hundreds of pre-built templates by Starter Templates.
Search or browse for a blog template.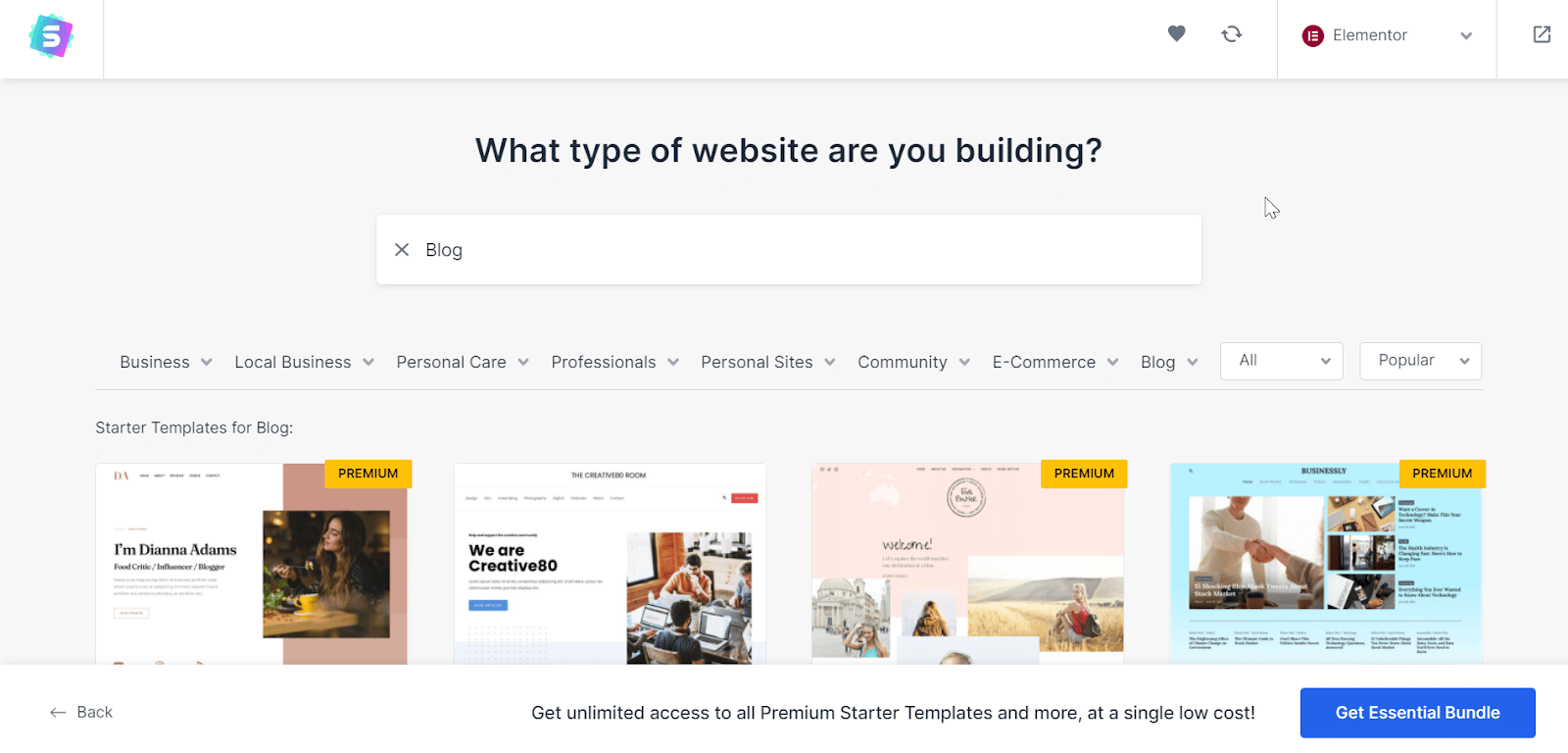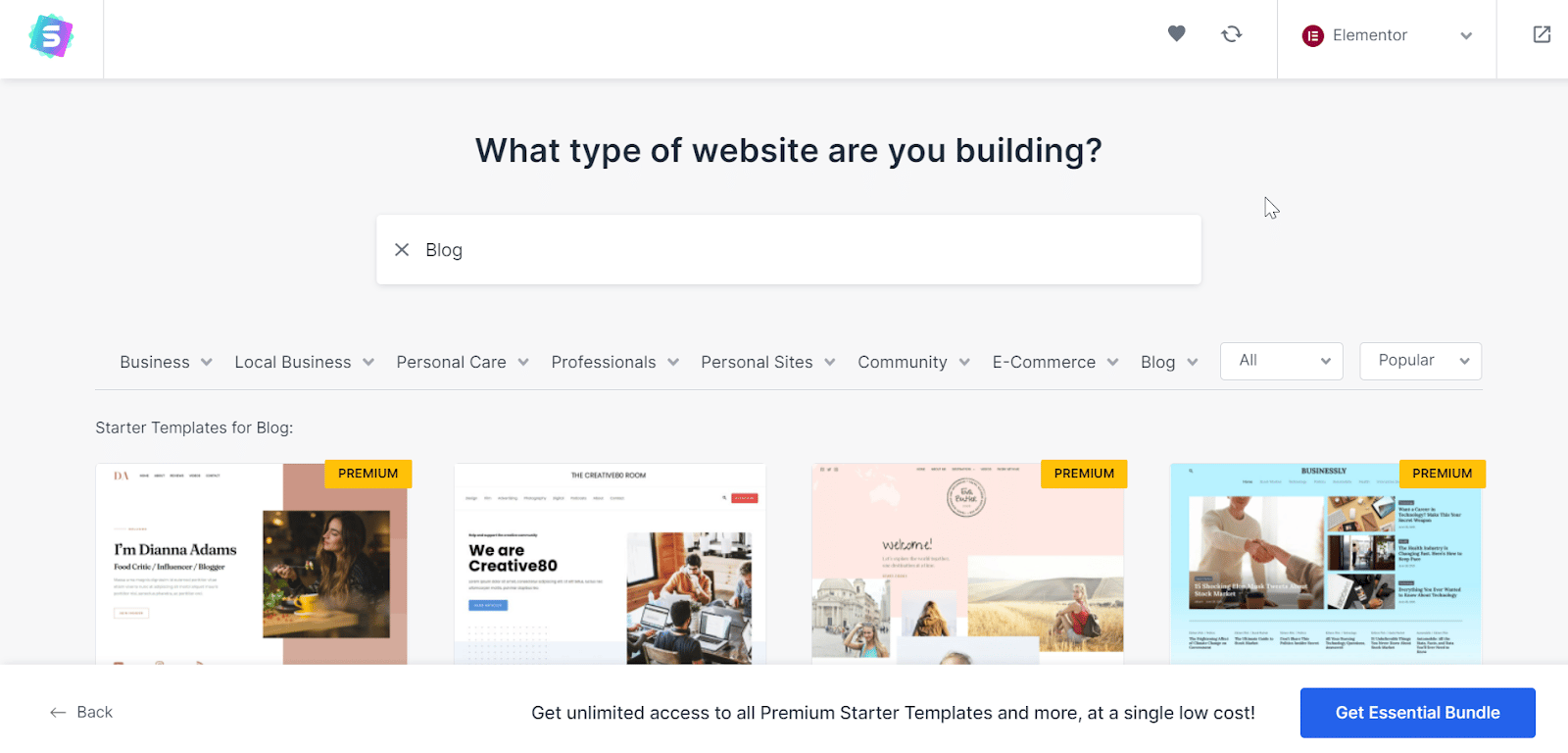 Select a template and select Install to begin the import process.
You will be presented with a simple setup wizard to help you configure your theme.
Enter the logo or you can simply skip the step and continue.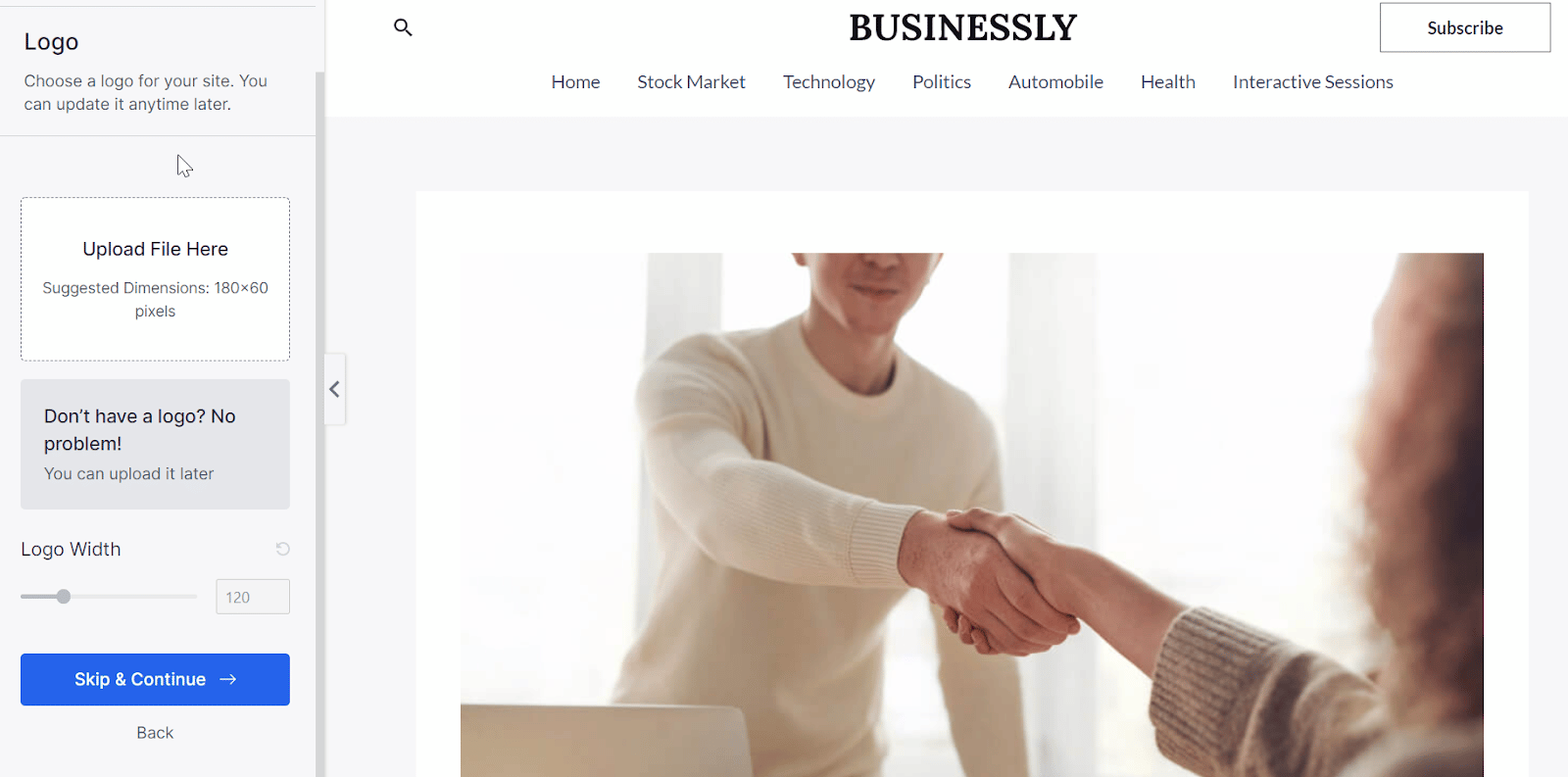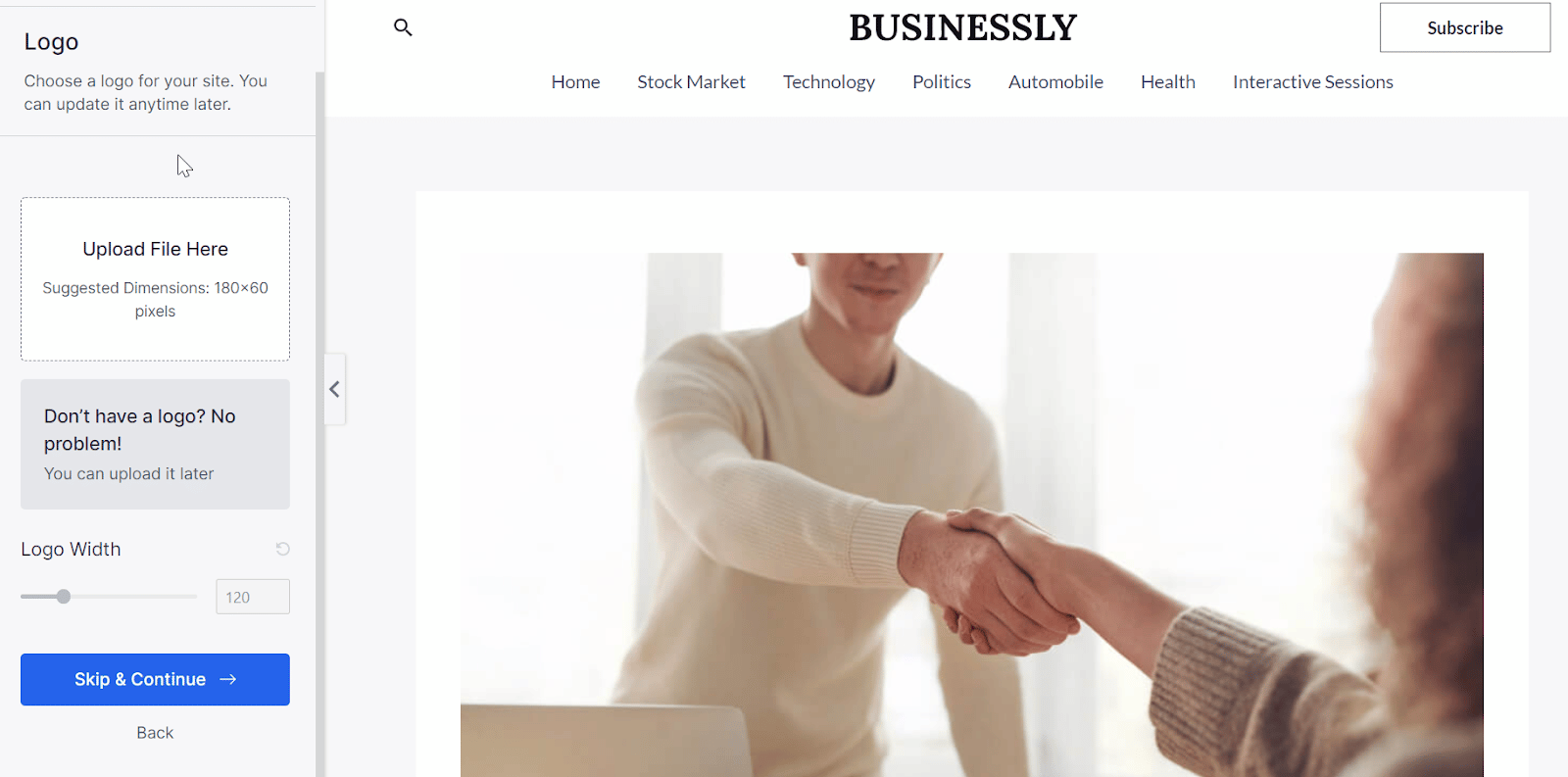 Select the color and fonts you want to use or skip for now.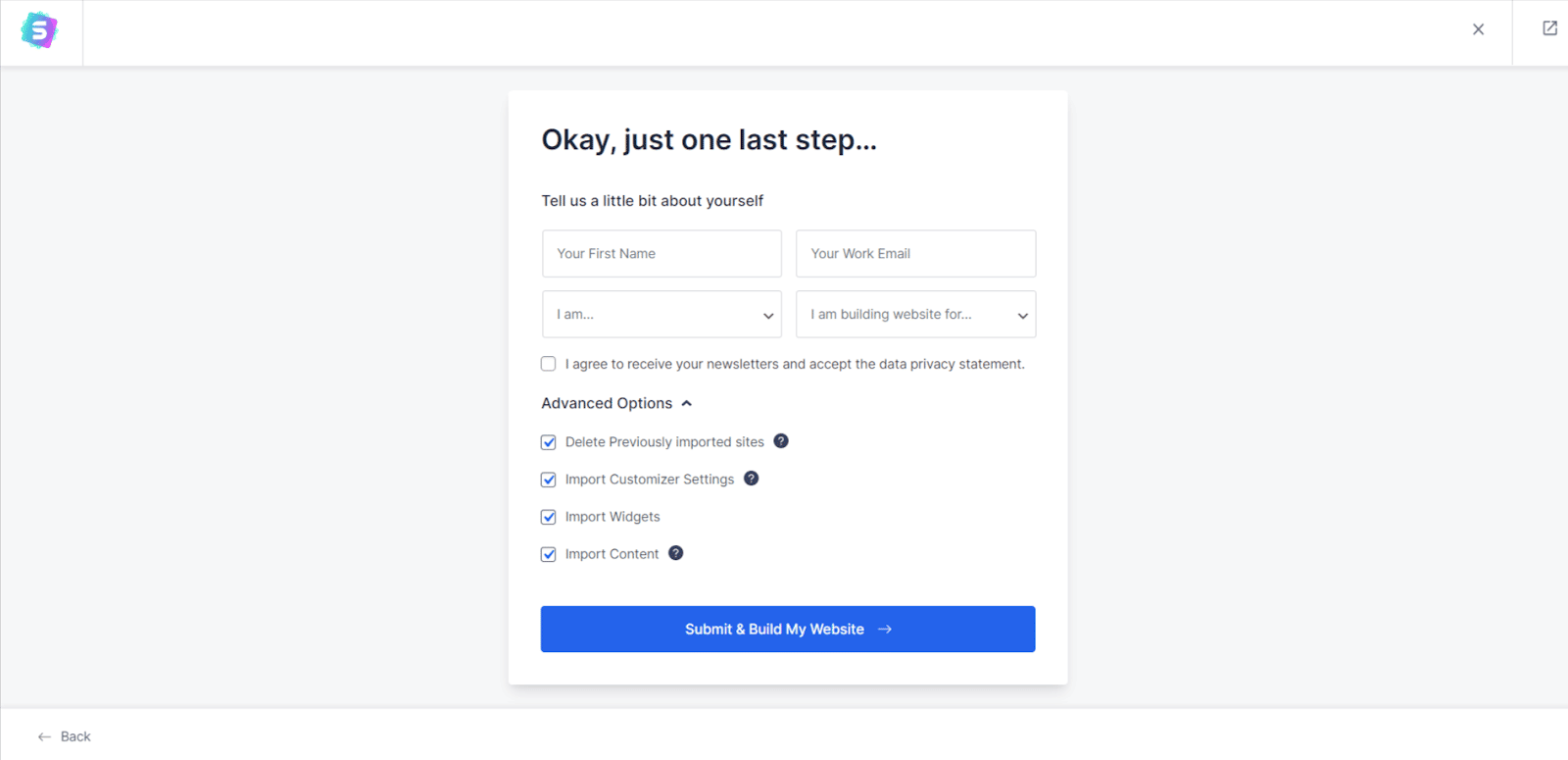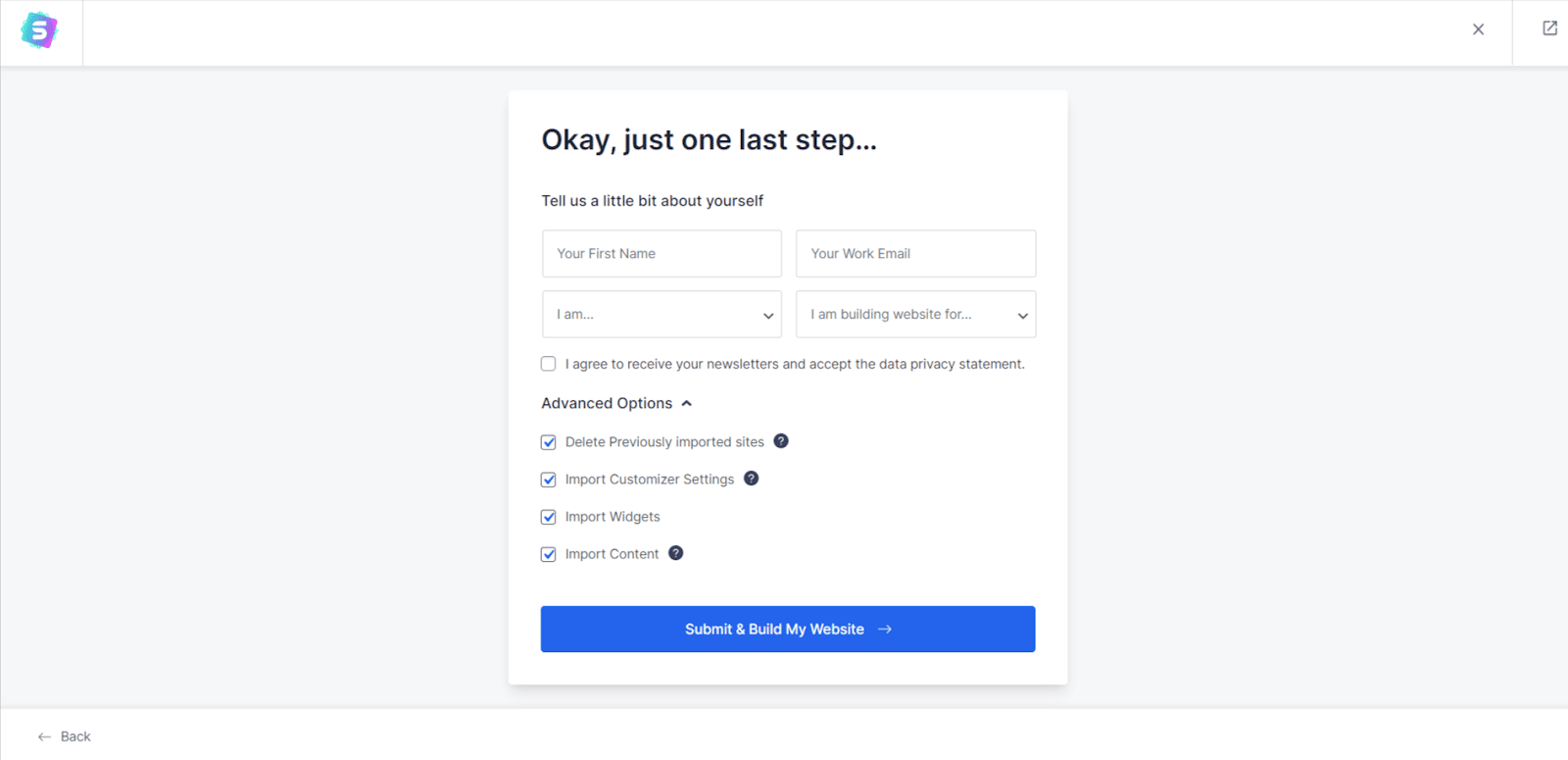 Now comes the part where you need to enter your name, work email, who you are, and your purpose for creating a website.
It takes a few minutes until your website is ready!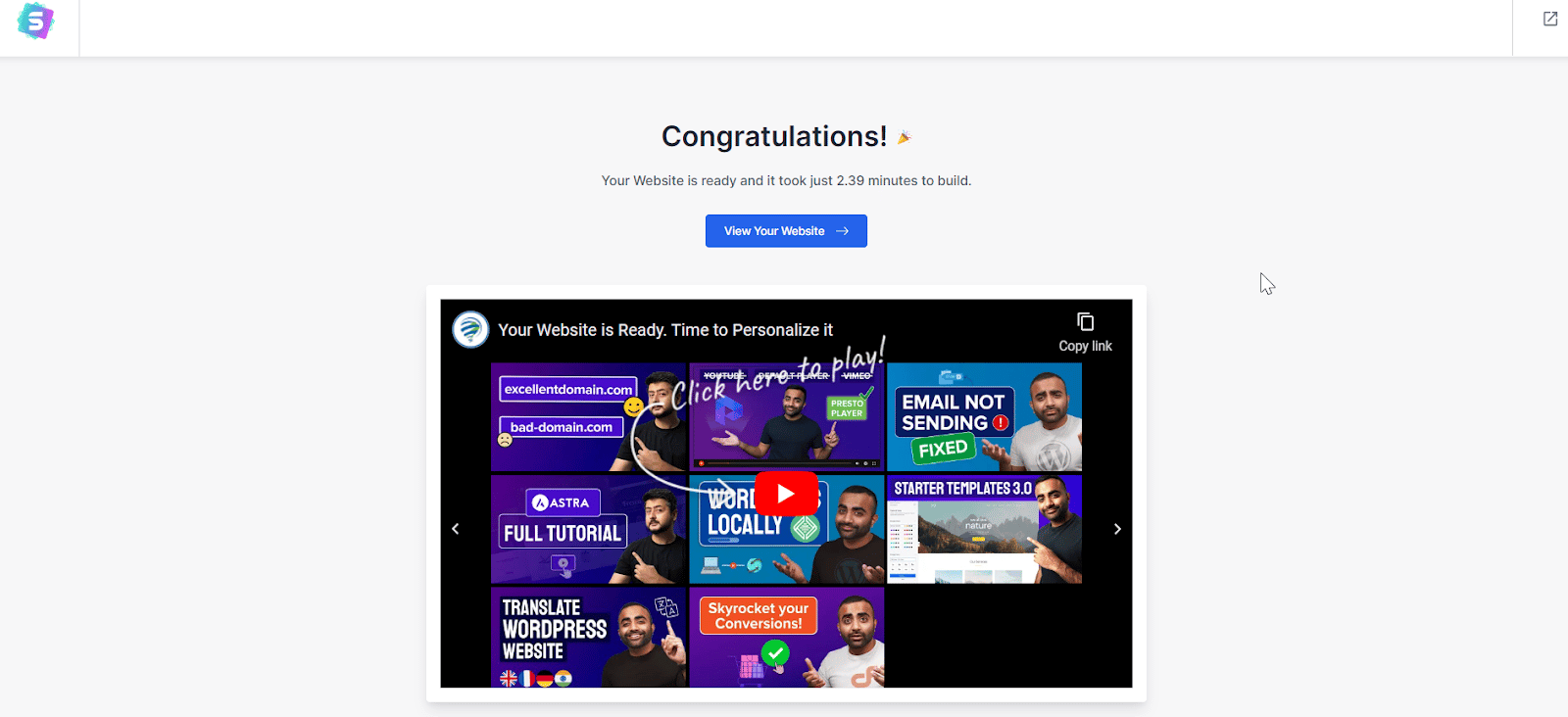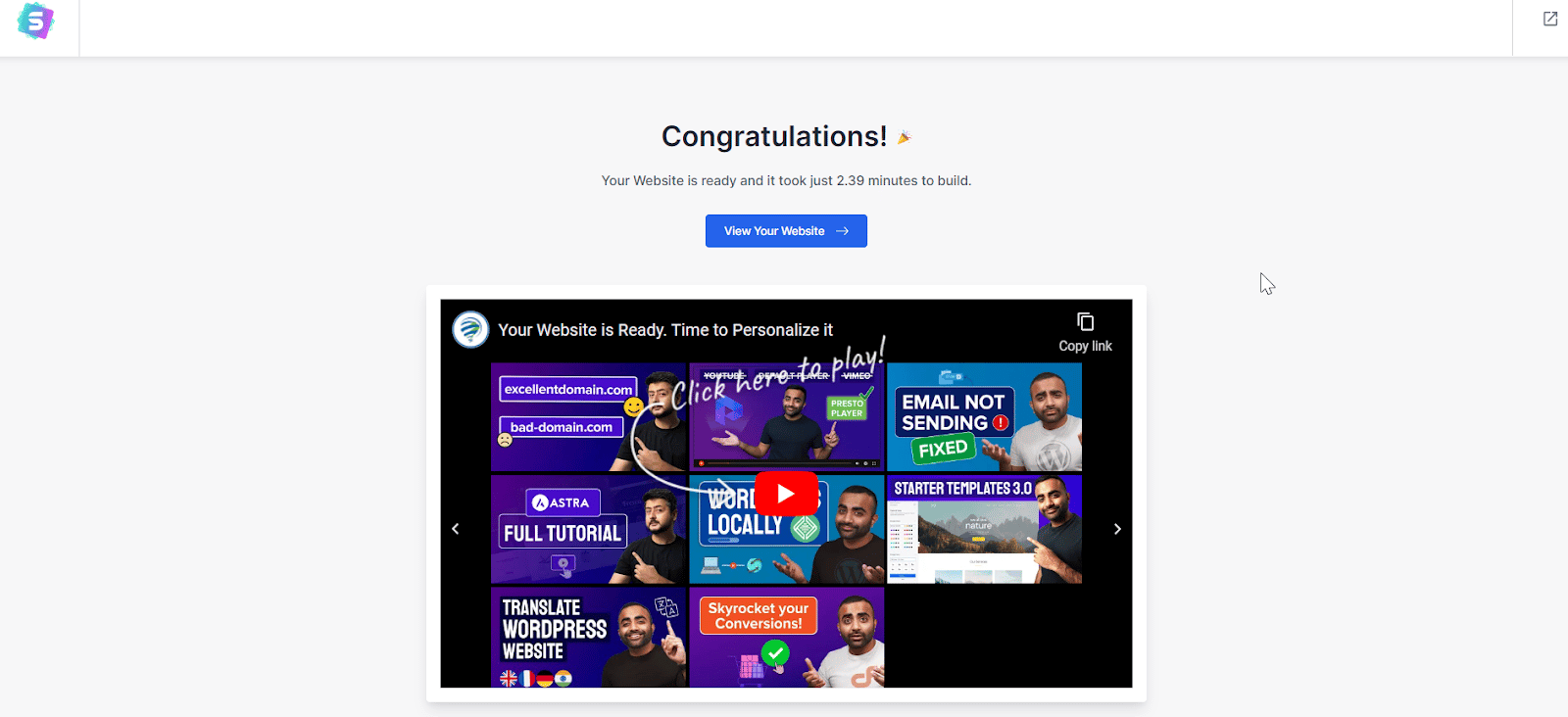 You can preview your website by clicking the View Your Website button.
Now your site is fully built and comes to the customization stage!
To customize your site:
Visit Appearance > Customize.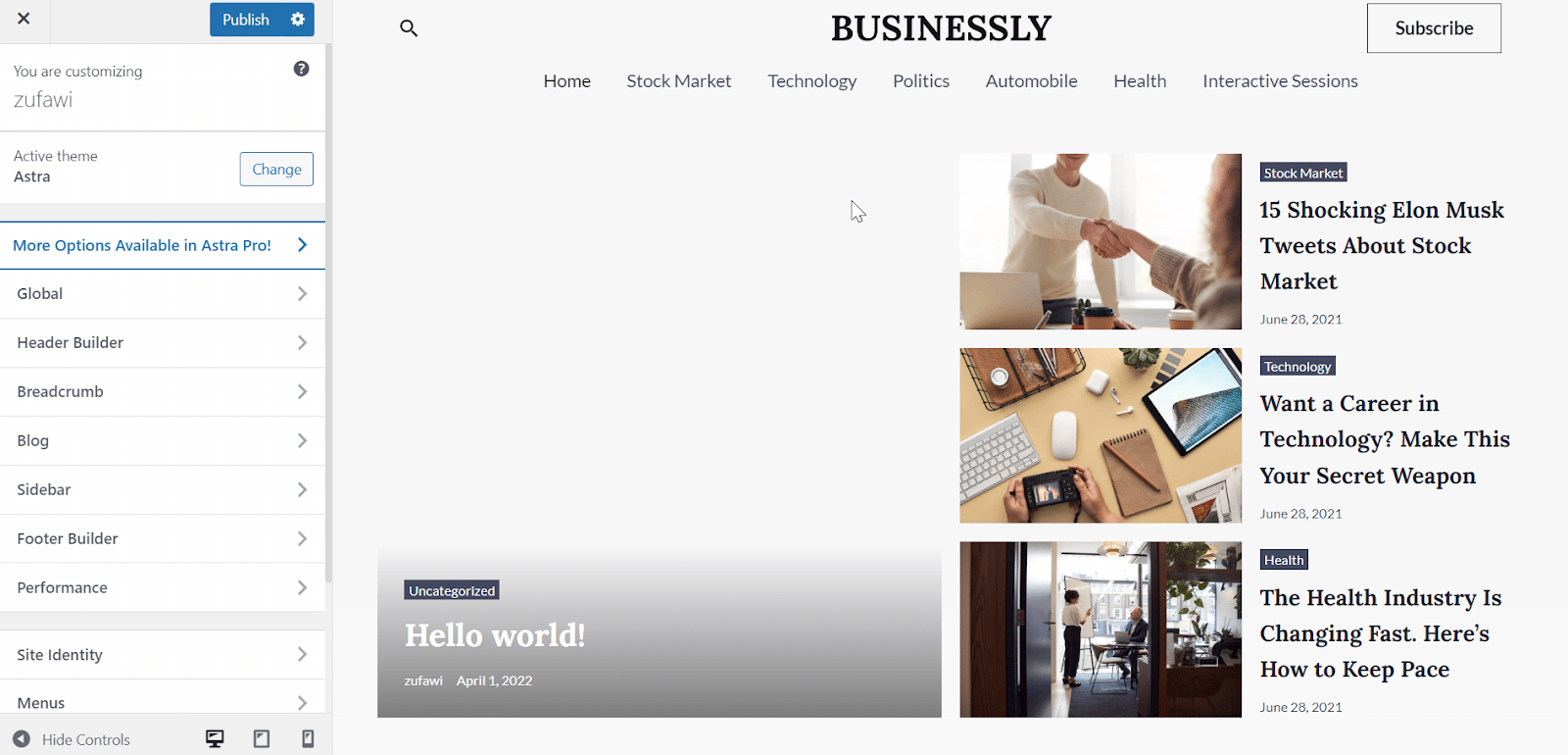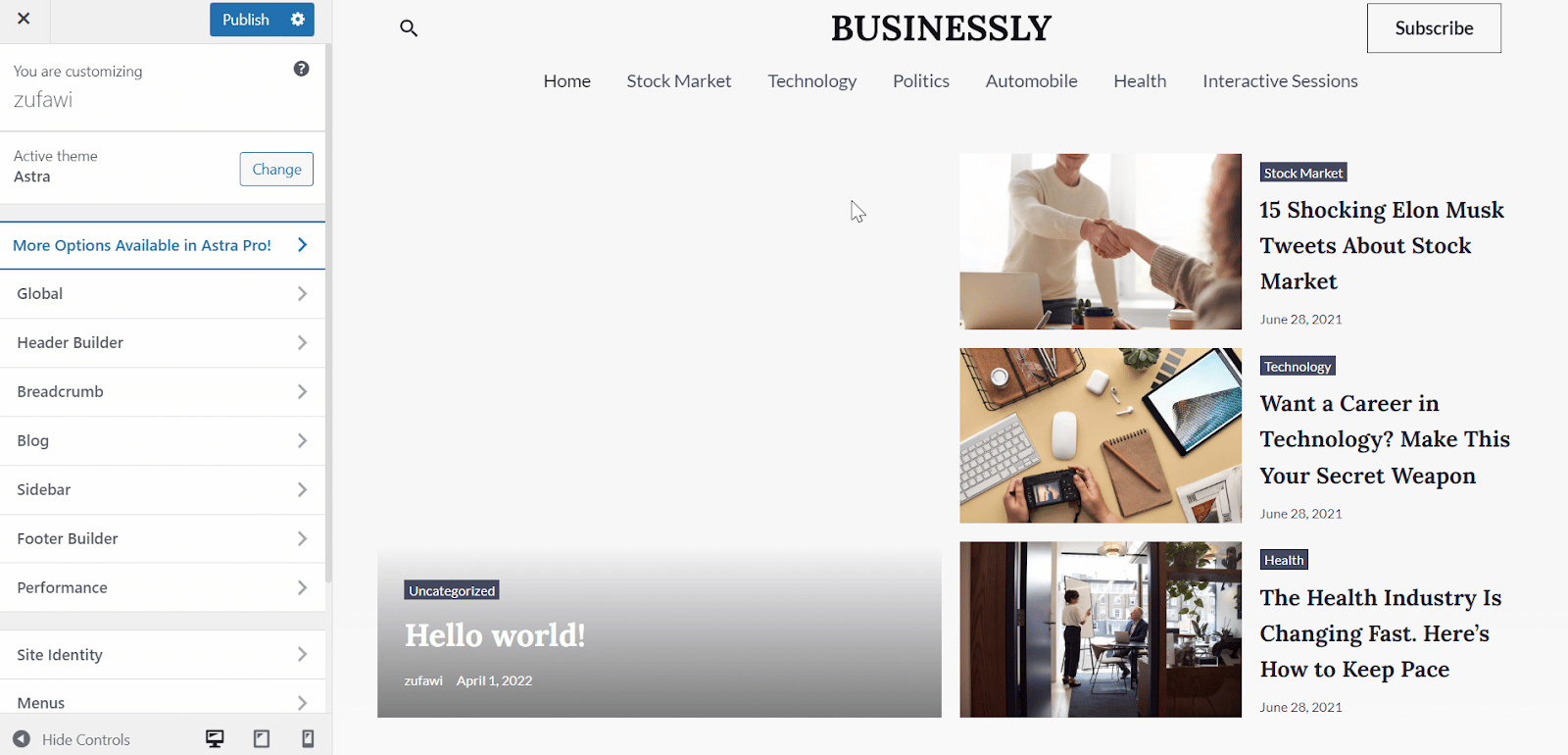 You can now customize every aspect of your blog, from the header all the way to the footer.
Click on a particular section you would like to customize making changes as you go.
Just remember to select Publish when you're done to save your changes!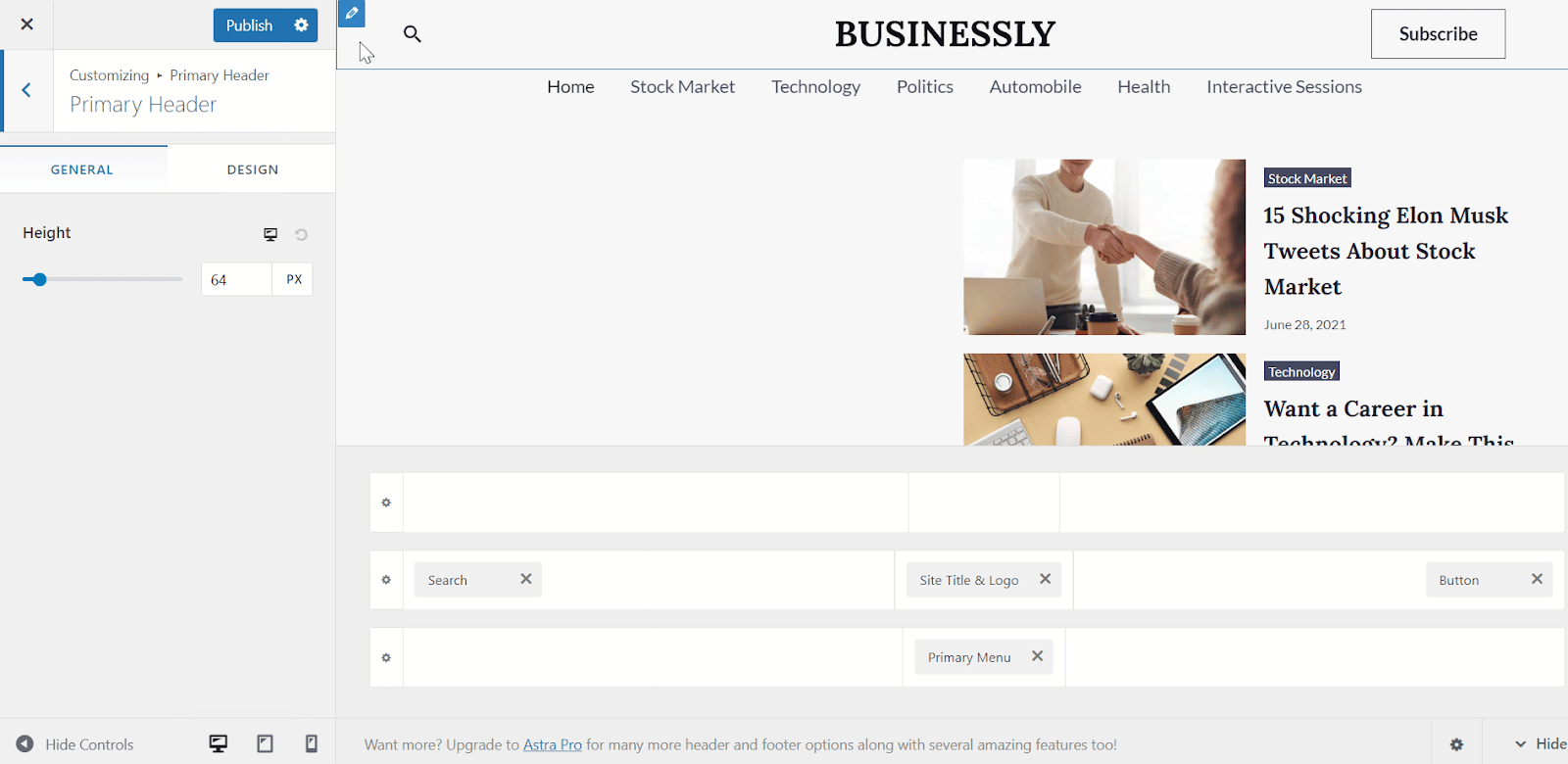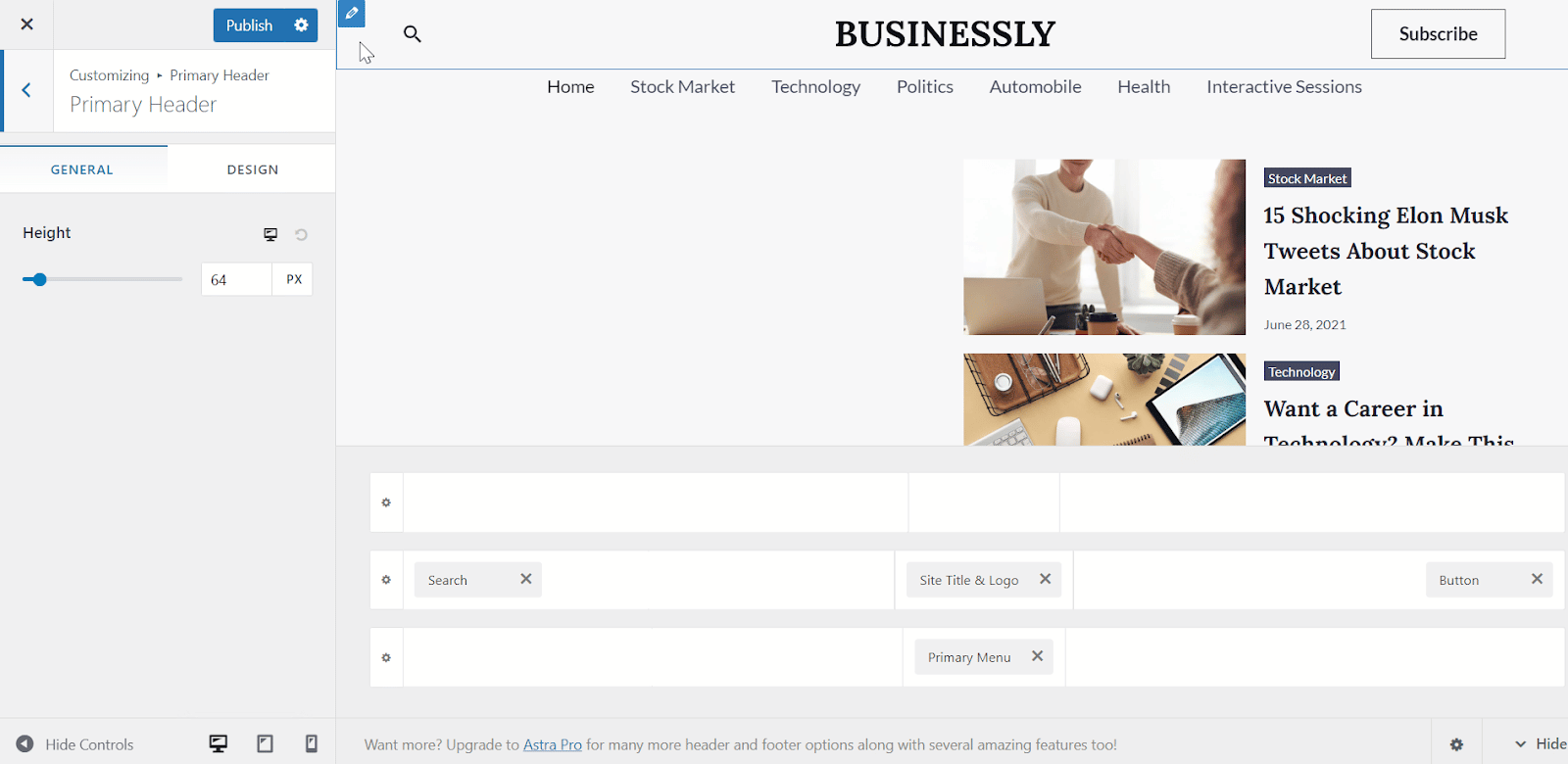 The customization functionality of the Astra theme is comprehensive and allows you to customize the website to its full potential.
Pro Tip: After you design your blog, make sure that you create essential pages like the homepage, contact, about, and privacy pages. If you aren't sure how what to put into your privacy page, these privacy policy generator platforms will help.
---
Step 8: Select suitable plugins for the blog
As good as WordPress and the Astra theme is, it won't have every feature you want. That's where plugins come in.
Plugins are software add ons you can 'plug into' WordPress to add features or improve existing ones.
We've listed some of the plugins we recommend below.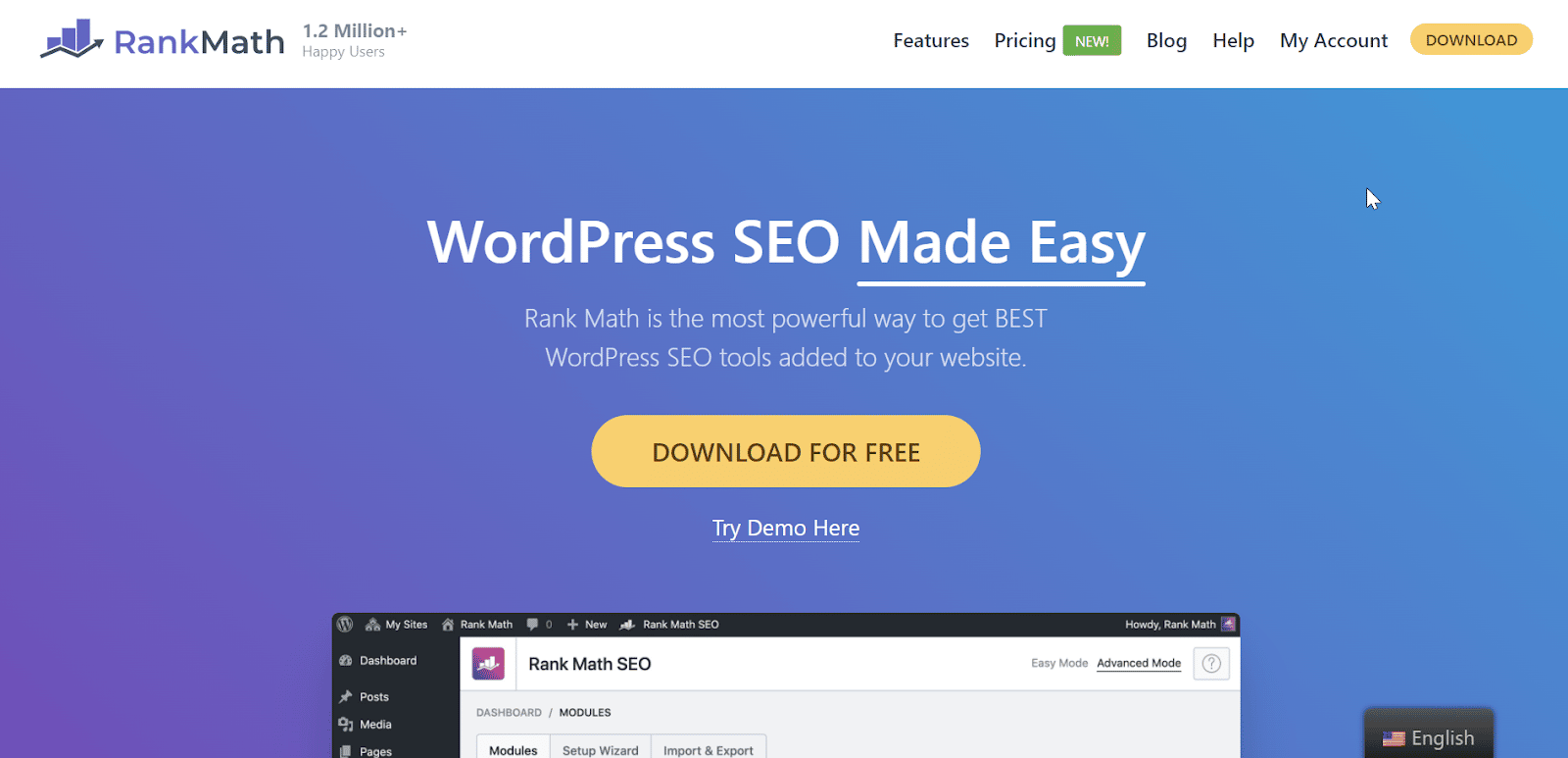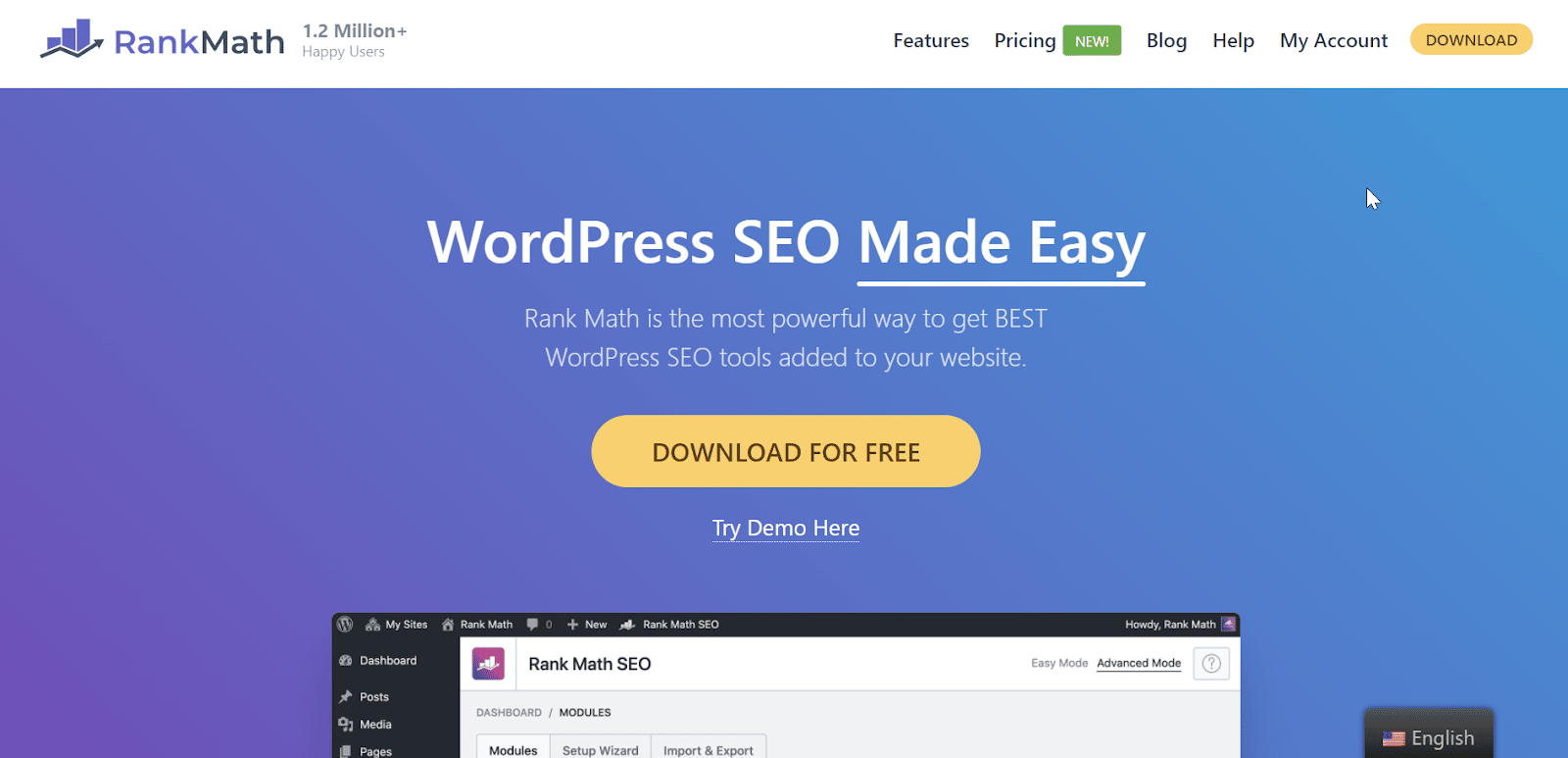 RankMath is a search engine optimization plugin that helps optimize the search engine potential of your website. It is one of the most powerful SEO plugins out there and automates many of the more detailed tasks.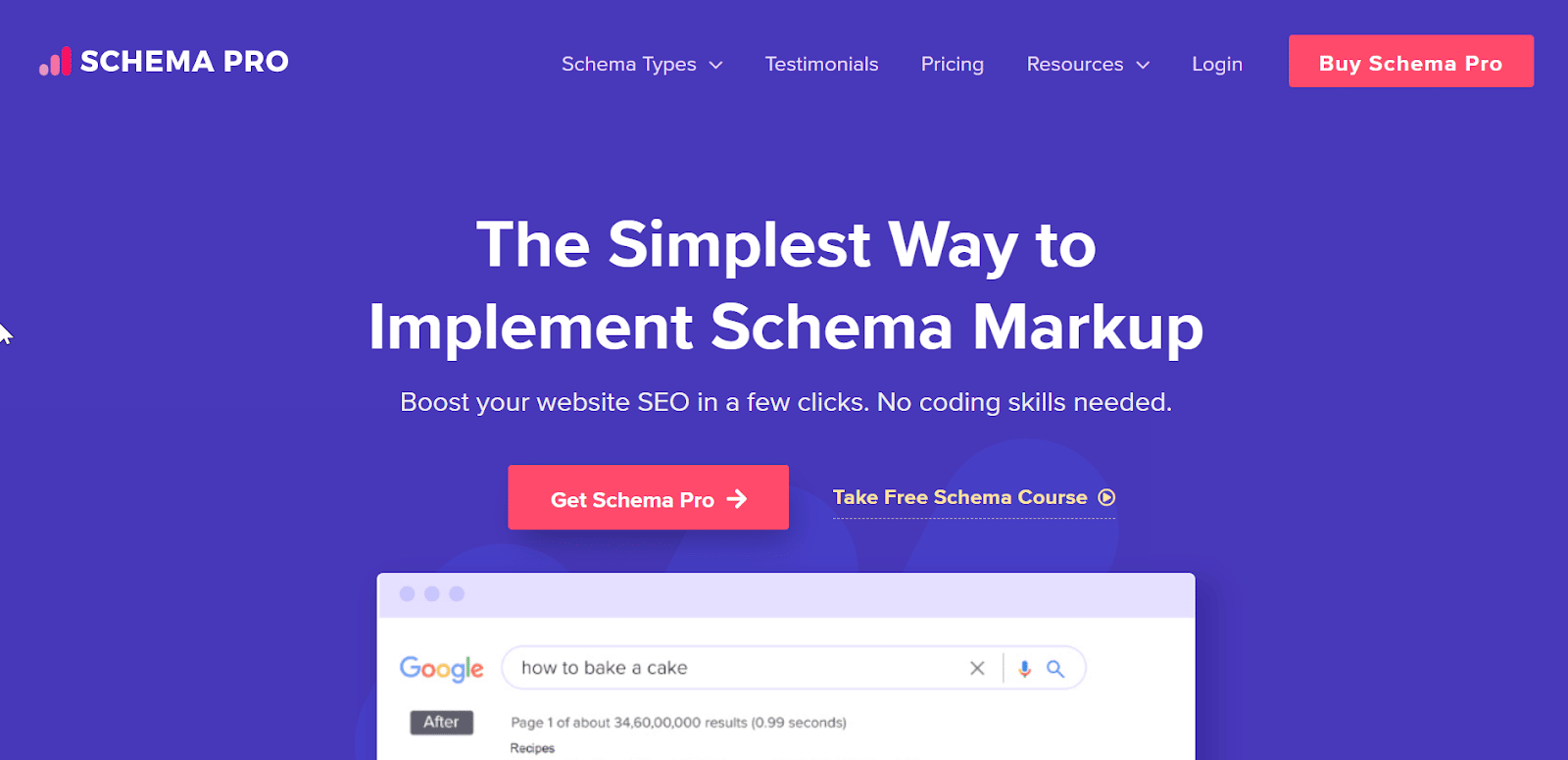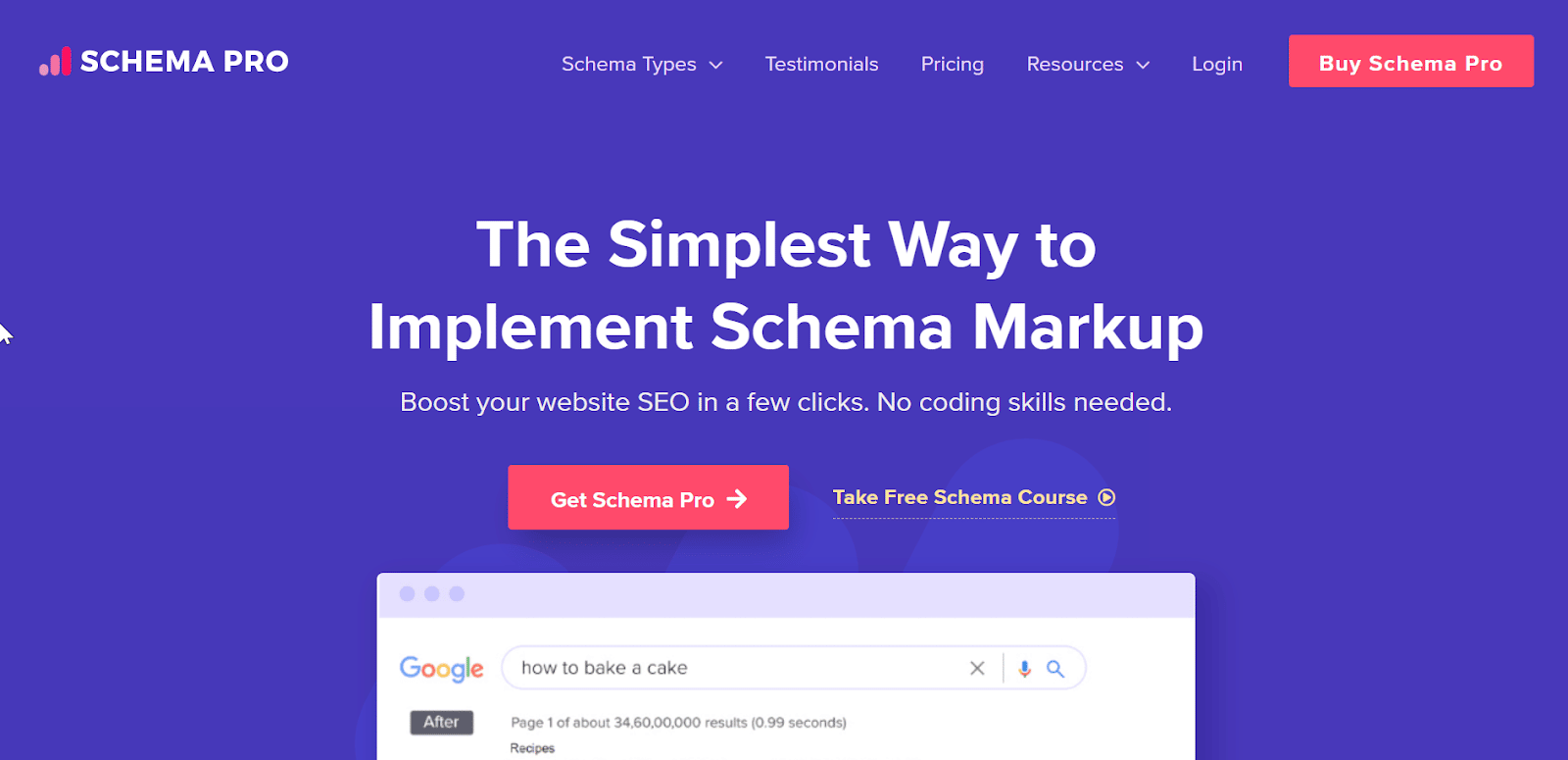 Schema Pro is another SEO plugin. This one optimizes your blog for schema. Google loves schema and uses it to provide rich search results. If you want to outrank the competition, this is the plugin to have.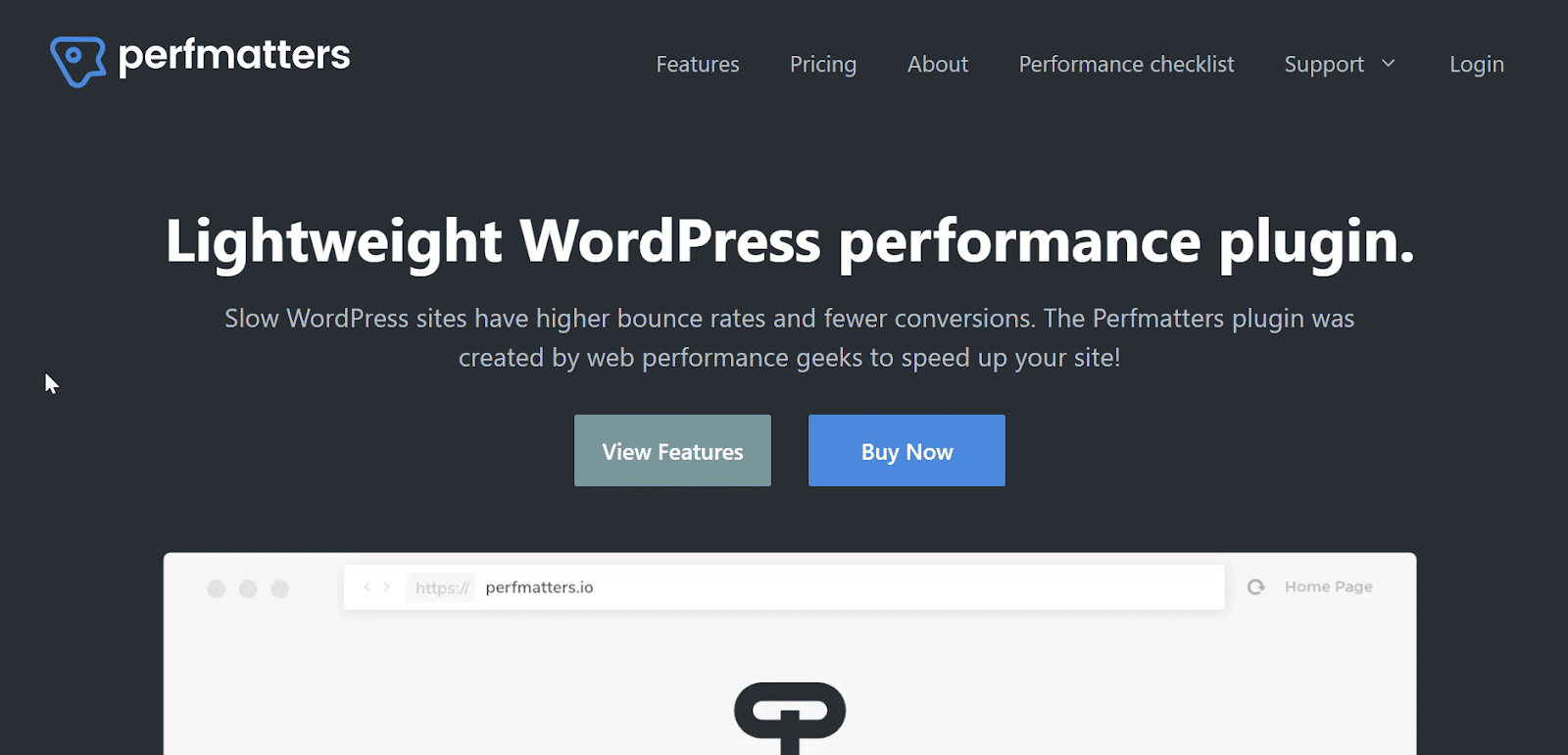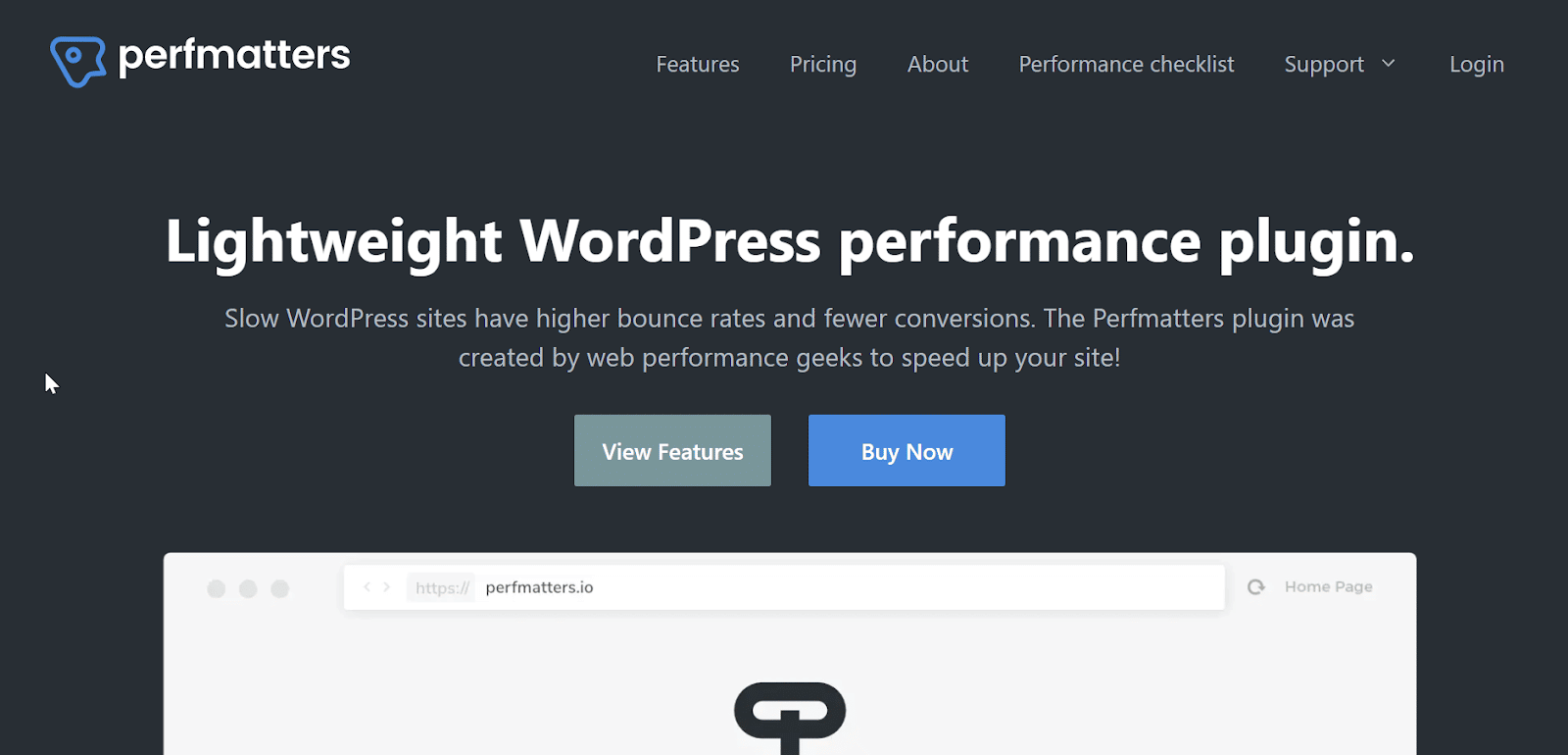 Perfmatters is a WordPress optimization plugin that helps speed up your website. The faster it is, the more search engines will like it. Visitors don't like slow websites, so speed is everything!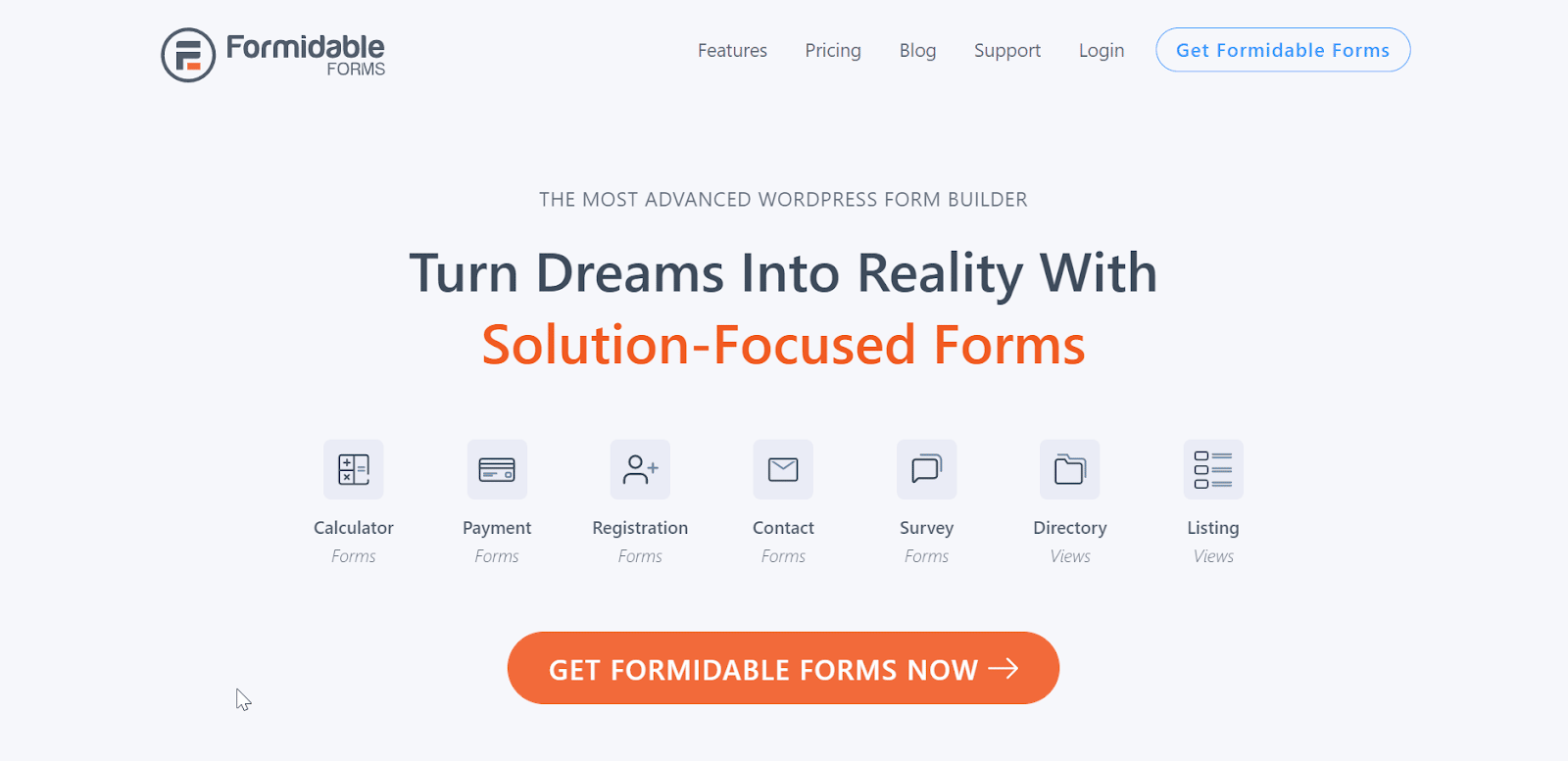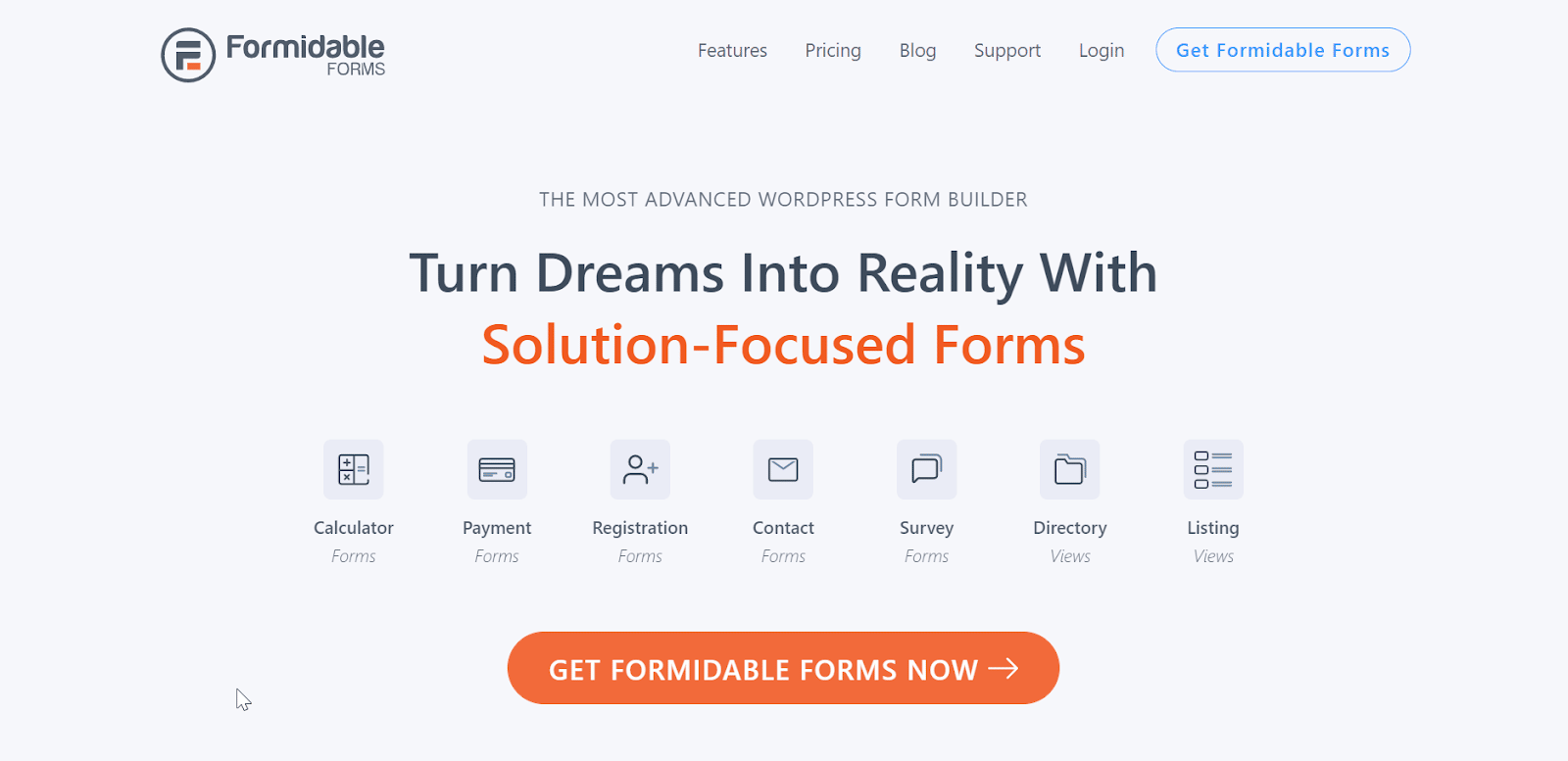 Formidable Form is a go-to plugin to create any form on your website. Forms help visitors engage, customers inquire and anyone to reach out. A blog is a two-way conversation, so some kind of engagement medium is essential.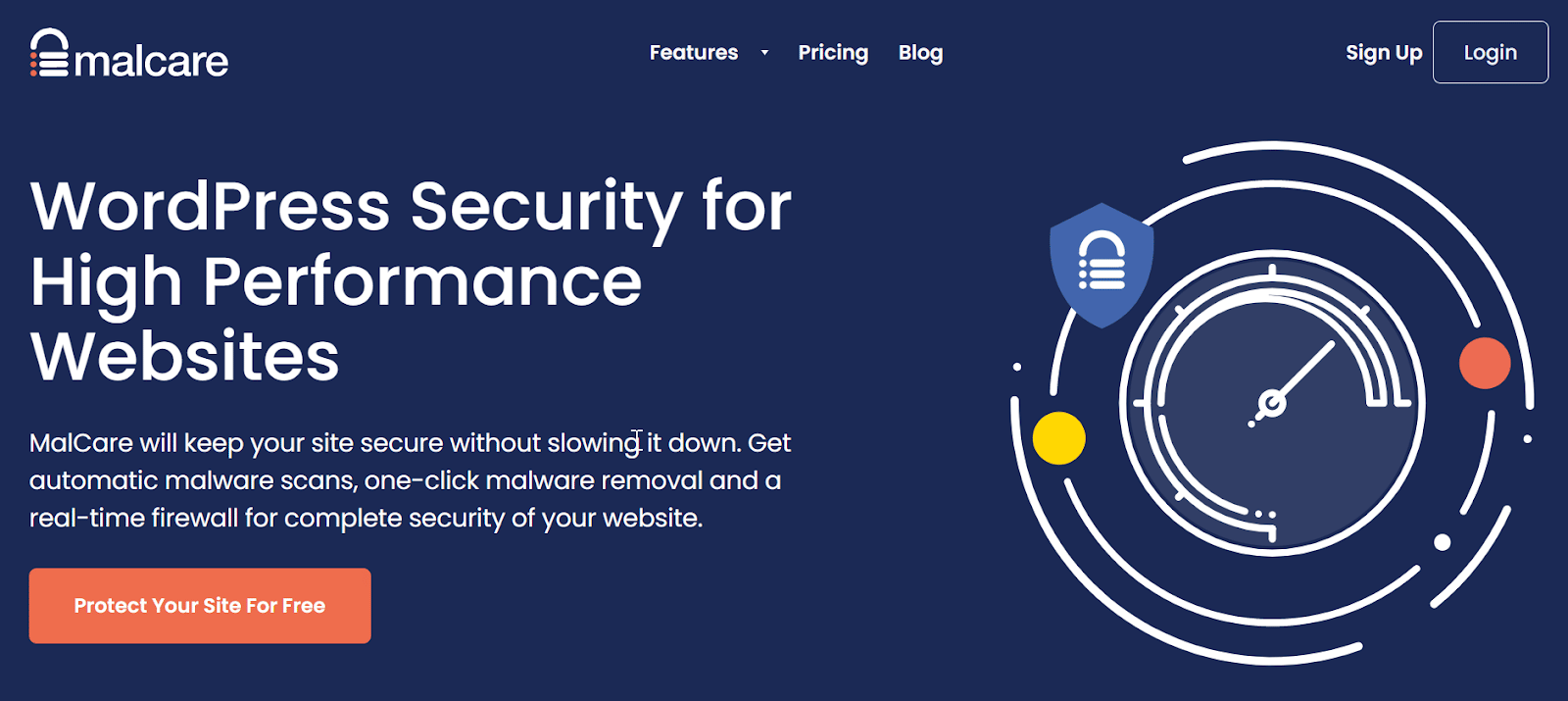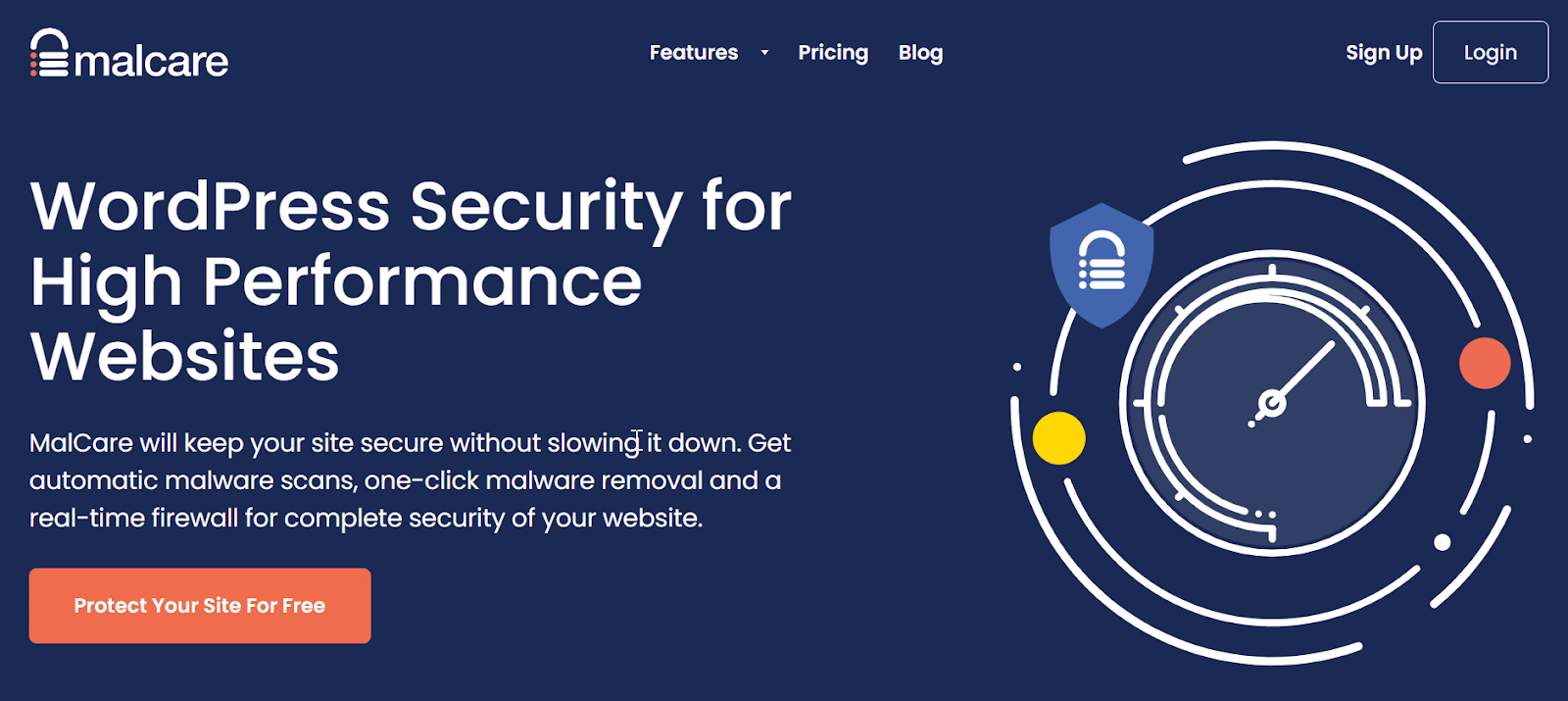 The Malcare security plugin protects your website from malicious attacks and keeps it safe from hackers. A security plugin is essential and every blog should have one.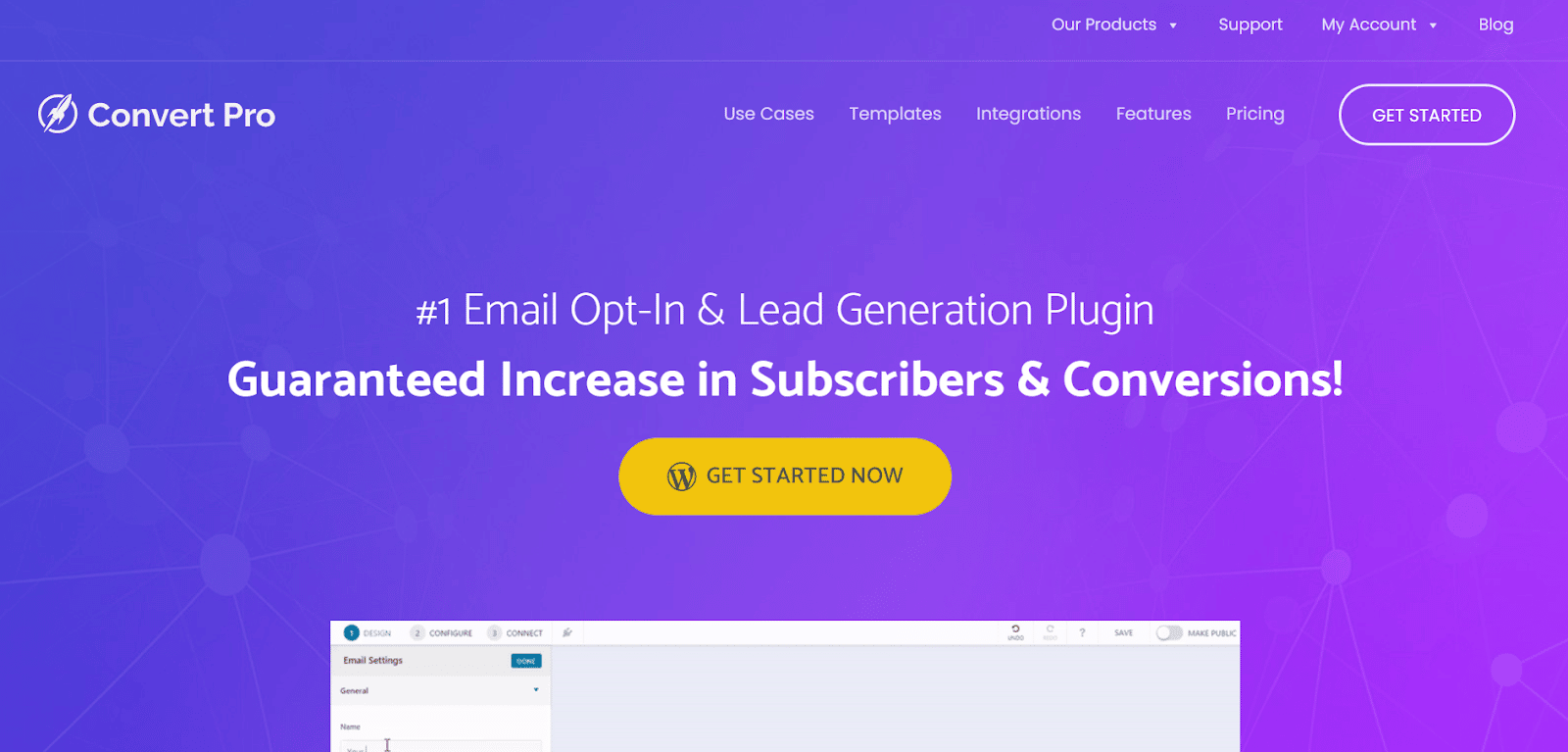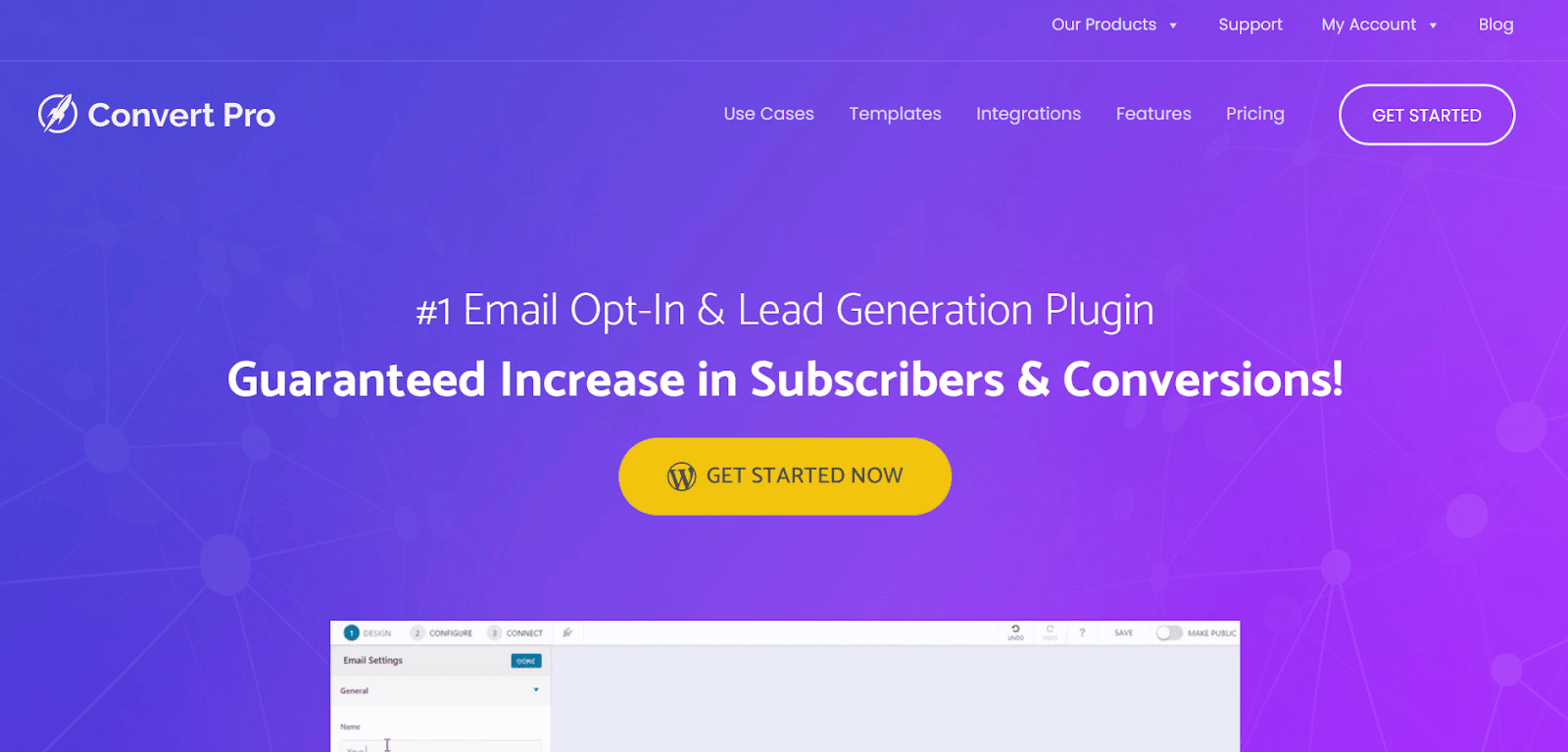 Convert Pro is a powerful lead generation plugin that helps you convert your website traffic into leads. This is essential if you want to turn your blog into a business or monetize it.
There are thousands of plugins for WordPress but these are just a few core plugins we recommend.
---
Step 9: Create your first blog post and publish it
When your website is ready, you can now write your first blog post!
To create your very first blog post:
Head to Posts > Add New from the WordPress site dashboard.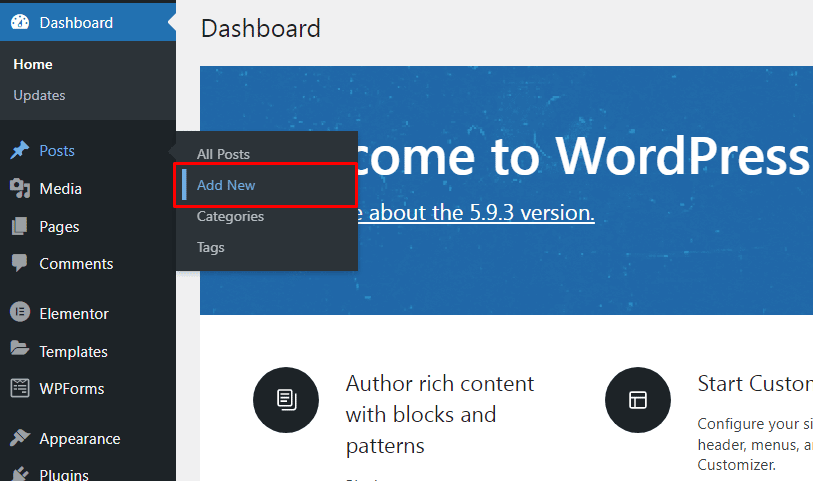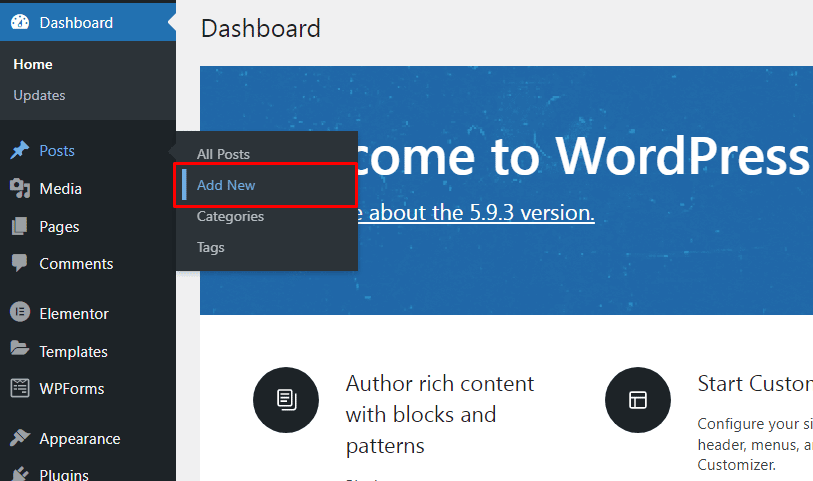 You can add titles, headings, paragraphs, images, videos, YouTube links, and many other elements to your blog.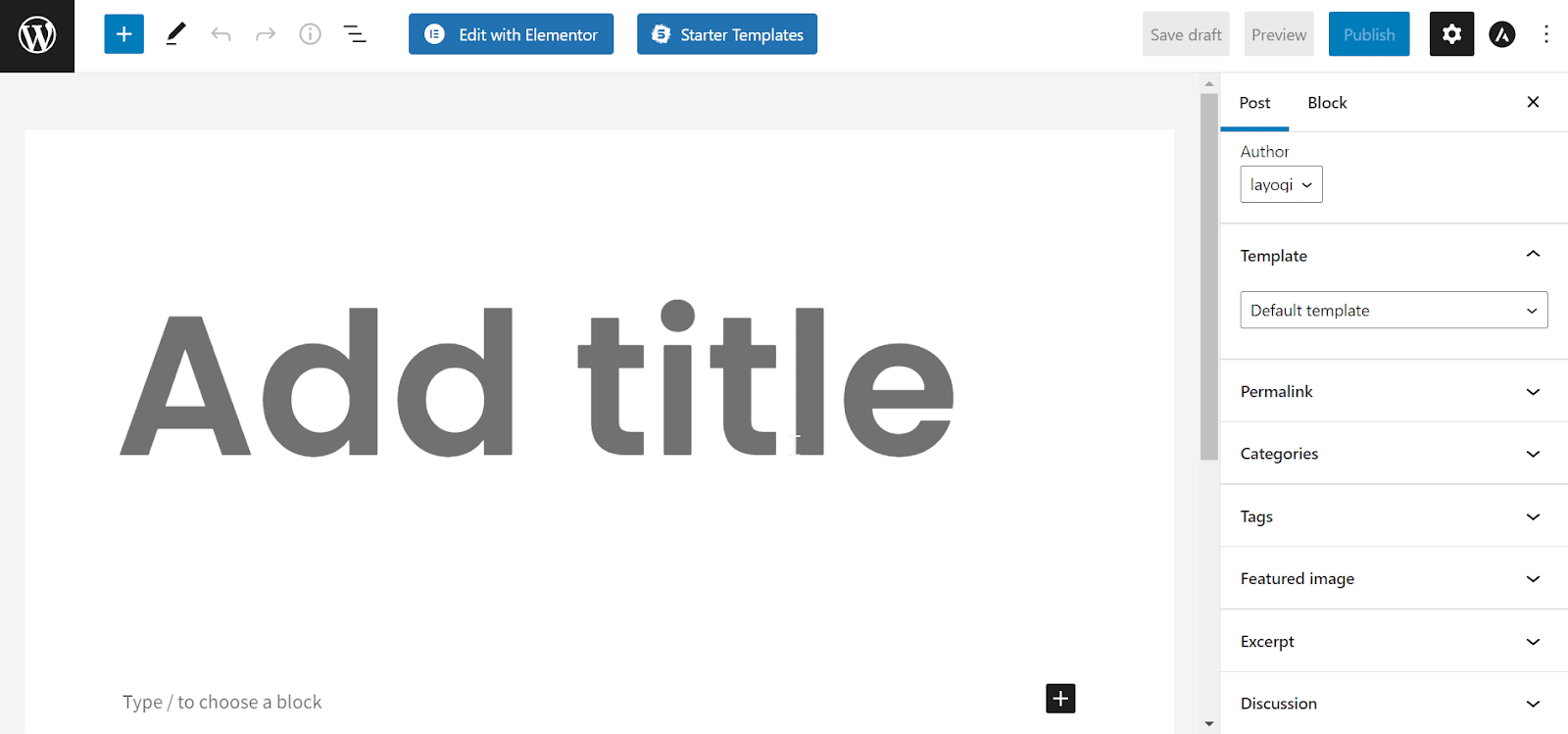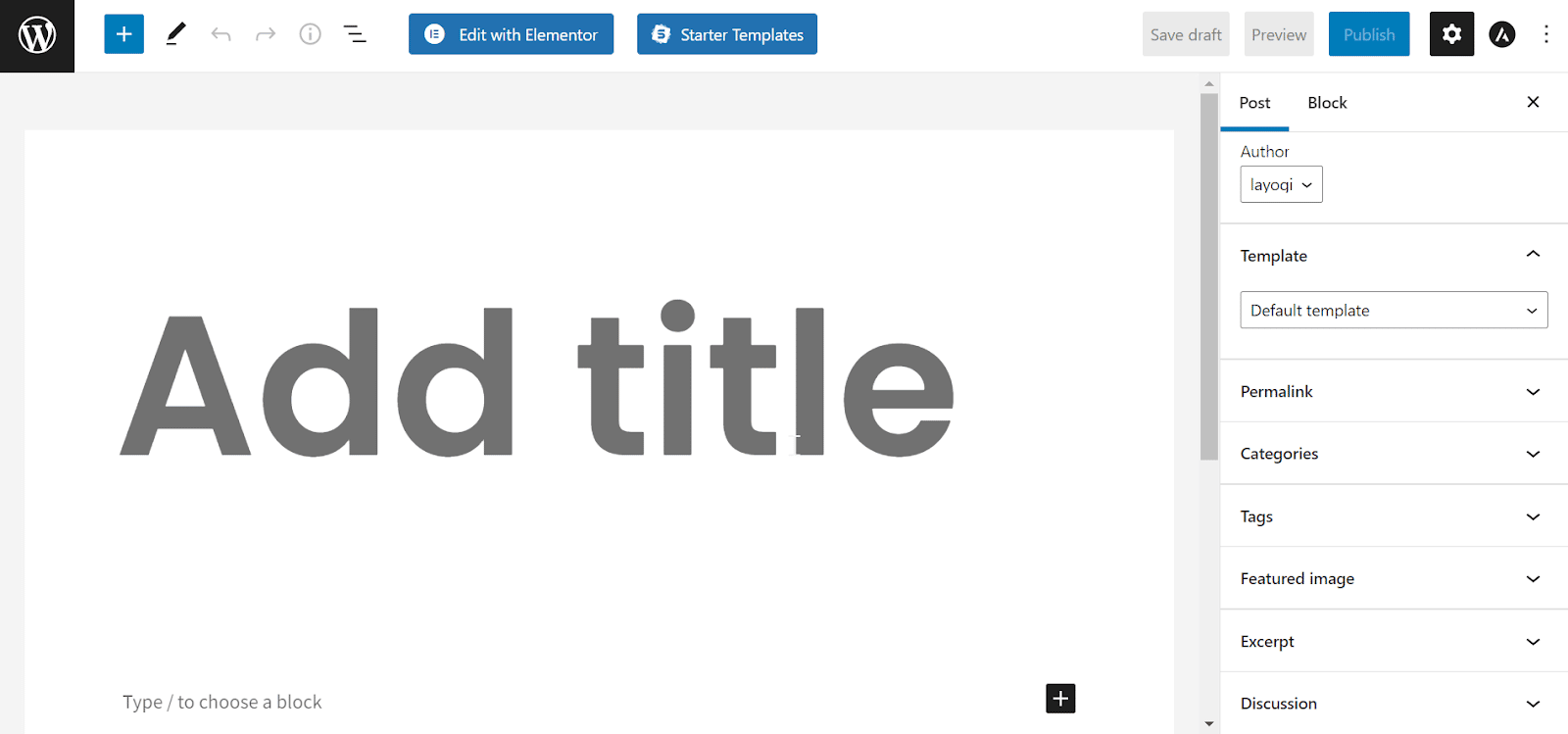 Title: It is the topic of your post.
Permalink: It is a link that presents your article on the web.
Categories: You can add categories to your blog to keep everything organized.
Featured Image: The main image that usually appears at the top of your blog.
Excerpt: The short description you provide about your post. The same content appears in search engine results.
When publishing, you can add focus keywords. The use of tags and categories simplifies the posting of blogs and makes it convenient for visitors to your site to view blogs.
To write your first post:
Add a title where you see 'Add title'.
Select the black plus box underneath and select a content block, or begin typing.
Write your entire post, add images, links and anything else you might want.
Select the blue Publish button at the top right when you're done.
WordPress allows you to keep the blog page of your site as the main homepage or keep it separate. It is a powerful option that is important as well as beneficial for bloggers.
---
Step 10: Promote and grow your blog
There are a wide range of tools and marketing strategies you can use to grow your site.
However, good content and SEO should be your primary concerns. The better your ranking on search engines, the more traffic you will get. And, you won't rank on search engines or keep visitors interested for very long without good content!
Marketing, social media promotion, and email newsletters play a vital role in growing your blog. The tools like SendinBlue to send emails to your readers and let them know about your new posts.
Further, you can create social pages for your website and add posts and pieces of content to engage your community.
---
Wrapping Up
As you can see, while building a blog may seem complicated, it really isn't.
With a few simple tools and this guide, you could create a website and launch a blog within just a couple of hours.
Where to go next is entirely up to you!
We hope the guide was helpful and did enough to convince you that you may have a future as a blogger!
Have any questions?
Need any extra help?
Have any suggestions for themes or plugins for blogs?
Comments below