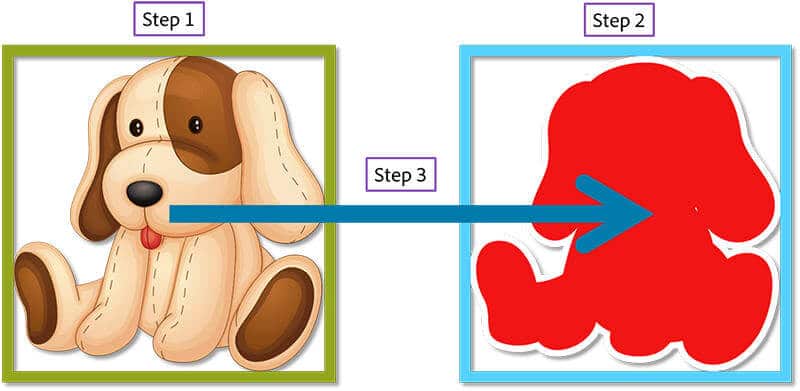 10 of the best WordPress Drag and Drop Themes
Many of the novice website owners, especially those who don't have in-depth coding skills find obstacles while building a professional looking website for their business.
Fortunately, there are numerous WordPress themes integrated with a Drag and Drop functionality to assist users who want to develop a high-quality website without using a single line of code.
WordPress offers a wide collection of themes with drag and drop functionalities that allow users to create a professional website simply by dragging and dropping specified theme elements into a canvas that consist the main layout of their web page.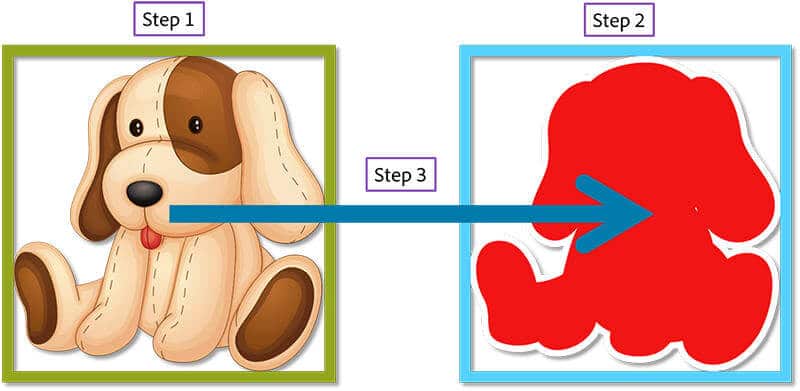 With the help of drag and drop WordPress theme, you can create your website easily and quickly without any complication. In this blog post, we have picked some of the outstanding WordPress drag and drop themes that will help you create a personalized website in a short amount of time. Here are 10 of the BEST WordPress Drag and Drop Themes.
1. Bridge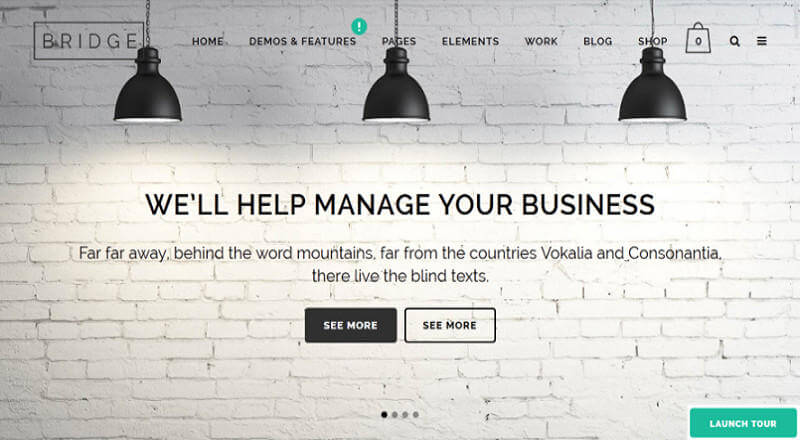 Bridge is a premium multi-purpose theme developed by QODE with an objective to cater the needs of website owners who don't have comprehensive coding knowledge.
It offers a fully responsive layout that will make your site compatible with different devices. Plus, bridge theme comes with a robust drag and drop interface that will enable you to add countless sliders and slides, videos or images, and parallax effects to any web page, without any coding.
It also offers some of the other advanced features such as Qode carousel plugin, visual elements support, LayerSlider plugin, WooCommerce integration, AJAX animations, one-click demo support, over 80 shortcodes, portfolio image with seven inbuilt layouts and many more.
Overall, Bridge is an amazing drag & drop WordPress theme that makes it easy to build a creative and visually compelling website.

---
2. TheFox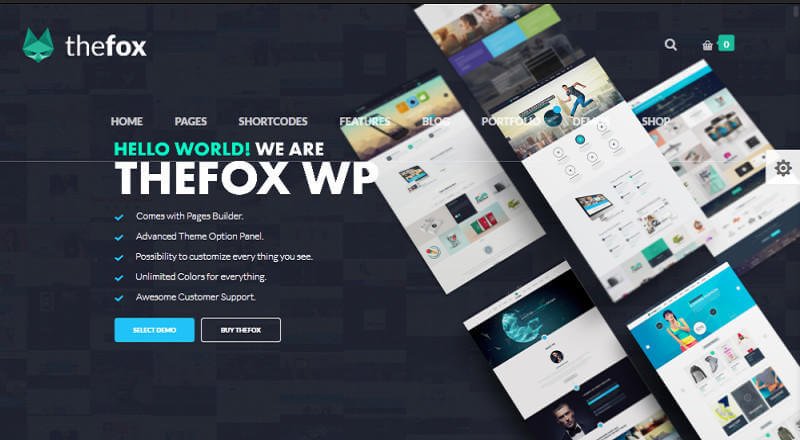 TheFox is a simple and clean WordPress theme integrated with drag and drop builder that allows you to develop visually appealing website easily and efficiently.
Most of the website owners prefer TheFox theme because it offers over 30 website demos that you can see with a single click. In fact, you can customize the pre-made page using drag and drop functionality. With this tool, you can personalize the headers, buttons, fonts and color of your site.

---
3. Divi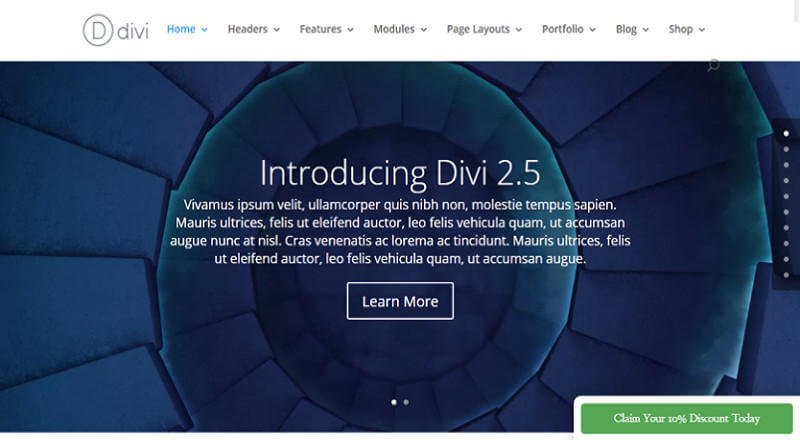 Divi is a flexible and robust drag & drop theme on WordPress that let you build beautiful and intuitive website with ease. It offers the Divi builder, a drag & drop website designer that allows you to craft a unique and engaging website for your business.
It comes with 18 pre-designed layouts, testimonials, counters modules, and also integrated with WooCommerce plugin.
This fully responsive WordPress theme also empowers you to customize the Fullscreen header by embedding an image that displays your product or service in an engaging way.
We can say, Divi is a perfect theme for those who want to create portfolio page or user-engaging testimonial page.

---
4. Total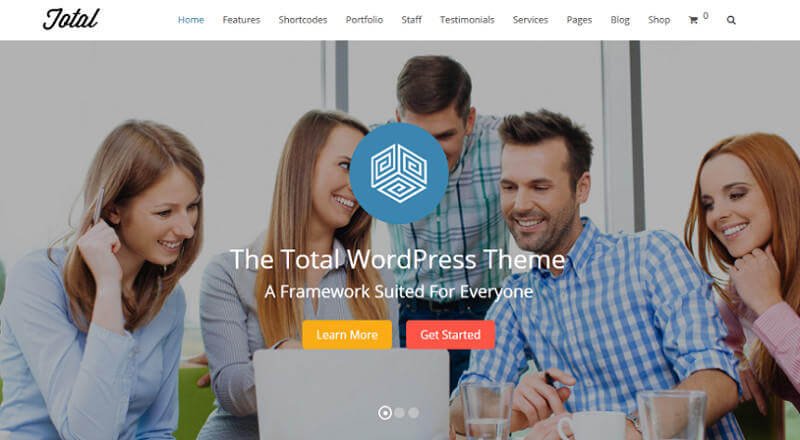 Total is one of the popular WordPress themes that come with front-end drag and drop theme builder. It offers a Visual Composer that will help you build a customized and visually appealing website. This theme gives you the complete control over the design of your posts and pages – you just need to use the page element to build any layout.
With the use of Total theme, you will be able to deliver the rich experiences to your customers whenever they visit your website.
Plus, it offers a user-friendly theme panel that let you change the common elements in your theme such as size of an image, colors, container widths, etc.
It also comes with inbuilt custom post types that for testimonials and portfolios, two premium sliders, LayerSlider and Slider Revolutions for embedding eye-catching sliders into a website.

---
5. X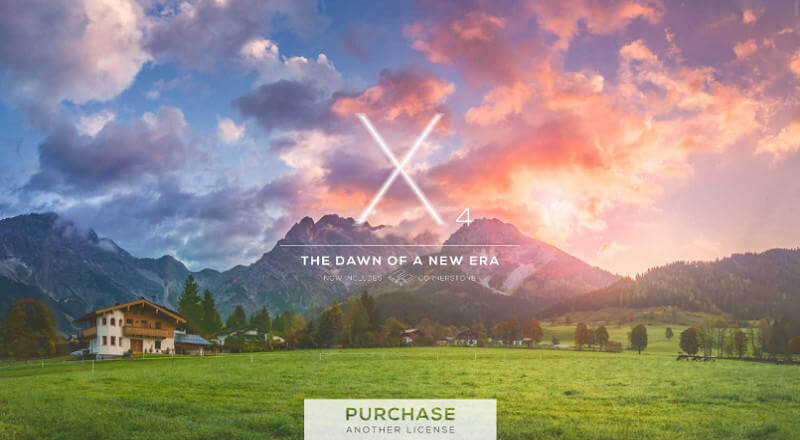 X is a flexible WordPress theme used to create all types of websites. It is a fully responsive theme that runs smoothly on different devices such as desktop, tablet and smartphone.
The best thing about this theme is that it offers an intuitive drag and drop page builder that enables you to build unlimited pages in a short time span. In fact, you can also view and work on your site at the same time using smart and unique page builder.
To an addition, X theme also offers four powerful designed stacks (Integrity, Icon, Renew, and Ethos) that will help you include website template into your website.

---
6. BeTheme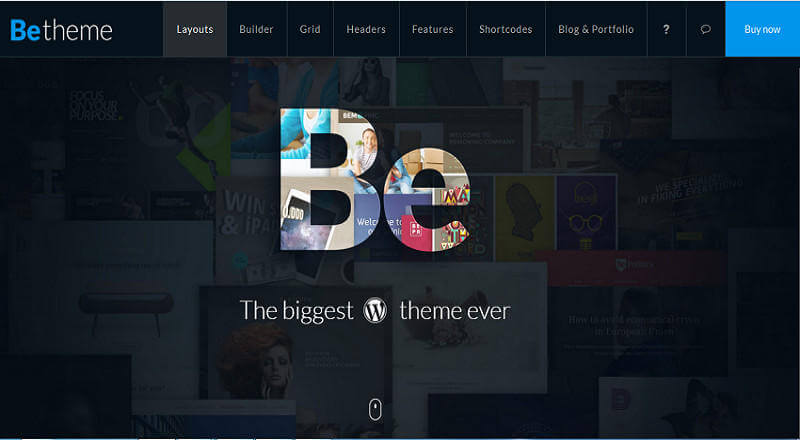 BeTheme is a well-crafted WordPress theme developed for those who want to create professional looking website for their businesses. It is a user-friendly theme that allows you to customize the look and feel of your site's posts and pages with ease.
It offers seamless parallax effect, 100% responsive layout that makes your site compatible with multiple devices such as desktop, laptop, tablets and smartphone. Its drag and drop muffin builder make it possible to create an interactive and professional website, without using a single piece of coding.
Plus, BeTheme is integrated with WooCommerce plugin that will help you set up an online store or e-commerce website with ease.

---
7. Stockholm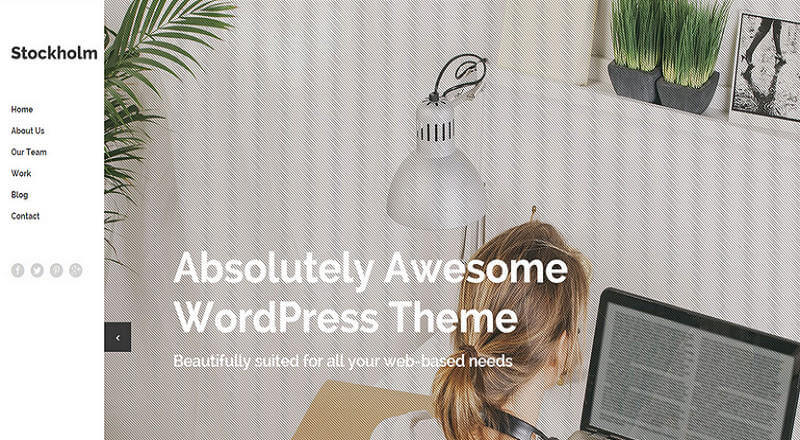 If you want to create a visually- engaging and multi-concept website, then Stockholm is a perfect option for you. It is built with a fluid theme layout that works seamlessly on different screen sizes.
Stockholm theme is integrated with a simple drag and drop page builder that allows you to build posts and pages of your website effortlessly. It also offers a parallax image and video slider that you can use to drive the attention of your visitors.
Apart from this, it comes with some of the exciting features such as unlimited header and title area layout options, custom menu, different custom post formats, and cutting-edge admin panel where you can customize the look of your theme.

---
8. Scalia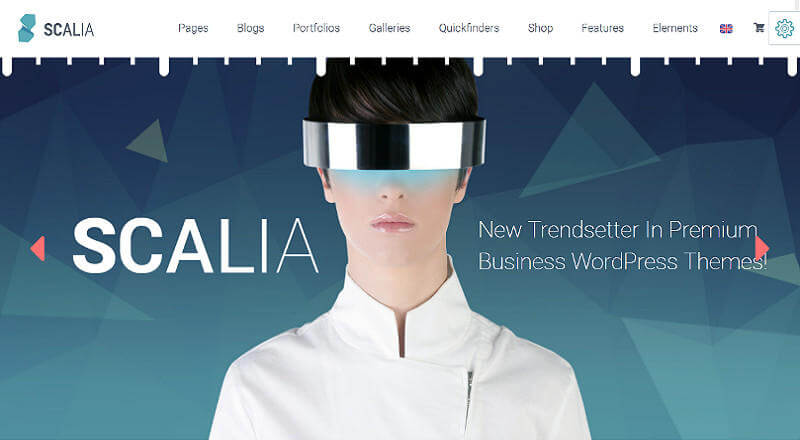 One of the robust and multi-purpose WordPress themes developed for creating beautiful and professional looking business website. It is a fully responsive theme that can be accessed smoothly on any device (desktop, tablet or mobile phone).
It comes with a powerful drag and drop page builder powered by Visual Composer that makes it possible to create beautiful posts and pages, without any coding.
Moreover, Scalia theme offers over 40 custom shortcodes, various header and widgetised footer layouts, eye-catchy lazy loading animations, sticky menus and sidebars.

---
9. Oshine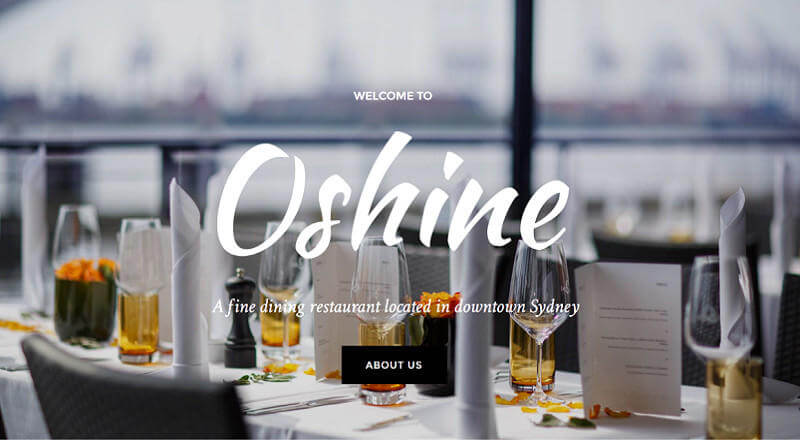 Oshine is an awe-inspiring multi-layout WordPress theme that allows you to create fully-responsive website that can run fluently on different devices.
It offers a dynamic custom drag and drop page builder that will help you craft striking and engaging website. It enables you to integrate parallax sections, and video background to your time with an objective to drive the attention of visitors.
To an addition, Oshine is packed with some overwhelming features such as WooCommerce integration, multiple layout and color options, 500+ Google fonts, Master slider, 50+ shortcode modules, five blog layouts, and much more.

---
10. The7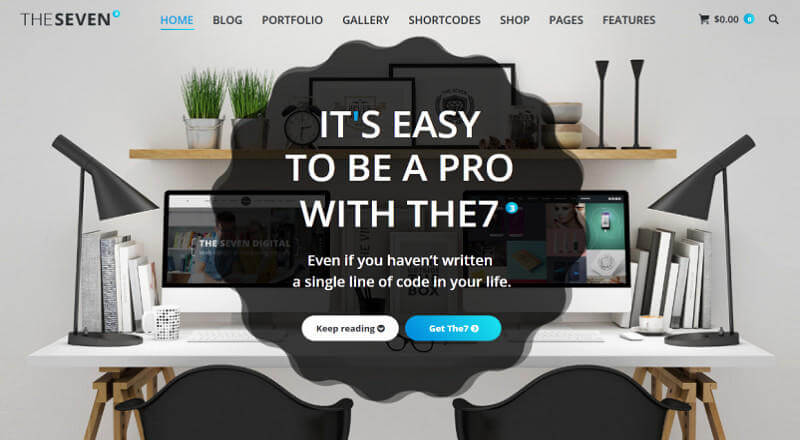 This WordPress theme is inspired by the iOS7. The7 is a fully responsive theme that comes with vigorous colors options and transparent styles that can help you create compelling homepage.
It also offers robust theme customization tools that will allow you to customize the look and feel of the theme, without even generating a single piece of code.
To an addition, The7 comes with premium plugins including Slider Revolutions, Go Pricing tables, Layer slider, etc.

---
Conclusion
If you are new to the web development industry and want a simple yet powerful way of building a professional looking website, then you can use WordPress theme with drag and drop page builder.
In this blog post, we have explored the list of 10 most striking WordPress drag and drop themes that can help you create a high quality website.