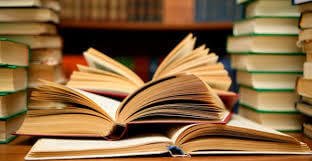 Top 15 Books Every Blogger Should Read
---
Those of you that know me, know that I would rather watch a video than read a book. But every once in awhile I do enjoy a good book that will teach me something that is of interest.
So I thought I would put together a good list of my Top 15 Books Every Blogger Should Read. These books below are jammed packed with great tips and tricks to make your Blogs more successful online.
Be sure to comment at the end of this post on any books you think I might have missed in this list.
---
Blogging for Business: Everything You Need to Know and Why You Should Care by Shel Holtz and Ted Demopoulos
A lighthearted look at business blogs, both internal and external, with plenty of advice for the technologically-challenged.
---
Most of these books are for more than just blogs, but this one in particular: if you're creating any kind of online content, you need to make it right.
---
The Corporate Blogging Book: Absolutely Everything You Need to Know to Get It Right by Debbie Weil
If your company is ready to start a corporate blog, try out this book as a first primer to truly connect with customers.
---
Crush It! by Gary Vaynerchuk
Take charge of your passion, turn it into a business, and grow it with social media. The social media revolution has changed the way we live our lives and conduct our business. Learn how Crush It will give you the tools to take advantage and WIN.
---
Start thinking about your website the way that your users think about your website.
---
What do people pay attention to? How can you get more attention from people by making your work easier to consume and understand?
---
Seldom has one simple, practical book met such acclaim, but millions now swear by the productivity practices in Getting Things Done.
---
If you just want to get down to writing without worrying how it will turn out, learn how to write for the web.
---
Never Eat Alone: And Other Secrets to Success, One Relationship at a Time by Keith Ferrazzi and Tahl Raz
Your blog, your business, and your success is built on relationships, so keep getting to know people and leveraging the power of networking.
---
Ogilvy on Advertising by David Ogilvy
The basics of advertising from the best in the business. Old, but still valuable. Although Confessions of an Advertising Man is now out of print, it's possible to find a copy — and well worth the effort. This book defined advertising in the 1960s and continues to hold up today.
---
This basic book on writing is a classic that has stood the test of time.
---
Get ready to stand out and be noticed.
---
This book isn't just about creating a blog or monetizing it – it walks you all the way through the process.
---
The Rise of the Creative Class: And How It's Transforming Work, Leisure, Community, and Everyday Life by Richard Florida
Bloggers are changing the world – and so are people in a wide range of creative endeavors.
---
Serious Creativity: Using the Power of Lateral Thinking to Create New Ideas by Edward De Bono
Brainstorm your best ideas yet by learning the best way to think creatively.
---
Did I miss any? Add them in the comments below.