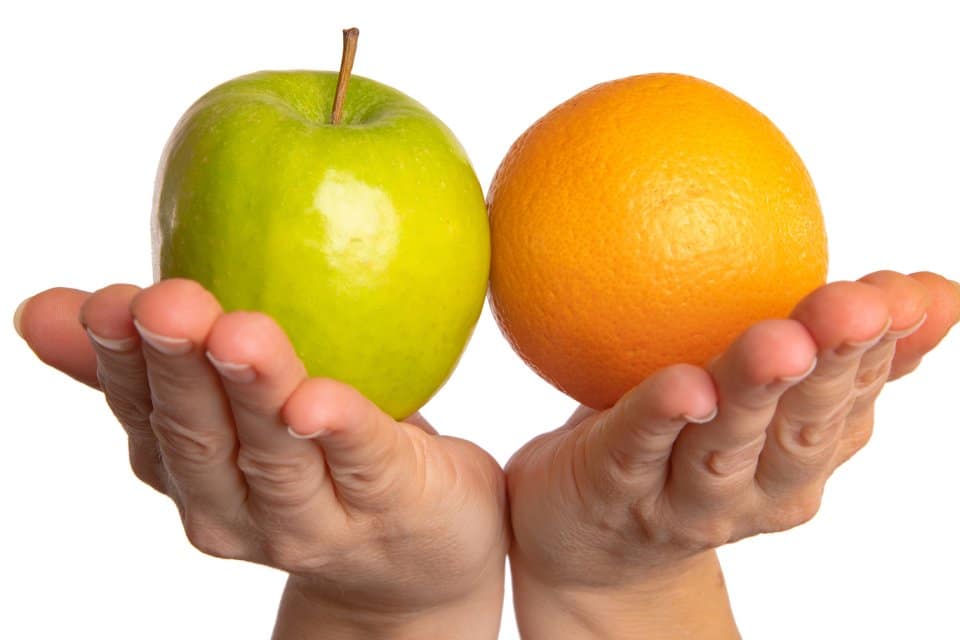 7 Biggest WordPress Differences WP.org vs. WP.com
Wondering what are the WordPress Differences?
WordPress is a household brand now and it powers most of the internet—32% of the internet uses it! WordPress is the most recommended site powerhouse of them all. It is software that you can apply as your website's operating system. Think of WordPress as the Microsoft or MacOS to your desktop. It is not shocking how the top blogging sites use WordPress for their blogs. However, there are two kinds of WordPress: WordPress.com and WordPress.org.
Yes, they look identical, but they are actually two different things. Not everyone can tell the difference between com and org, so in this article, we will shed some light and discuss how wordpress.com vs wordpress.org fares. 
But before we dive into wordpress.Com vs wordpress.Org, let us quickly define the differences between the two:
The 'org' stands for organization. WordPress.org is open-source software for websites—it is akin to an operating system for your blog or site. This software does not burn a hole through your pocket by itself, but you do need to have a web server or a hosting account if you want to use it, which will cost you.
As mentioned, WordPress.org is self-hosted and is a content management system. You just do not log in and make a website, you install the software and then host the website you make. It is considered to be more advanced than WordPress.com and it lets you create any kind of website you want. You can even create e-commerce stores but you would need to buy extra plug-ins to do it.
The 'com' stands for commercial. WordPress.com is a build-your-own-website, all-in-one platform. It does not cost you anything, to begin with, and you do not need any external domain name or hosting for your website. All you need to do is head over to WordPress.com, create an account, and you can begin creating your blog or website immediately.
It applies the software that WordPress.org uses but it hosts for you and serves more like other website builders such as Squarespace or Wix. WordPress.com has every built-in component you would need to build a blog, however, you can also furthermore add plug-ins to enhance your website. This applies to the theme or the layout of the website as well, which you can find for free or for a set price tag.
Now that we have the basic explanations of wordpress.Com vs wordpress.Org out of the way, read on to know how we breakdown the differences between these two. We will look at the top 7 ways they differ.
---
Ease of Use – WordPress Differences
Both WordPress.org and WordPress.com require a specific level of technical expertise to use, but the question is: which is easier for you to learn?
We should begin with how simple it is to actually make a website. Both have page builders that help structure and design every web page, you will need to have some knowledge of code. This is specifically true when it comes to WordPress.org—when it comes to wordpress.Com vs wordpress.Org, the latter can be more back-breaking than the other.
But why this complication? It is mostly because of the fact that with .Org, you can make any kind of website, so your coding knowledge levels need to be higher naturally. WordPress.com, on the other hand, is actually created for blogger websites, so it is structured to help you post blogs and edit them. The primary difference in this regard shows up in how easy it is to set up either.
---
Web Hosting – WordPress Differences
Since WordPress.com is self-hosted, you just have to worry about designing your website. Once you accomplish that, you can post it online without bothering about anything else—like a hosting provider.
There are plenty of hosting providers, however, out there for WordPress. They cater their hosting requirements specifically for WordPress websites. So, if you choose the right host, you will breeze through the whole setup process.
For WordPress.org hosting, many consider Siteground to be the best. It has features like one-click downloads, which implies that you can link your websites with just one click. It also instantly update your website in line with updates from WordPress, so you do not have to manually do anything.
---
Which is better? – WordPress Differences
Though they are both similar when it comes to ease of use but WordPress.com is perhaps more streamlined. It is only for blogs, implying everything you would need is already present and you do not need to bother about hosting your website yourself.
---
Designs and Themes – WordPress Differences
Customizations and theme designs are all about how your website feels and looks like—the appearance, the selections available to you and how much you can edit them.
WordPress.com works a  lot like any other website builder. It is an online tool that enables anyone to make their own website and has a varied range of pricing plans. The higher the price, the more things you will get. With themes, it is the same.
WordPress.com has precisely 91 themes for free and in-built features that you can apply on the lower-priced plans. You can also make simple edits to such themes but you will require an upgrade if you want access to code or wish to apply any of the 200 WordPress premium themes. And for plugins, you will also require to move to a higher-priced plan to able to download extras like Google Analytics.  
WordPress.org is open-source, so personalization is basically unlimited. You can apply any theme, or add another one created by a third party. You can also create your own personal theme, although this can be complicated, so we do not recommend this unless you can hire a developer to do it on your behalf.
The same applies to plugins. You can attach any feature to your website, whether it is created by a third party, WordPress or something you made yourself. 
---
Which is better? – WordPress Differences
For complete control creatively in wordpress.Com vs wordpress.Org, the latter wins. Customization with WordPress.org is unlimited, and you can code from scratch if you want. On the other hand, WordPress.com serves an out-the-box option—you can create fundamental changes but you will have to choose a high-pricing plan if you want to make extensive modifications to your website.
---
Plugins – WordPress Differences
Firstly, if you are not aware of what a plugin is, it is a feature, like analytics, email marketing or ecommerce that you can download through WordPress and apply on your site. Since WordPress.org and WordPress.com both apply the same directory of plugins, you are selecting from an identical supply of plugins.
The plugin qualities are all over the place because anyone can design one, so there are plenty of useless plugins out there. The best way to choose is to select WordPress' personal plugins, apply the plugins created by highly trained developers, or hire a developer to create one for you.
A solid method of assessing the plugin's quality is through the number of downloads and reviews. If you see a plugin that has 4.5 stars rating and has been downloaded by more than a million people, you can be confident in that plugin and use it yourself.
With WordPress.com, you can only use the directory if you are on the Business plan or on a more expensive plan. Otherwise, you only get the in-built, default features to use. Since it already has what a basic blog needs, and if that is what you want, then you don't have to worry about all the extra stuff anyway. 
WordPress.org provides you complete access to the directory. You can download any plugin or even make your own that is customized for your website. However, this will require plenty of technical knowledge.
When it comes to pricing, plugins can differ. Many of them are free but some can be as expensive as 1000 USD a year. It is important to know what exactly you will be needing prior to starting on your website. This way, you can estimate the total cost of your website before time and make your budget based on that.
---
Which is better? – WordPress Differences
Since both WordPress.com and WordPress.org use the same directory of plugins, it is impossible to say who wins here. There is no monthly fee to apply plugins with WordPress.org but on the other hand, WordPress.com is for blogging and for that, default and in-built plugins are enough.
---
SEO Ranking – WordPress Differences
Search Engine Optimization is the process of modifying your website to help it get ranked higher on search engines such as Bing and Google. WordPress is among the best platforms for SEO and provided that it powers so many websites, search engines trust it. This implies that by only using WordPress, you get a head-start over everyone else.
WordPress will design sitemaps and send them across to Google, so it is simpler for the search engine to crawl on your website and comprehend what it is about. However, quite like e-commerce sites, you will need to download plugins for enhanced SEO.   
Yoast is among the more popular plugins for SEO and it comes with plenty of features that can boost your site up the Google search engine rankings. From basic changes like editing and adding metadata (the text and link that shows on results pages on search engines) to helping you determine fruitful internal linking possibilities and keywords.
Yoast does have a free version but if you are seriously looking for a better ranking, you will need to probably invest in the priced plan that charges around 100 USD annually.   
If this is beyond your budget, you might fare better with other website builders such as Squarespace or Wix who have in-built SEO features and also have considerably more affordable apps available for advanced things.
---
Which is better? – WordPress Differences
Again, since you are depending on plugins—which are accessible both on WordPress.org and WordPress.com—this round of wordpress.Com vs wordpress.Org has no clear winner. What we can conclude is that WordPress.org gives you more control, you can make changes manually to better SEO, which you cannot do with WordPress.com.
---
Analytics – WordPress Differences
Even the best blogging websites have room for enhancement, and without analytics, you will never know how you can make your site better. WordPress, however, doesn't have its own analytics. You can monitor the basics, like traffic, but for any extra insight, you will need to browse through the plugin directory.
---
Google Analytics – WordPress Differences
Google Analytics, without a doubt, is the best plugin for analytics. Since you can't access plugins on basic plans on WordPress.com, you will need to upgrade to download it. On WordPress.org, you can download it, set it up and use it directly. It allows you to track things such as visitors, bounce rates, conversion rates, and time spent on a page.
Everything can be broken down by separate pages or a particular time period. This allows you an extensive report about your website's performance and emphasizes how the modifications have impacted your site. It is a good way to keep tabs on your earnings, traffic, and your progression over time.
---
Which is better? – WordPress Differences
It is obvious that WordPress doesn't have good analytics. It is basic, so you need Google Analytics no matter what, especially if your site isn't casual or personal. You can download Google Analytics for free on WordPress.org, so this is the better for website analytics.
Maintenance
The way an award-winning garden needs constant maintenance so does your WordPress website. If you can't do it properly, much like an invasive weed, your website will be in trouble.
---
Web Hosting – WordPress Differences
One critical observation of continuous maintenance on WordPress is that you have to find a hosting provider yourself and keep watching it. As mentioned before, a robust provider will do it for you and keep things simple. This primarily accomplished through automatic plugin and software updates.
WordPress does minor updates every fortnight, while bigger updates happen every two months. The smaller updates never impact your site's functionality, but if you don't make the needed changes to comply with the bigger ones, your site will be in hot water. On .com, these updates are done for you, however, on .org, you are responsible for it.
Bluehost is a provider who does it for you but you still need to be on top of it.
---
Security – WordPress Differences
The Secure Sockets Layer (SSL) certificate is vital. This secures guest personal data while they browse on your website and it is displayed as the tiny padlock icon next to a URL.
Not only does it reassures your visitors, but it is also something Google prefers when deciding your website's ranking. SSL certificate are incorporated in the monthly expense of WordPress.com websites. On WordPress.org, you will have to obtain it and renew it separately.
Like updates, most hosting providers will also throw in an SSL certificate free of cost as part of the monthly billing.
Which is better?
If your website brings you an income, WordPress.org is the safer choice. You don't have to be continually suspicious when using WordPress.com, but it does make you somewhat uncomfortable knowing that anyone could harm your website in a second.
Pricing
WordPress.org and WordPress.com can be utilized for free. For both, the truth is, you will have to spend something to get your website working.
---
WordPress.com Cost – WordPress Differences
You get 6 different pricing plans with WordPress.com that range from free to 45 USD every month. You need to pay for all plans upfront annually, so you do need to consider this in your final decision.
Before you can get a free plan, there is something you will have to buy: a domain. A free domain (for a year) is included in every plan but it is something you need to pay if you choose a paid plan. Domains aren't usually expensive—10 to 15 USD for a year—but it is something you will have to pay for.
There is some obscurity around WordPress.org's pricing. While the download, installation, and usage are free, in some cases, to actually make and design your website, you will have some overheads. Below, we have prepared a typical budget in designing and publishing a WordPress.org site:
Domain- 10-15 USD/year
Hosting- 5-300 USD/year
Security- 5-250 USD/year
Premium Plugins- 10-1000/year
Premium Theme- 35-200/year (one-time cost)
---
Which is better? – WordPress Differences
Technically, the most affordable way to make a WordPress site is by applying a free plan and then just buying a domain name for WordPress.com. Other than that, it is actually down to what you need for your website. Either way, a good WordPress site with enhanced customization will cost you.
---
Final Words – WordPress Differences
At the end of this, all we can say is that it truly depends on what you want your website for. If you want it just for casual blogging purposes, WordPress.com is for you. But if you want, for example, an e-commerce website, then WordPress.org is for you.