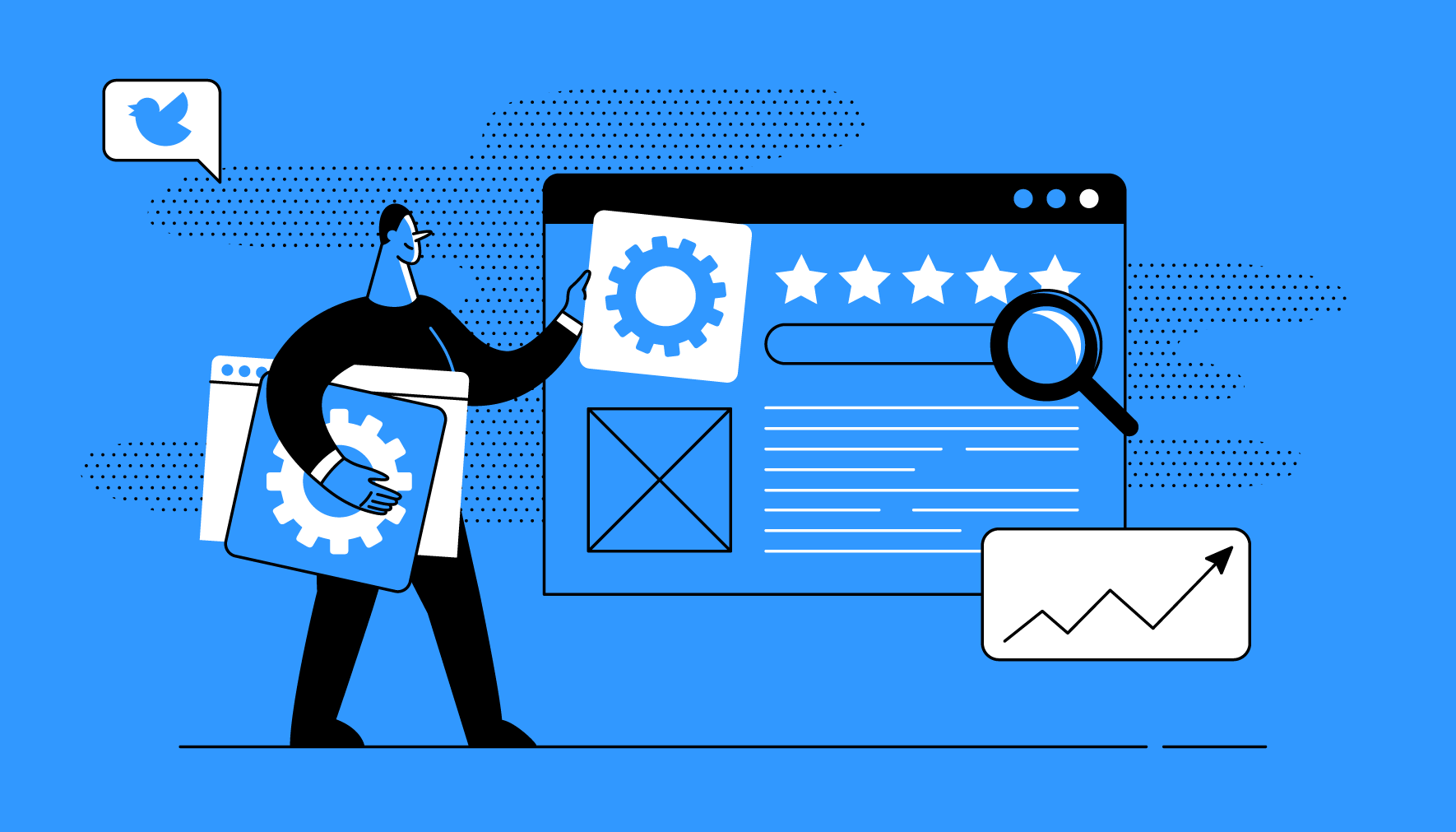 Top WordPress SEO Plugins to Boost Your Traffic
Here are the top WordPress SEO plugins…
Ranking higher in search engines is the main goal of every owner of a WordPress site. This objective can be achieved if you are able to meet the SEO requirements for your site. There's no doubt that writing SEO optimized content can boost your site's traffic.
But it's very important to know whether or not your content is SEO friendly. To ensure that you need to install a WordPress plugin to help you analyse and optimize your content. 

There are a number of WordPress plugins available in the database. Choosing the right one can be tricky, so I have listed down the top WordPress plugins to boost your site ranking. Let's start.
Top WordPress Plugins for SEO – Top WordPress SEO Plugins
When you search for SEO plugins in the search bar of your WordPress dashboard, you will find a number of different plugins. Different plugins work for different purposes, some of the plugins help to optimize your text content, some plugins help to optimize images, etc. In this post, I will be highlighting some of the WordPress plugins that are useful for ranking higher in search engines.
---
Yoast SEO – Top WordPress SEO Plugins
Yoast SEO is one of the best and highest rated WordPress plugins. There are many factors that work together to improve the ranking of your site. This plugin provides such a platform to fulfill those factors. The platform includes many advanced tools and features to test whether all SEO needs are met or not. Some of the key features of the plugin are:
It structures the paragraph of your content.
Checks the keyword density.
Helps to structure easy to read sentences.
Checks the quality of meta description
Provides link support
Allows social sharing
Cleans up permalink
Apart from this, the Yoast SEO helps to generate XML Sitemaps and submits to different search engines.
---
All in One SEO Pack – Top WordPress SEO Plugins
All in One SEO Pack is a WordPress plugin that works just as its name suggests. If you are starting with WordPress or SEO, this is one of the best plugins to boost your SEO efforts. The user interface of this plugin is very easy to use. It offers a wide range of features that can handle all your SEO requirements. The important features of the plugin are
One-page user-friendly interface.
Social media integration
Automatic XML Sitemap generation
Easy functionality
All in One SEO Pack is suitable both for beginners and advanced users. It has a paid version too.
---
Easy Table of Contents – Top WordPress SEO Plugins
This plugin contains a number of advanced features that will help you keep your site in order. If you're just starting with WordPress or SEO, then Easy Table of Contents is for you.
This plugin creates a table for all your posts, pages by analyzing your content. You can easily place the content table in your article by your choice. It also allows you to customize the table of content. You can change the configuration of the table and control the appearance of the content table. Another feature of the Easy Table of Contents is that, if you want, you can hide the content table. You can also suggest any upgrades or changes to the content table to the developers.
---
SEO Press – Top WordPress SEO Plugins
Every WordPress site owner must have heard about Yoast SEO and All in One SEO Pack. Now, the SEO Press has a free as well as the paid version. However, the free version of the plugin can meet most of your SEO needs. It's very easy to use, faster processing and a powerful plugin. This plugin helps to manage all of your posts and pages by analyzing your entire content.
This plugin also generates XML sitemaps for indexing. Keep track of your site visitors and have an integrated social sharing facility. It also provides the platform for content analysis and helps to write SEO optimized content. However, if you opt for the premium version it offers many
Integrated with WooCommerce
It enables breadcrumbs optimization
HTML Sitemap integration
Google Analytics enabled in WordPress database
Video XML Sitemap
This is one of the best alternatives for Yoast SEO. In addition to the basic features, there are many advanced features that can help boost your site traffic.
---
WP Rocket – Top WordPress SEO Plugins
WP Rocket is a WordPress plugin that is used for caching purposes. But you may wonder how it can help in your SEO journey? Let me tell you how it helps in ranking your page in search engines. If your page is cached then it is recommended by the search engines to be relevant. When your page recommendation increases the rank of your site also increases. WP Rocket plugin caches your content with one click, it's very user friendly. This plugin speeds up the page loading, and a better page loading helps in good ranking.
---
Smush Image Compressor – Top WordPress SEO Plugins
Page speed is one of the most important factors when it comes down to optimizing your website and images. Having more number of images on the webpages makes the loading speed of the page slower. To stop that from happening, you must take extra care compressing all the images on the webpages.
However, if your website has more images than the content itself, then you are in for a tough ride compressing every image individually. But what if I say you can do this with just one plugin installed. That's right, you heard me right, I am talking about Smush Image Compressor WordPress plugin.
Smush Image Compressor plugin provides you the feature of compressing the size of the images with just one click, what's more, there are no major changes in the images apart from their size. It also allows you to resize the images as per your requirements. Smush Image compressor sure is the fastest way to improve the page speed.
---
W3 Total Cache – Top WordPress SEO Plugins
It is very important to maintain the loading speed of your website to a bare minimum possible. In addition, you have also seen to it that the performance of the website does not take a toll. No matter how good your website is or how good you have content for your audiences, everything will be for nothing if your audience can not get access to your website within the given time frame.
Having a loading speed between 3-5 seconds is what you need to achieve. This way you can ensure more audience on your website. More than 5 seconds and your audiences will start leaving your site in the midst of loading.
W3 Total cache helps you to clear out all the unnecessary memory to boost the performance of your website. W3 total cache not only reduces the loading speed but it also increases the performance and helps you to maximize the conversion rate.
---
Broken Link Checker – Top WordPress SEO Plugins
We all know that the inbound links fro the other websites increase your website's authority. It also increases your website's credibility. But what happens when there is a nonfunctional link on your website. Obviously, it will affect the health of your website and in addition, it will also affect your domain authority and page authority.
Broken link Checker is a plugin that runs a scan and highlights all the broken links or the non-functional link. This way you will easily be able to recognize the bad links and will be able to take the necessary action as per the problems.
A broken link can let your user experience something that may result in losing that audience on your site. So, it is very important to check for the broken link at a regular interval of time. This will help you to keep a high-quality user experience, and at the same time, you can maintain your site health.
---
YARPP – Top WordPress SEO Plugins
The bounce rate of your website plays an important role in determining the authority of your website. There are many users who take their leave from your website due to the fact that you were not able to hold their interest. This can happen due to two major reasons. One that your content is not relevant to their need. And second that your content does not have any kind of Call-to-Action button.
You must always use different strategies to keep your users on the website. And the same YARPP does that for you.
YARPP stands for Yet Another Related Posts Plugin. This plugin helps them with related posts. This increase the session time for the user on your website. This feature so much importance for the bogging website that some of the website owners implement this feature in their design.
However, if you cannot afford to customize your website with the feature you want, you are always welcome to download YARPP for your website. This plugin is supported by some of the best programming codes that run a deep search on your website and caters to the most related post to your audiences.
---
Akismet – Top WordPress SEO Plugins
It is a wonderful feeling going through comments on the website. Where people are appreciating your work and encouraging you to carry on the good work. But about the spammy comment that you come across the site. It really leaves a sour taste in your mouth. Not for you but for the users who are visiting your site. What's more, it is a proven fact that the comments do influent your website's reputation to some extent.
So, what can be done to remove those spammy comments? Well, for your kind information, there is a plugin called Akismet, that allows you to remove all the negative comments and spammy comments on your websites.
Akismet is the most popular plugin used for dealing with all the negatives comments and spammy comments. And in SEO perspective, it blocks any potentially harmful links from connecting with your website. It also blocks the user from commenting on spammy comments.
---
AMP for WP – Top WordPress SEO Plugins
We all know how the world is changing to the digital era. This change is brought by the invention of smartphones. The records say that more than 60% of the people use a smartphone or any other kind of handheld device. With this kind of change, you must also need certain changes in your websites to load faster and perform better on mobile devices.
So, what can be done to make your website run faster on mobile devices? The answer is very east, you need to implement AMP-based themes and plugins to your site. AMP (Accelerated Mobile Pages) project is an easy way out for your web pages to load faster on the mobile devices and performs with the same efficiency as it performs on the Desktops.
After installing the AMP for WP, it automates itself and adds accelerated mobile pages functionality to all of the web pages of your website. This helps to make your website load faster on the mobile devices and as it is automated, you do not have to spare extra time for your website.
---
SEO Framework – Top WordPress SEO Plugins
The SEO Framework is an alternative for the Yoast SEO and all in the SEO pack. It is one of the easiest and fastest SEO solution for your website. What's more, it is unbranded. Hence, it is clean interphase. According to the testimonial of the user, SEO Framework feels less bloated than the Yoast SEO. this is the reason why many people trust SEO Framework over Yoast SEO.
This plugin may not be similar to the Yoast plugin, but it by no means different than the Yoast SEO plugin. However, you need to have basic knowledge of SEO while handling this plugin.
---
Conclusion – Top WordPress SEO Plugins
Writing great content is key that ranks higher in search engines. However, in order to increase the chances of site ranking among competitors, your content needs a booster. In this post, I have mentioned five such plugins to boost your SEO efforts. Use them to analyze your content and modify them if necessary.
Ensure that the features of the plugins are used effectively, but do not overestimate them. The plugins are for the optimization purpose, not for content quality. So, focus on writing good quality content using the keywords properly and use the plugins to check your SEO requirements. And if you have any queries then comment below.