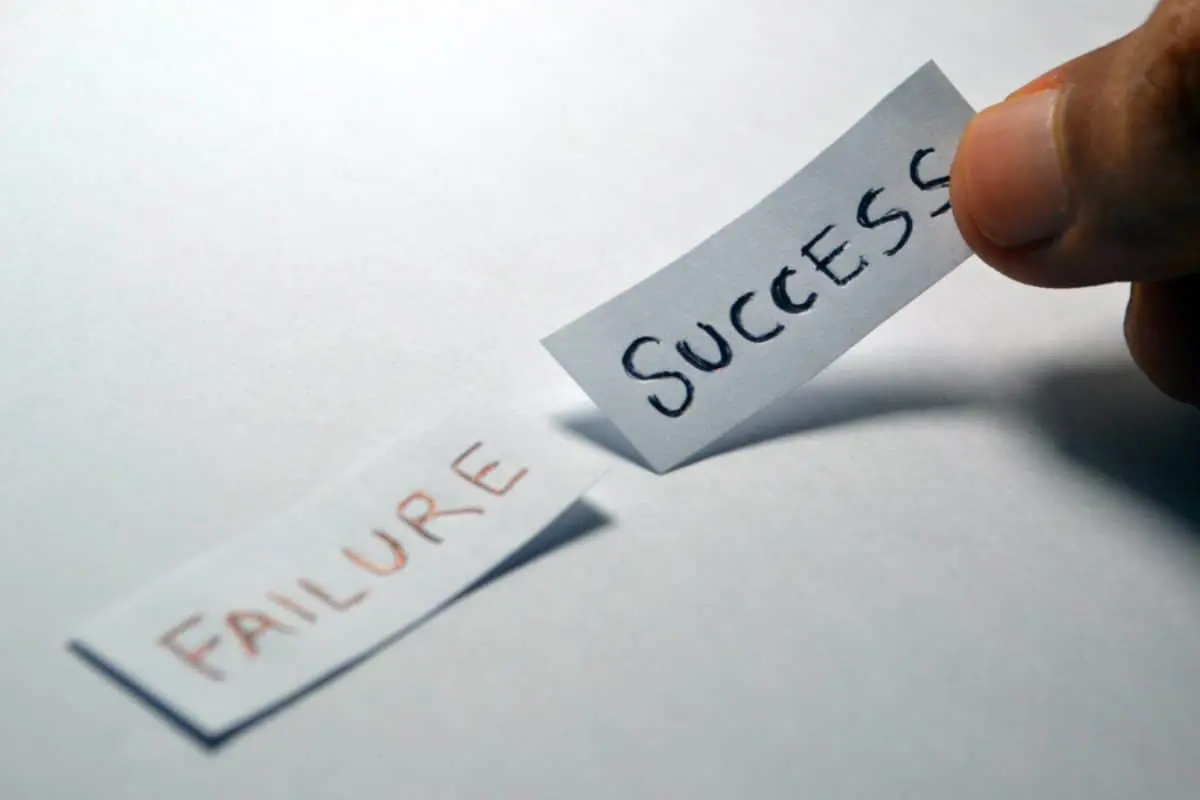 11 Simple WordPress SEO Mistakes to Avoid
The most common simple WordPress SEO mistakes
SEO is one of the most complex and intricate things website owners have to deal with. It covers so many facets of websites that it is often easy to overlook some very common SEO mistakes and tank your own site ranking.
Today we're going to look at some of the things we can focus on to ensure that you cover the majority SEO mistakes that are often overlooked. Follow this guide and you will at least fulfil the basic requirements with ease.
---
1. Host With a Reputable Provider
You might wonder what your web hosting provider has to do with SEO. The fact is that the performance of your hosting server covers one of the most critical elements of SEO – site speed.
Google places a strong emphasis on site loading speed and penalizes websites that are too slow. This means that if your site is slow, the more likely it is that you will lose some ranking in search results.
Although it is true that how you design and code your site will affect loading speed. The first element of the overall site load time that comes into play is Time to First Byte. This is how quickly your web server responds to a request on the web.
The better quality your server is, the faster it will respond. This is why it can be very helpful to use a site like HostScore which actively monitors web hosting servers to share their average response speeds with users.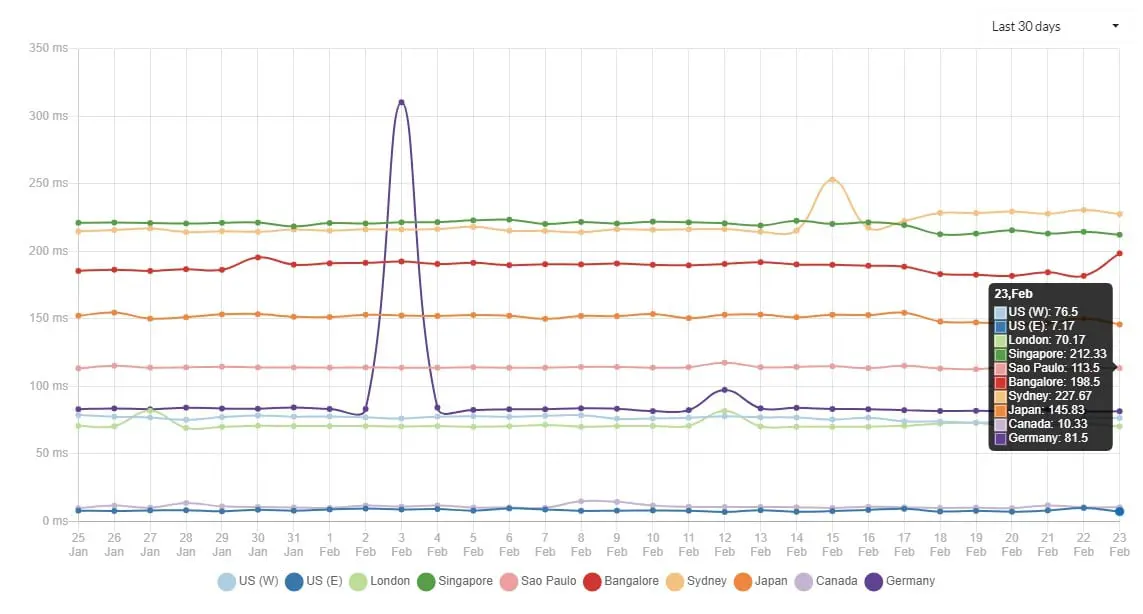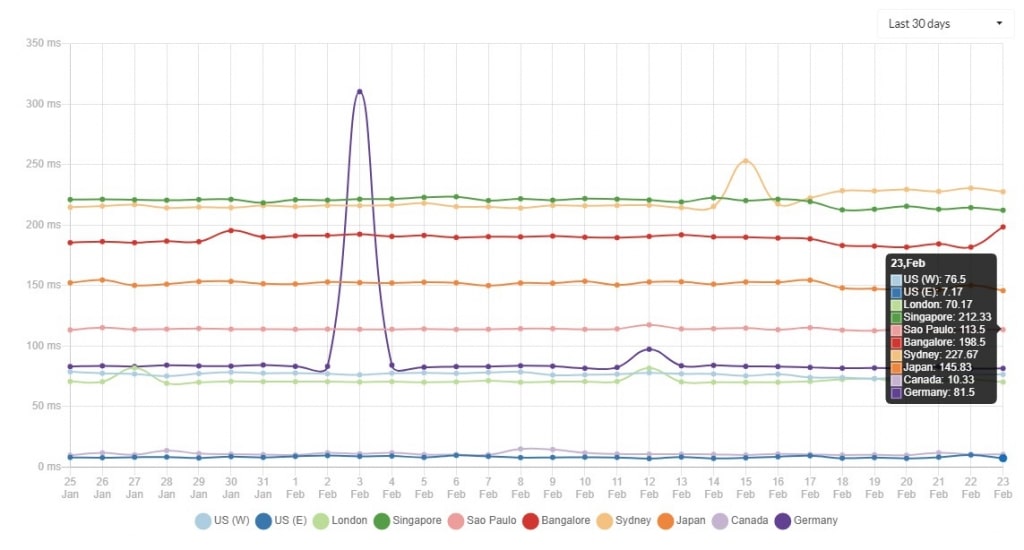 Caption: HostScore shows tracked data from multiple server locations.
Take for example the HostScore performance graph for InterServer above. This lets you see how fast their shared hosting response speed is over a period of time. It also shows you response speeds from varying places around the globe.
Working with information like this can help you identify the ideal web host for your needs. The faster your web host can respond, the faster your overall website loading speed will be.
To see how fast your current web server response is, use a website performance monitoring tool and pay attention to your TTFB. Some free tools you can use include;
---
2. Publish Content Regularly
There is a very direct relationship between SEO and content. Search engines like Google rely on algorithms to rank web pages and content is what helps them to decide where your page fits in.
Content offers Google a glimpse into the quality and scope of your website, allowing it to help you reach out to the right audience. As you publish more content on a regular basis, the number of keywords you'll likely rank for will increase, bringing in more traffic.
The relationship between visitors and Google directing them to your site is symbiotic. If your site has more visitors, then Google will crawl it more frequently to check for updates. This is the key reason why your content base should grow steadily.
It is understandable that not all of us are writers, so if you're a small operation and looking for content providers with which you can easily manage cost, consider outsourcing. Some good sites you can find freelance writers include;
Upwork – Freelancers that charge hourly
Fiverr – Great resource for those on a tight budget
ClearVoice – Lots of excellent quality talent
---
3. Produce Quality Content
Information that is current is always preferred so even if you have a page that ranks well, do make sure to review it periodically to ensure that it is top quality. As mentioned in Google quality rating guidelines that sites on the top end of the spectrum are having high-quality content.
If visitors reach your site and realize the content they are seeing is poor or out of date, they might bail quickly to look elsewhere. This kind of information will let search engines know that your page is lacking quality and you might find your search rankings drop for no apparent reason. Your value to readers is a key reason for your rank on search.
---
4. Optimize Your Content (on-page SEO)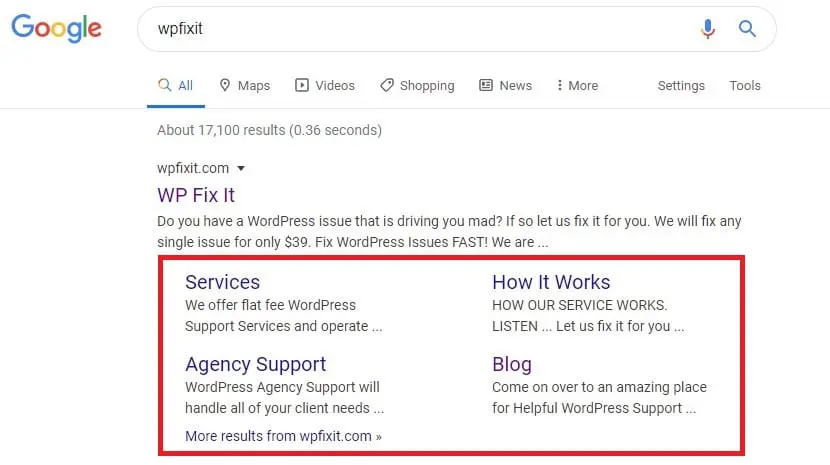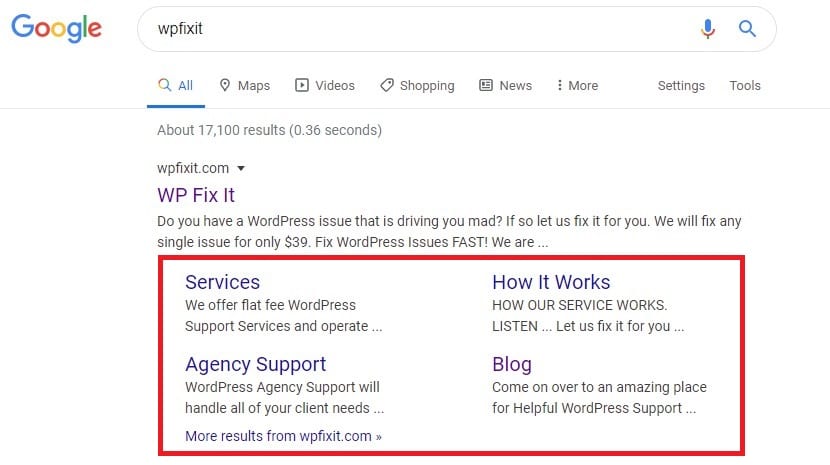 Caption: Schema markup and data structure can help with click through rates
Many new website owners tend to make the mistake of trying to 'bulk up' their sites quickly with a high volume of content. Unfortunately, this usually results in lower quality content which might also not be optimized correctly. Weak, poor quality, under optimized content can do your site more harm than good.
Remember again that Google relies on algorithms, so not just volume is important, but also how you structure it. Failing to fine-tune excellent content means that you're not utilizing it to the fullest potential.
Do Your Keyword Research
Make sure to do your research and identify what keywords you want your articles to rank for. Knowing that, you can keep your content strategically oriented and flowing in the right direction. Include keywords in headers and text where appropriate.
Pay Attention to Image Attributes
Visuals are important to readers as well and hence, they matter to Google. When including visuals, always make sure they are tagged correctly with clear image titles, caption, and attributes so that search engines know you're using relevant images to support your text.
Make Use of Schema Markup
Schema markup is code on your site that helps identify content segments to search engines to deliver more accurate results to potential visitors. Although this doesn't directly affect search rankings, having accurate schema markups can increase your click-through rates if readers can see you have what they are looking for.
Some examples of this are star rating systems for reviews or FAQ segments on more comprehensive articles.
Make Sure to Optimize for Mobile
In today's digital age, Google has recognized that much of its search traffic is now coming from mobile devices such as smartphones and tables. The format of content for these devices needs to be different – more lightweight and designed for smaller displays. This means that site owners now have to optimize content not just for desktops but also for mobile devices.
If you're using WordPress, there are a huge number of options that are available to help you with content optimization. These include;
Yoast SEO – Helps with multiple areas of SEO
Reviewer Plugin – Handles markup for review type posts
Ultimate Blocks – Schema markup ready blocks for Gutenberg
AMP for WP – Let you build mobile-friendly pages
---
5. Aim for the Right Keywords
Keywords are how search engines know what the focus of your content is. Using the right ones in the right places and with the right frequency will help boost the SEO of your content. Choosing the right keywords can be a bit of a challenge. Keywords that should be important to you ideally will match the search terms frequently used by your target audience.
The Internet is made up of many sites, all competing for the same amount of traffic.Popular topics often have a huge amount of competition in keywords, meaning that it can be supremely difficult for new sites to rank for them.
Always try to rank highly for your chosen keywords. It is better to aim for a high ranking on a lower value keyword than rank terribly for a super popular keyword.
This is where keyword research factors in. By doing some background research, you can get an idea of how competitive a keyword is. If it seems to be challenging for you, consider using an alternative instead that you can rank well for.
Some common mistakes that website owners do include;
Trying to rank for highly competitive keywords
Choosing keywords that are too generic
Aiming for keywords which have no real value
My personal preference for keyword research is Ahrefs, but this is a commercial tool and the price may be a bit prohibitive for newer sites just starting out. Some other resources you can use to gauge keyword potential include;
While these may not be the most accurate around, they are good enough to give you an idea of what to try. Remember that SEO is a bit of art mixed with science. Failing one experiment isn't the end and you can always try again.
---
6. Remember to do Off-page SEO
On-page SEO is such a broad field itself that many people get engrossed in those details and completely forget about off-page SEO. Remember that your website isn't a standalone entity, but is assessed as a sum total including of its interactions with other assets on the world wide web.
For example, search engines also take into consideration how well regarded your site or content is and tracks all external content that links to yours. The more links your site and content gets, the better it will be for your ranking.
This means that building backlinks from a variety of sources is very much desired. Naturally, the better the quality of the sites that link to yours, the more weight it carries. Unfortunately, link building isn't something there is a quick fix for. Some ways you can focus on this area are;
Building shareable content such as infographics
Offering to write as a guest on other sites
Contributing thoughts on relevant forums
Important Note: There are many sites around offering to sell backlink packages. These are often ineffective and in many cases can lead to serious SEO consequences. Use them at your peril!
---
7. Create and Submit a Sitemap
Sitemaps are literally directories of your website. Using professionally designed sitemap templates help search engines quickly identify what content you have and what emphasis you place in each area of content.
The XML sitemap that search engines need will essentially list every single asset on your site from page to post to media file. You can create and submit it on your own, but if you use WordPress there are many plugins that can do this for you, such as Yoast.
---
8. Work With the Right WordPress Themes
One of the greatest wonders of WordPress is how highly modular it is. This means that it works with a massive number of themes and plugins – not all of which are great. This makes it very important to choose the right theme since it provides an essential part of your site structure and layout.
Your chosen theme can affect your SEO more than you know, including affecting your site performance, having the right schema markups in place, and more.
---
9. Leverage on Social Media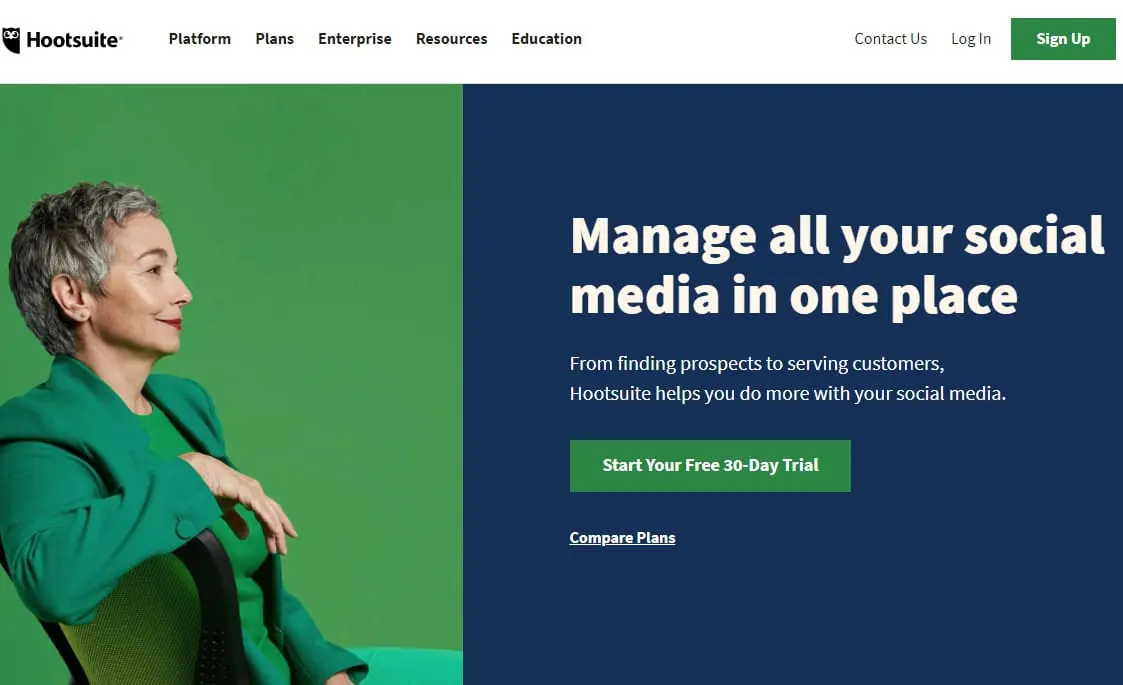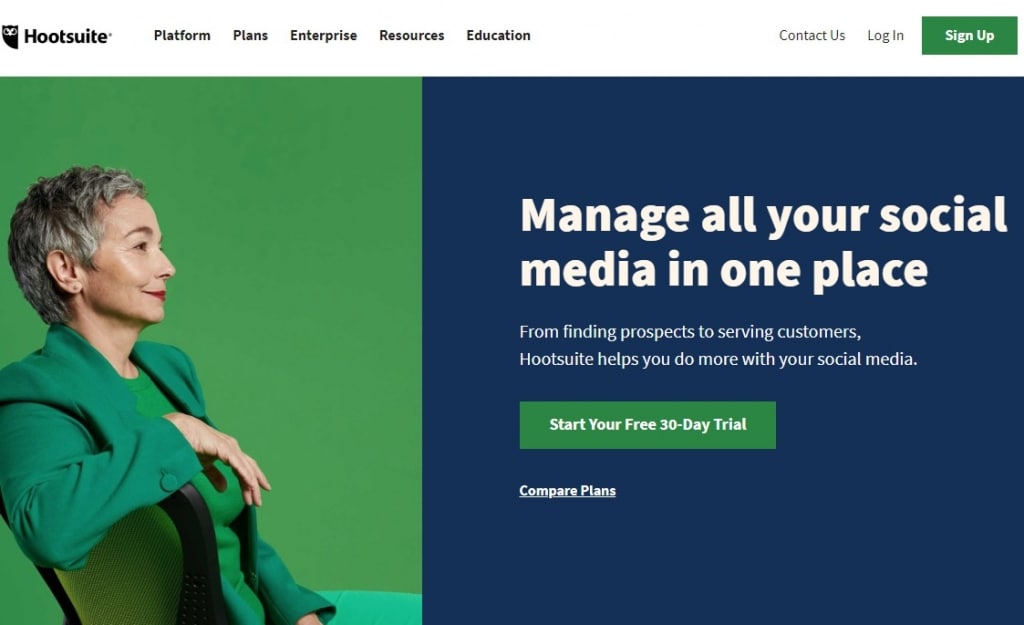 Caption: Social Media integrators like Hootsuite can save you lots of time and effort
Another often forgotten element of SEO is social sharing. Having your content shared and interacted with on social media channels such as Facebook can not only increase your traffic organically, but also count towards your SEO. How many times your social posts are shared, clicked, or viewed is a factor.
The best part of all is that establishing many of these social media channels are free. The only problem is that it increases the scope of your work dramatically and can eat up a huge amount of time. This is where social media integrators can come in handy.
Some web-based applications or plugins for WordPress can help you tie your WordPress activities into social media channels for easier management. Take for example Yoast, which can help you pre-format your WordPress posts for social and share articles at the same time you post them.
While this might not be the most optimal and effective way to do it, it does cover one of your bases with little effort on your part. Consider using some of these tools;
HootSuite – Integrates your social media channels and lets you schedule posts
Sassy Social Share Plugin – Let your visitors do the sharing
AddtoAny – Social share and Google analytics tie-in
---
10. Don't Forget the Search Console


Caption: Google Search Console is a powerful tool you can use to identify and fix site ranking problems
One hugely powerful tool that can help you fix problems with your search ranking is directly from Google itself and is often overlooked by many. The Google Search Console is a dashboard that gives a detailed account of how your site and pages are handled by google.
From here, you can get a bird's eye view of your site performance in search rankings and click throughs. Even better is the fact that Google alerts you on performance issues and even lets you know why it considers them a problem and how to fix the issues.
---
11. Build Branded Anchor Text
Earlier we discussed the importance of link building and part of that is also a focus on how you link your own anchor text. Using branded anchor texts helps you establish your brand authority and improve overall search results for your site.
Branded anchor text is essentially just linking your brand name in your anchor text at strategic locations. One way of doing this is by including it in your site footer. This will establish it as a constant on all the posts and pages your site has.
---
Conclusion: Simple WordPress SEO Mistakes to Avoid
I've built a number of sites over the years, some with greater success than most. Admittedly, a good part of this has been due to the proportion of time I've spent on content building and other optimizations.
This leads me to a very good note for new or potential site owners. The value of your site is directly proportional to the amount of effort you put into it. Optimizing for SEO may not be a perfect science (since Google holds secrets closely) but there are established lines you can follow as a start.
Other than that, it is a matter of fine-tuning and painstaking trial and error that will lead you to the top of search results. Remember, there are no shortcuts.