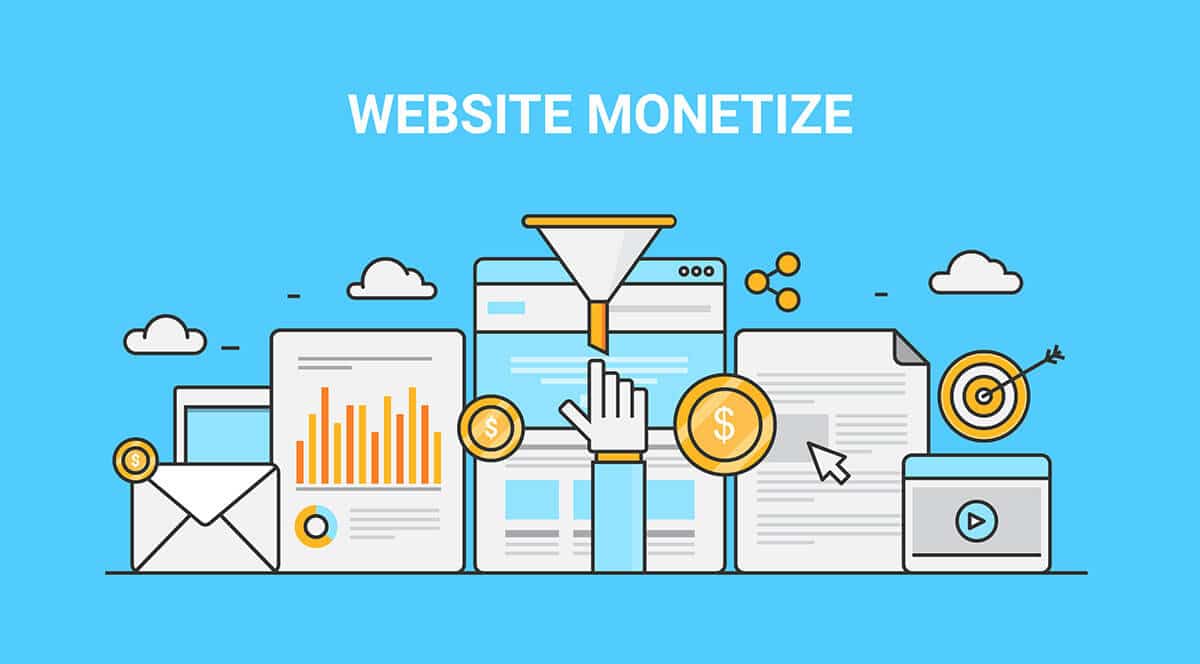 5 Ways To Monetize WordPress Content
If you think about it, there are three types of WordPress bloggers:
Those who start the site, make an effort at first and then completely forget about it;
Those who make real effort and produce beautiful content on a regular basis, and
Those who make real effort and produce beautiful content, and manage to make money out of it.
We'll leave the bad bloggers out of this categorization, since we're only interested in the good ones.
Out of the three categories above, which one attracts you the most?
Of course it's the third one! It doesn't matter why you started your WordPress site. Maybe you wanted to promote a brand. Maybe you just wanted to share your thoughts with the world. Maybe you have great knowledge and you wanted to share it.
What does matter is that you could use some extra income. Since the site can definitely provide it, why waste such an opportunity?
It's time to learn how to really monetize your content. We'll share 5 tips that work.
---
1. Take SEO Seriously
You already know what websites make money, right? – The good ones. The ones that offer great value for their users. Those are the WordPress sites that attract ads, sell products, and act like magnets for sponsored posts.
But to get to such a point, people have to notice you. It's not just about posting high-quality content; it's about posting content that can be found. That's why it's important to improve your SEO practices.
You need to start targeting the right keywords the right way.
The problem with most bloggers is that they don't like technicalities. They like writing, creating infographics, and simply relying on their creativity. SEO is technical work and they are overwhelmed by it.
The good news is that it's no science fiction. There are few simple details to learn. You can do that by browsing through the best blogs that offer SEO tips, but you can also enroll in an online course at Coursera. The online course is a better idea for complete beginners, since it gives you structure and progressive learning materials.  
---
2. Do Sponsored Posts and Reviews
This is for the sites that have already built large following. When you start attracting many visitors who engage with your post, you can get paid for promoting different brands.
If, for example, your blog is from the makeup niche and you offer really great beauty tips, you'll start getting offers for collaboration. Established and new makeup brands will contact you for featured reviews and sponsored posts.
The reviews work like this: you usually get a package of free products and share your honest opinion about them. Depending on the contract you make, you can get paid for this. For sponsored posts, you'll accept guest posts that feature direct links to the websites that need promotion. Sometimes you'll get offers requiring you to write these posts.
Since this means you'll have to write more content in addition to your usual flow, you might need help. In that case, you'll benefit from writing and editing services. Here are few you can try:
---
3. Offer Online Courses and eBooks
The best way to earn money is to sell something. You think you don't have products? Oh; you do!
Your knowledge and expertise in the niche is your product. You can sell it!
When you gain the reputation of an authority in the industry, people will want to pay for your content. That content may be in the form of videos, eBooks, detailed guides, and even complete online courses. You can also offer counseling or motivational speaking at different events.
If you're more interested in selling actual products, you can turn your WordPress site into an eCommerce site.
Let's stick to the same example with the blog about makeup. This blogger may sell eBooks and online courses. If we're talking about an expert, these products will sell! However, they may also sell makeup or even start their own line of products.
Affiliate marketing is another good idea. You won't directly sell products at your website, but you'll recommend them and include affiliate links to Amazon. When people buy products following those links, you'll get a percentage of the sale.
When you get into the business mindset, the sky is your limit!
---
4. Benefit from Ads
Do the ads dilute the content at your website? Do they make your visitors nervous?
It may happen if you feature the wrong ads or you place too many of them at your website. But if the ads are relevant and subtle, people might get interested in them. You just have to make sure that your blog shows the right ads. If you see an ad for a SEO service on a makeup blog, you'll be distracted and you won't think it's serious, right? But if you see an ad for an online store where you can buy makeup on discount, you'll be interested. You might click on it. That contributes towards the blogger's income.
Google AdSense is easy to use, but it does have a learning curve if you want to see its full potential. Google gives you a nice guide, so it's a good place to start.
When you manage to make your website really popular, you may also sell advertising space. Different brands will consider you to be an influencer. They want to get featured on popular websites. You just have to maintain the quality high and offer the option for buying advertising space.
---
5. Use the Right Plugins
Finally, we get to the plugins. There are several that can help you make money from your WordPress site. Here are few suggestions:
Video Lessons Plugin Manager – If you decide to start offering webinars and video content for your users, this plugin will make it happen. It lets you track and organize your online video content. You can add payment modules on top of the videos, so that's how you'll make your money.
Amazon Auto Links – In case you want to make money through Amazon affiliate links, this plugin will simplify the process. Instead of manually searching products and pasting affiliate links, Amazon Auto links will automatically find decent products and display the links for you.
Popups by OptinMonster – You want leads! Those are the people who buy whatever you decide to sell. These are people who subscribe to your email list and expect offers from you. To attract more subscribers, you need an attention-grabbing popup that's not too pushy. This plugin helps you create it.
---
Ready to Start Making Money? Give Those Methods a Try!
WordPress has tons of potential. If others are making money out of blogging, what stops you from doing so?
That being said, it does take a bit of an effort and know-how. If you follow the tips above, you can start making the first steps.