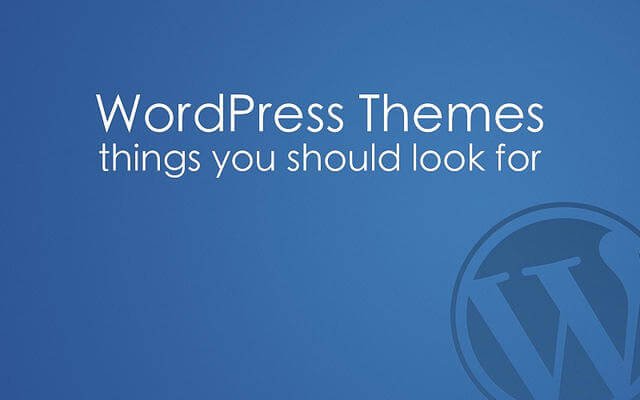 4 Things to Consider When Picking a WordPress Theme
---
There are 1000's of WordPress Themes out there to choose from and each one is different depending on the developer that created it.  WordPress Themes can range in price from FREE to $200 (read through below for my recommendation where to buy Premium Themes all for less than $50).
So often people buy a Theme only to find out that it will not function properly and have to go on the hunt again for another one.  I have listed below my TOP 4 things to consider when choosing a WordPress Theme for your website or blog.
Is it current?
It is really important that select a WordPress Theme that is up to date and compatible with what's being used on the web.  Below are a few items to look for to make sure you are getting a theme that meets this.
Check to make sure that the Theme is compatible with the most current version of WordPress.
Very important to make sure the Theme is compatible  with all  major browsers.  If there is a Theme demo you can test the browser compatibility at http://browsershots.org/
Does it have design flexibility?
This I think is what people tend to consider the most when selecting a Theme but rarely make sure that the Theme they purchase has a lot of design and layout flexibility.  Check out the things below to look for before you buy it.
Different skins options built in to change the color scheme of the entire theme.
Make sure it comes with the Photoshop files so you can customize the design.
Look for easy to edit font options.  Yes this can be changed in the hard code if you know a little CSS but always better to make it easy.  Font is a big part of a well designed look.
Unlimited sidebar options.  This POWER option allows your website or blog to have a different sidebar for each and every page.
Does it have great content support?
Content is king and you want to make sure it is displayed properly on your site with ease and simplicity.  There are many forms of content like text, photos, audio, video and many more.  You want to look for the things below to make sure you can display your content for your visitors.
Look for shortcode options for displaying text and other content.  For example if you want to make a 3 column display of text there is a shortcode to accomplish this without having to make it with HTML.
It's a must to make sure your theme supports video display.
Is it well documented?
This is the most important of the 4.  There are so many WordPress Themes on the web that are sold by a developer and there is no documentation on how to install and use it.  Then when you reach out to ask a question, you never get a response.  I have listed some things below to look for based on personal experience.  These things will help you stay clear from these dodgy Themes and developers.
If available, check to see how many sales have been made of the Theme and see if there is a feedback or rating score from the buyers.
If there is a comment or support area, take a look at what people that have used or bought the Theme have to say and how they feel about it.

MAKE SURE THE THEME COMES WITH DOCUMENTATION.
Below is a site for trusted WordPress Themes at a very affordable price.
But remember to follow the points above before you buy.